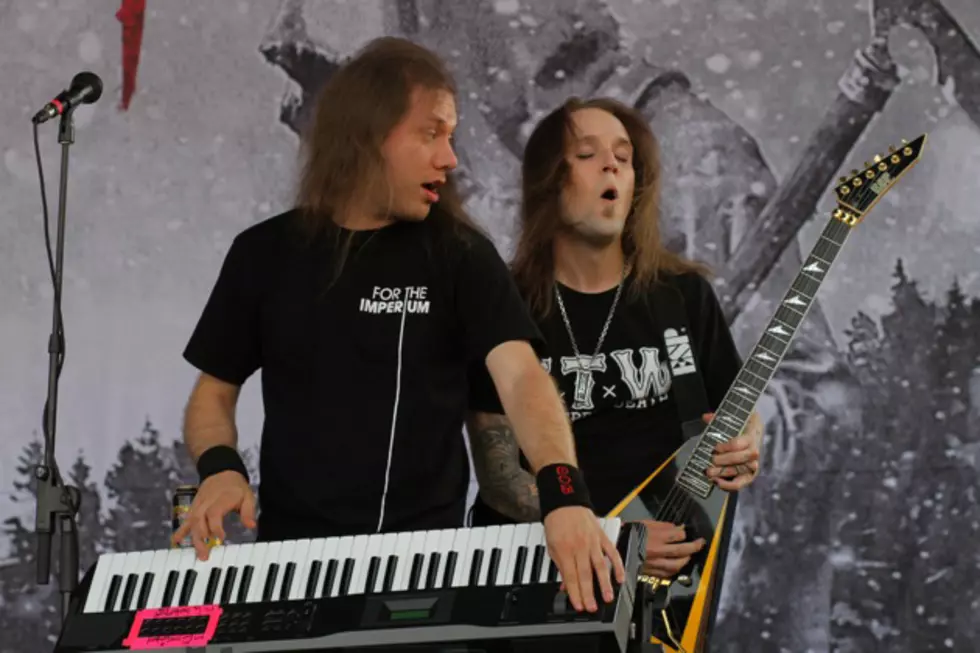 Children of Bodom Announce 2017 North American Tour With Carach Angren
Charles Epting, Loudwire
Children of Bodom will be swinging their scythe through North America this fall. During the month-long run, Bodom will bring Carach Angren, Lost Society and Uncured on the road with them.
The hard-touring Bodom are celebrating 20 years of metal, as their debut, Something Wild, gave the neoclassical metal act worldwide acclaim. With the following near-perfect albums Hatebreeder and Follow the Reaper, Bodom solidified themselves as modern legends and they'll be digging up favorites from all three records during this tour. In fact, Bodom won't be playing any material past 2003's Hate Crew Deathroll.
"So my friends, after rolling thru Europe doing the 20th year anniversary tour, we were honestly pretty bummed out to find out that we wouldn't have enough time to bring the tour to America since it was absolutely a blast for both the crowd and the band," says frontman Alexi Laiho. "But now I'm stoked to announce that as it turns out, we indeed will be able to do this on the other side of the pond so I'm over the top happy about that!!"
Laiho continues, "Remember guys, this will be a once in a lifetime experience seeing us playing all kinds of obscure tracks off the first album, stuff from the 2nd & 3rd albums that we ain't played in over 15 years and the general rule really is that there will not be a single song newer than the Hate Crew Deathroll tracks so it's all about old school COB! So even if Something Wild isn't your favorite album, I can guarantee that it will be entertaining, nostalgic and flat out funny as hell to be a part of this madness so that's one party you just cannot miss! I hope to see you there ladies and gents!"
Carach Angren have been making waves in 2017 with their fifth album, Dance and Laugh Amongst the Rotten, so make sure to come early and check them out too. Tickets will go on sale July 14. Check out the full list of tour dates below.
Children of Bodom "20 Years Down & Dirty" Tour Poster
Children of Bodom 2017 North American Tour Dates:
10/31 - Dallas, Texas @ Gas Monkey Live!
11/01 - Austin, Texas @ Come and Take It Live
11/03 - Phoenix, Ariz. @ Marquee Theatre
11/04 - San Bernardino, Calif. @ Ozzfest
11/05 - San Francisco, Calif. @ UC Theatre
11/07 - Seattle, Wash. @ El Corazon
11/08 - Vancouver, British Columbia @ Commodore Ballroom
11/10 - Calgary, Alberta @ Macewan Ballroom
11/11 - Edmonton, Alberta @ The Ranch Roadhouse
11/13 - Salt Lake City, Utah @ The Complex
11/14 - Denver, Colo. @ Summit Music Hall
11/15 - Kansas City, Mo. @ The Truman
11/17 - Minneapolis, Minn. @ The Cabooze
11/18 - Chicago, Ill. @ The Forge
11/19 - Detroit, Mich. @ The Majestic
11/21 - Pittsburgh, Pa. @ Mr. Smalls Theatre
11/22 - Philadelphia, Pa. @ The Trocadero Theatre
11/24 - New York, N.Y. @ Playstation Theater
11/25 - Worcester, Mass. @ The Palladium
11/26 - Rochester, N.Y. @ Anthology
11/28 - Toronto, Ontario @ Phoenix Concert Theatre
11/29 - Ottawa, Ontario @ Bronson Centre
11/30 - Quebec City, Quebec @ Imperial
12/01 - Montreal, Quebec @ Corona Theatre
Children of Bodom Albums Ranked
Children of Bodom Reflect on 'Follow the Reaper'
More From Sasquatch 107.7 - The Rock of Rochester