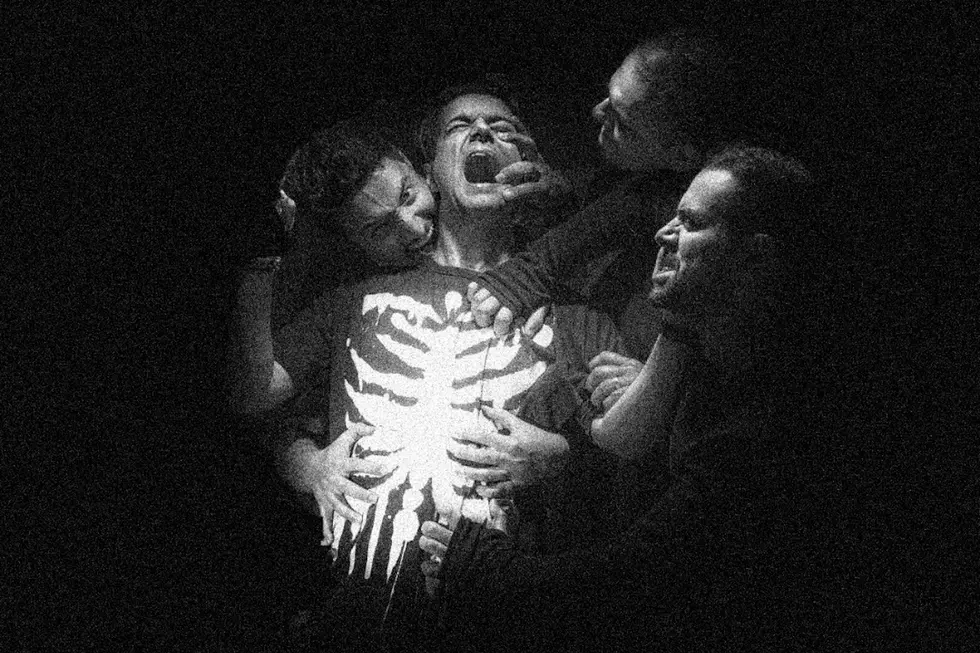 10 Amazing Metal Bands from the Middle East, by Out Of Nowhere
Qabar PR
Iranian metalcore band Out of Nowhere recently rocketed onto many metal listeners' radar with the aggressive "Blind Crow," the music video for which they have now proudly shared with the world.
But the band from Western Asia aren't a novice act — they've been honing their craft for a while. It's just that it's hard to break out of a country known for its forceful suppression of heavy metal, as fellow Persian rockers Confess can also attest. Out of Nowhere have previously discussed the threat of imprisonment, or even possibly execution, they constantly face in performing the kind of music they do.
And therein lies the crux of why so many metalheads haven't been privy to the wealth of great metal in the Middle East. But there is plenty, now just below the surface, and the breadth of the material available could match almost any other geographical area's metal scene in its ardor and ability.
So we asked Out of Nowhere to round up their top picks for the best Middle Eastern metal bands. Below, take a listen to their choices and watch the "Blind Crow" music video. Guaranteed, you'll gain a mind-blowing insight into the kind of music much of metal has been missing out on.
Out of Nowhere, "Blind Crow"
Follow Out of Nowhere on Facebook, Instagram and Spotify. They also created a playlist featuring the artists in this article, which you can check out here. 
10 Amazing Metal Bands from the Middle East, Selected by Out Of Nowhere
Calibre

Melodic Metalcore/Deathcore (Iran)

Calibre is one of the most streamed/played artists of Iran, and they are fronted by none other than our vocalist Amin. Displaying great songwriting and quality, they balance a mix of melodic metalcore and deathcore.

Nex Carnis

Death Metal (Iran)

Nex Carnis is really a unique death metal band from Iran. The songwriting ranges from heavy blast beats to some sick lower tempo doom metal vibes. Make sure to check "Darkened Rites of Existence" and keep an eye on them for their upcoming releases.

Phenomy

Thrash Metal/Groove Metal (Lebanon)

Phenomy is a great band with a great message behind their music. "The Mute, The Deaf, The Blind" is a track about how the media controls people and doesn't let them think and act on their own behalf. Their other tracks are groovy as hell!

Coast of Arms

Metalcore (UAE/QATAR)

Coast of Arms is a groovy djent and metalcore band with members from both UAE and Qatar. Their impressive songwriting definitely makes them a rightful contender for one of the best metal bands from the Middle East. Also, you can get lots of deathcore and atmospheric vibes in their numbers.

Smouldering in Forgotten

Black/Death Metal ( Bahrain)

Originally started as a black metal band in 2005, Smouldering in Forgotten became more of a blackened death metal band throughout the years. Hailing from Bahrain, they are one of the heaviest bands on this list — with lots of blast beats!

Creative Waste

Grindcore (Saudi Arabia)

Coming out of Saudi Arabia, Creative Waste is a sick Grindcore band with political messages that may remind you of a band like Pig Destroyer. Active since 1999, they are the first band to play any public metal concert in Saudi Arabia. They toured outside the country and even performed at Maryland Deathfest.

Scarab

Death Metal (Egypt)

Scarab is like the band Nile from the place where Nile (the river) actually is! They are really underrated in the death metal scene, and they genuinely deserve much more attention.

Mortem Atra

Melodic Doom/Death Metal (Cyprus)

Cyprus group Mortem Atra has a beautifully melodic and gothic sound with clean female vocals and, equally, some heavy death metal-rooted growls. Their songs deliver lots of melodies and seraphic atmospheres.

Kimaera

Doom/Death Metal (Lebanon)

Kimaera is another band from Lebanon on this list with really appealing atmospheric/symphonic ambiances. Aside from the carefully crafted melodies, you can hear oriental influences in their songs, as well.

Chopstick Suicide

Mathcore (Turkey)

Chopstick Suicide is a sick Mathcore band from Turkey. They have everything that you'd expect from an ideal mathcore band. They incorporate avant-garde and hardcore influences in their tracks, so they are unquestionably worth checking out!
More From Sasquatch 107.7 - The Rock of Rochester