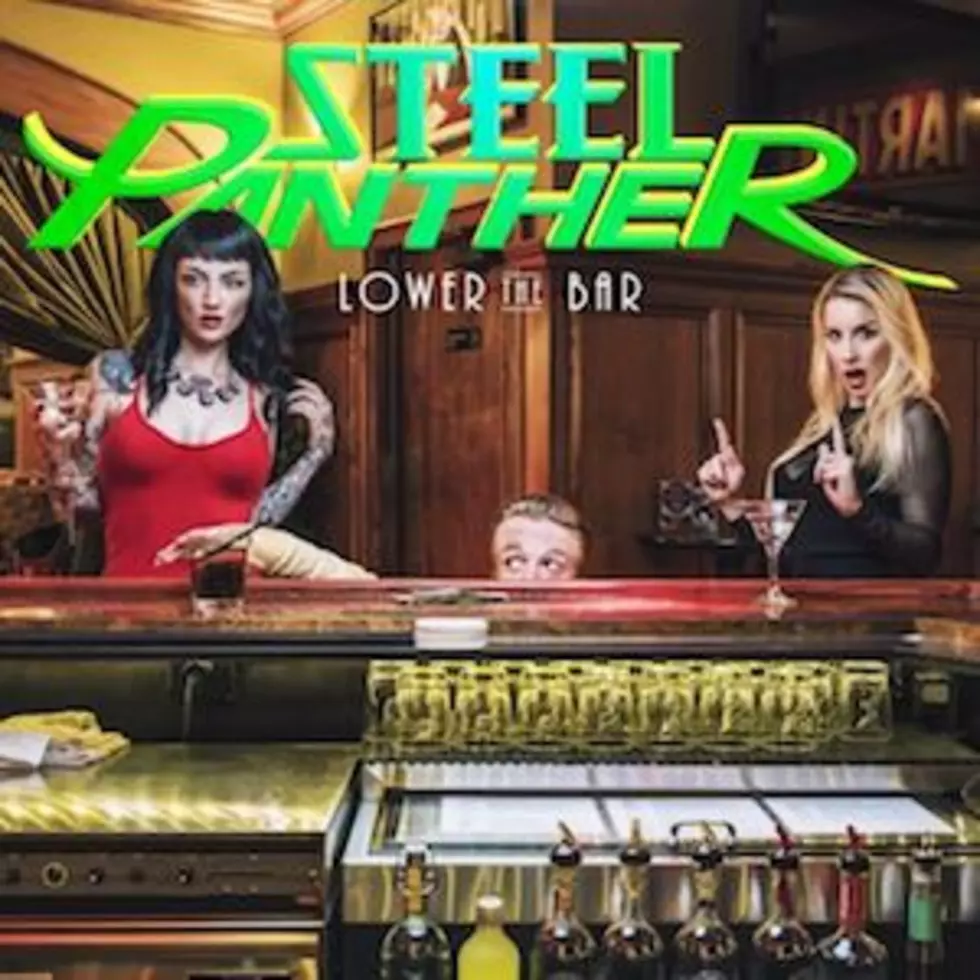 Steel Panther Announce 'Lower the Bar' Album, Release 'She's Tight' Music Video [NSFW]
Steel Panther
They're back! The comedic sleazehounds in Steel Panther have returned with Lower the Bar, their fourth full length album and successor to 2014's All You Can Eat. In addition to releasing the cheeky album art, the glam outfit has also served up a NSFW music video for the album's first single, a cover of Cheap Trick's "She's Tight" featuring Robin Zander.
The video (seen below), has obvious nods to the original Cheap Trick music video including references to the rotary dial telephone set on a red brick wall and the closeups of red lips singing, "I'm home on my own / home all alone." Decorated in a variety of animal prints per usual, Steel Panther jam the song in an entirely white room as scantily clad women parade around the set, again, per usual. We must issue another heads up warning that the video is not safe for work as some of these women shed the little clothing they already had on.
"Cheap Trick was one of my favorite bands when I was younger. I'm so proud to have recorded this track for our new album and also to have Robin Zander himself sing with me on the song. It's like a dream come true," exclaimed frontman Michael Starr. The clip also features a guest cameo from Warrant video vixen Bobbie Brown.
Lower the Bar will be released on Feb. 24, 2017 and fans can pre-order the album through the Steel Panther webstore. Check the tour section of the site as well as the band is in the midst of their European tour and will be returning stateside for a run before the year is over.
Steel Panther issued their second live album earlier this year, Live From Lexxi's Mom's Garage, featuring a collection of acoustic songs spanning their three studio efforts as well as exclusive new tracks like "That's When You Came In," which can be heard here.
Steel Panther, "She's Tight" Music Video [NSFW]
See Where Steel Panther Landed on the Top 50 Metal Bands That Released Their First Album in the 21st Century
See Steel Panther's Michael Starr in 9 Super-Genius Rockers Who Have PhDs
More From Sasquatch 107.7 - The Rock of Rochester