Olmsted County Has Definitely Become A Democratic Stronghold
Kim David/TSM
Enter your number to get our free mobile app
Rochester, MN (KROC AM News) - Olmsted County's Democratic colors were very visible during the 2020 general election.
The county was a longtime Republican stronghold until recent years.
The results from Tuesday's election showed voters overwhelmingly supported Democratic candidates, starting at the top of the ticket. Numbers from the state elections office show Olmsted County voters favored Joe Biden over Pres. Trump by a margin of just under 10,000 votes (49,397 - 39,618). Trump collected 35,668 votes in the county in the 2016 election.
Rapper Kanye West was on the Minnesota ballot as a Republican Presidential candidate. He received a total of 7748 votes, good enough for 5th place. He collected 186 votes in Olmsted County.
Other Olmsted County results:
(these results are unofficial; they will be certified at a later date)
Democratic US Senator Tina Smith - 45,462
Republican challenger Jason Lewis - 36,900
(Smith was re-elected)
Republican Congressman Jim Hagedorn - 36,392
Democratic challenger Dan Feehan - 48,668
(Hagedorn was re-elected)
In state legislative contests:
Republican Senator David Senjem - 19,360
Democratic challenger Sara Flick - 20,819
(Senjem was re-elected as he had more votes than Flick in Dodge County, which is part of his district)
Republican Senator Carla Nelson - 24,704
Democratic challenger Aleta Borrud - 23,792
Democratic Rep. Tina Liebling - 13,178
Republican challenger Gary Melin - 7,433
Republican Rep. Nels Pierson - 13,978
Democratic challenger Randy Brock - 13,635
Republican Rep. Duane Quam - 8962
Democratic challenger Kim Hicks - 7717
(Quam also won the portion of his district in Dodge County)
(Democratic Rep. Daune Sauke's seat)
Democrat Liz Boldon - 13,180
Republican Kenneth Bush - 9496
Some apparent computer issues were causing reporting problems in Mower County. Officials blamed the issues on a software glitch and were working to resolve the problem Wednesday morning. It was preventing them from reporting results to the Secretary of State's office.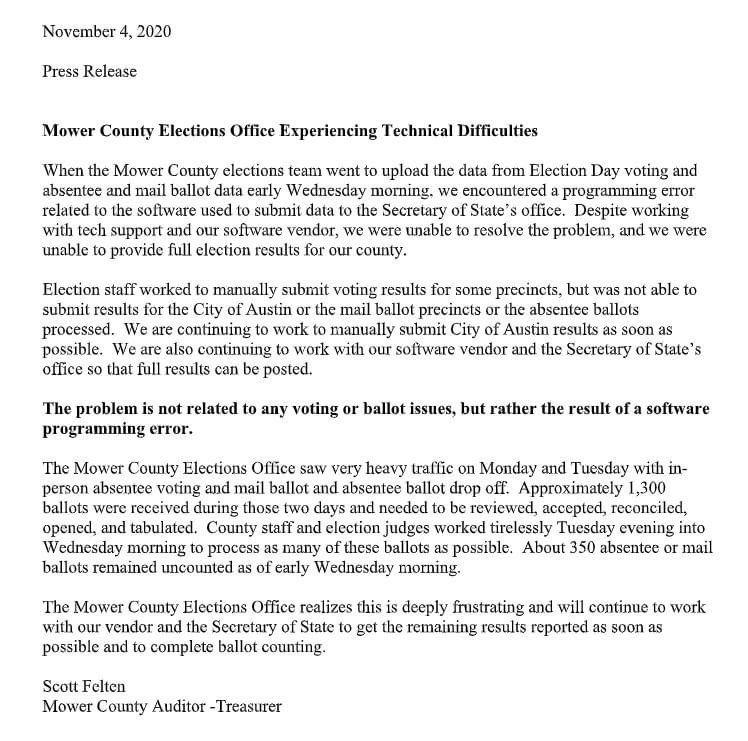 LOOK: 50 Black actors who made entertainment history
More From Sasquatch 107.7 - The Rock of Rochester