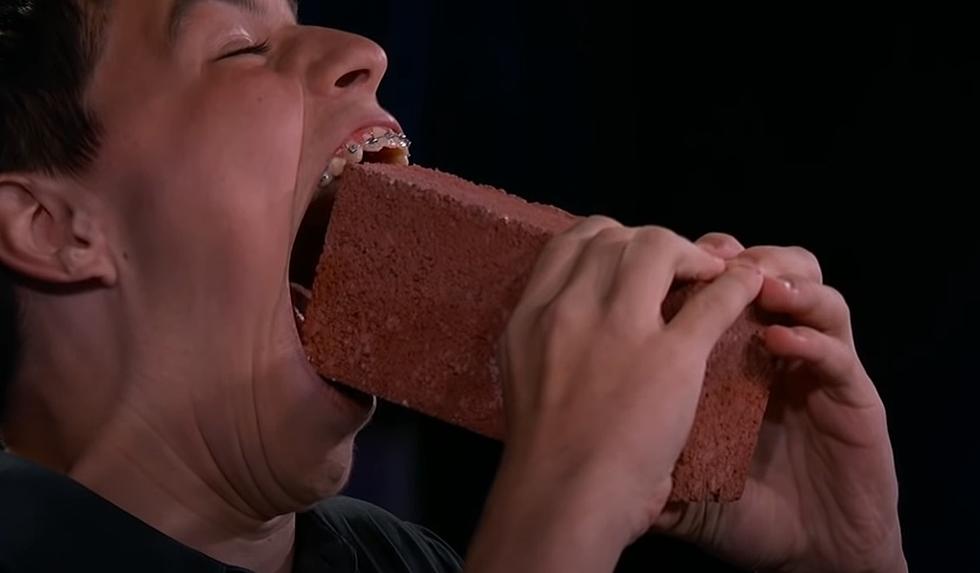 Minnesota Kid With Amazingly Huge Mouth Appears on National TV
Jimmy Kimmel Live/YouTube
He's already in the Guinness Book of World Records and now he showed off his massive mouth on Jimmy Kimmel Live Wednesday night.
As guest-host Wanda Sykes said when she introduced him on ABC-TV's Jimmy Kimmel Live Wednesday night, you could say that most teenagers have a big mouth. But Minnesota's own Isaac Johnson really DOES have a big mouth-- and he has a record to prove it.
That's right, Isaac, who's 16 years old and is a student at Washburn High School in Minneapolis, made an appearance on national TV Wednesday night to show off his massive mouth. It's a mouth that also happens to hold the Guinness World Record for 'largest mouth gape,' (and, btw, who even knew there was a world record for THAT?!?) measured when he set the record back in 2019 of 3.67 inches, according to BringMeTheNews.
However, though you'd think it would be hard to beat, someone from Pennsylvania actually had a mouth gape that was even BIGGER than Isacc's (a whopping 3.75 inches) and bested him to set a new record last year. But, according to the Guinness World Records site, Isaac's teenage mouth is still growing, apparently, because he reclaimed the record last year, with an amazing mouth gape of an incredible 4 inches!
While on TV, Isaac showed off his record-breaking gape by playing a rousing game of Will It Fit, to see just how many odd items Isaac could get his jaws around-- which included a VHS tape of the movie, Jaws.
Check the video below, and you'll see that Isaac was also able to fit a softball, a brick, a magnifying glass and even a baby doll head ALL in his massive mouth! Now THAT is a big mouth-- and also has to be the BIGGEST mouth in Minnesota, right?
Now while Isaac is the latest resident from the Land of 10,000 Lakes to make an appearance on national TV, he's not the only one, of course. Keep scrolling to check out 11 other fellow Minnesotans (and a few Wisconsinites) who've been featured on national TV, as well!
Listen to Curt St. John mornings from 6 to 10 on Quick Country 96.5
and afternoons from 2 to 6 on 103.9 The Doc
9 Times People from Minnesota, Iowa, and Wisconsin Were Featured on MasterChef
How many MasterChef contestants are from our neck of the woods: Minnesota, Wisconsin, and Iowa? There are actually 9 former contestants from one of those three states! Below you'll find those contestants, where they're from, and what season they were on.
JUST LISTED: HGTV stars of 'Stay or Sell' are Selling Their Million-Dollar Minnesota Home
More From Sasquatch 107.7 - The Rock of Rochester