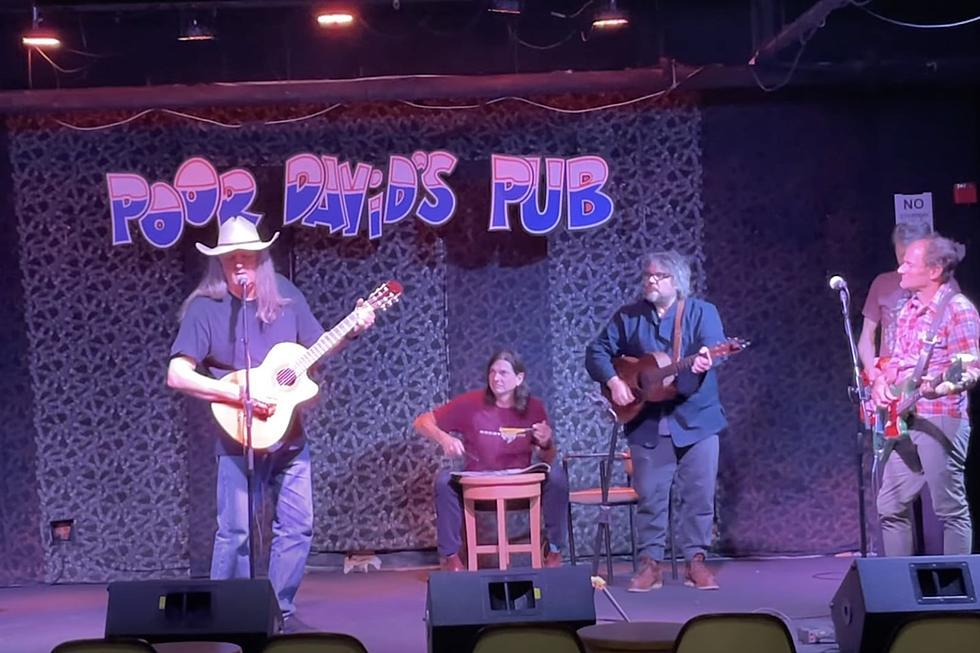 Watch Wilco Perform a Surprise Open Mic Set in Dallas
YouTube
Wilco surprised guests at Poor David's Pub in Dallas last week when they unexpectedly took the stage at an open mic night.
Guitarist Pat Sansone wasn't there, but a lineup featuring frontman Jeff Tweedy, guitarist Nels Cline, bassist John Stirratt, drummer Glenn Kotche and keyboardist Mikael Jorgensen found their way onstage.
Wilco was reportedly on their way to a scheduled concert in Dallas taking place on Sept. 28 when they saw a sign for the open mic and decided to stop in. They played an hourlong set that included Wilco songs and covers of favorites by Bob Dylan, Stoney Edwards and Doug Sahm.
READ MORE: Wilco, 'Cruel Country': Album Review
You can see a video of the performance below along with the set list.
New Music From Wilco
Wilco released their 13th album, Cousin, last week. It was produced by singer-songwriter Cate Le Bon. The band has been debuting several songs from the album on tour. The Dallas stop included "Infinite Surprise" and "Ten Dead" from the new record.
Wilco, 9/27/23, Poor David's Pub, Dallas
1. "Far, Far Away"
2. "Tonight I'll Be Staying Here With You" (Bob Dylan cover)
3. "Hate It Here"
4. "Too Far Apart"
5. "Passenger Side"
6. "It's Just That Simple"
7. "A Lifetime to Find"
8. "New Madrid" (Uncle Tupelo cover)
9. "She's My Rock" (Stoney Edwards cover)
10. "Forget the Flowers"
11. "Give Back the Key to My Heart" (Doug Sahm cover)
12. "Bayou City" (Rob Case cover) (w/ Rob Case)
Wilco Albums Ranked
They started out as an alt-country offshoot but soon turned into one of the best bands in America.
Gallery Credit: Michael Gallucci