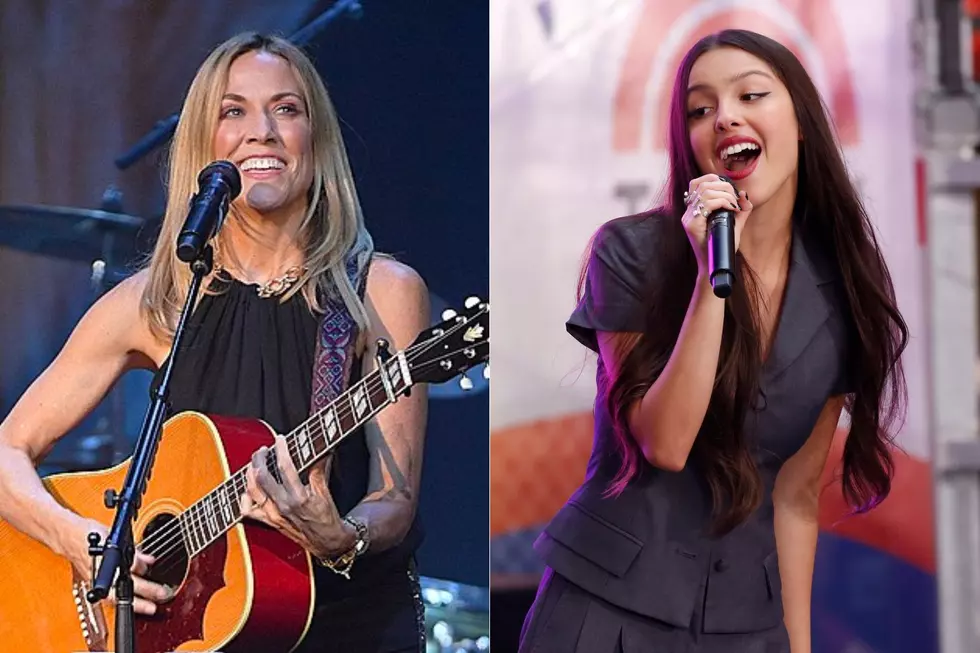 Watch Sheryl Crow and Olivia Rodrigo Sing 'If It Makes You Happy'
Jason Kempin / Rob Kim, Getty Images
Sheryl Crow was joined by Olivia Rodrigo on Friday night at the Bluebird Cafe in Nashville, where the duo sang Crow's "If It Makes You Happy."
"Pinch me! sang one of my favorite songs of all time with the greatest of all time @sherylcrow !!!!" Rodrigo wrote on her Instagram, sharing a photo of them reading Vogue magazines, plus of a clip of them singing the song. "What an honor!!!!"
You can view the clip below.
Rodrigo has previously expressed her admiration and gratitude for the female singer-songwriters who have come before her. In 2022, Crow presented Rodrigo with Billboard's Woman of the Year award, and the pop star thanked her in her acceptance speech.
"Every woman here today is working to break down those barriers and change the narrative and support each other," she said [via AP]. "I'm constantly moved by your vulnerability and your creativity and bravery, and I promise everyone here today is working to make this world and this industry a better place for you."
At that event, Crow told People that she often listens to Rodrigo's music with her kids. "We sing her songs on the way to school and on the way back from school," she said, also offering the young star some advice. "I just wanna tell her, enjoy it. Just enjoy it. Cuz sometimes you get so swept up [on] what am I gonna do next? What [do] I do next? And you forget to savor these little moments."
Sheryl Crow's Upcoming Rock Hall Induction
Later this year, Crow will be inducted into the Rock & Roll Hall of Fame, and she'll also perform live at the event, which will take place in New York City on Nov. 3.
READ MORE: 20 Women Who Should Be in the Rock and Roll Hall of Fame
"Can't believe it!" Crow wrote on social media following the news of her inclusion. "I'm so honored!!"
Top 100 '90s Rock Albums
Any discussion of the Top 100 '90s Rock Albums will have to include some grunge, and this one is no different.
Gallery Credit: UCR Staff