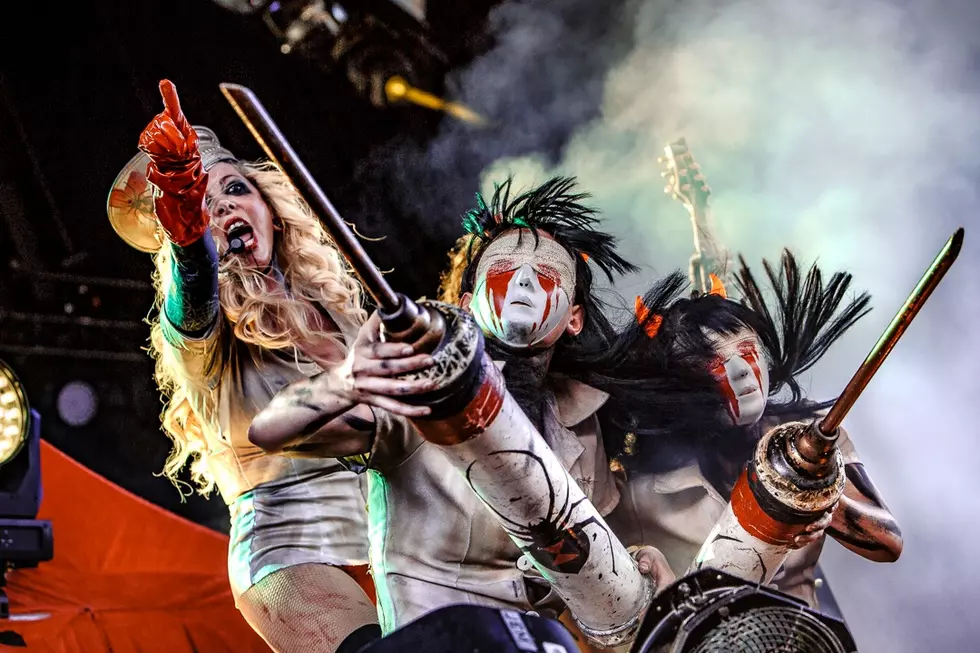 In This Moment Tap P.O.D. + More for 2018 North American Tour
Photo: Melina Dellamarggio
In This Moment spent a great deal of time on the road early on this year as they wrapped up support behind their 2014 effort, Black Widow. They had been promising a new album for some time and delivered Ritual over the summer, another cinematic and soulful release possessing a sound that's uniquely In This Moment. Now, the band is gearing up for a winter tour to open the new year and have tapped a stellar cast with P.O.D., New Years Day and Ded rounding out the bill.
The run will lean heavily on the eastern half of the United States, kicking off on Jan. 16 in Charleston, S.C. before hammering the panhandle state of Florida hard with five stops in total. Working back up the coast, it's off to the Midwest from there and into Canada (where two shows will intersect with Stone Sour) before descending stateside, capping the trek in St. Paul, Minn. one month later on Feb. 18.
All stops can be seen below and tickets will go on sale tomorrow (Nov. 16). For more ticketing information, head to In This Moment's website.
While In This Moment will be touting Ritual, both P.O.D. and New Years Day are touring on the back of their 2015 albums, The Awakening and Malevolence, respectively. Openers Ded are the greenest band on the bill and are still out in support of their debut, Misanthrope.
In This Moment 2018 North American Tour Dates
Jan. 16 — Charleston, S.C. @ North Charleston Performing Arts Center
Jan. 17 — Augusta, Ga. @ Miller Theater
Jan. 19 — St. Petersburg, Fla. @ Jannus Live
Jan. 20 — Jacksonville, Fla. @ Florida Theatre
Jan. 26 — Ft. Lauderdale, Fla. @ Revolution
Jan. 27 — Cape Coral, Fla. @ 93x WXNW Block Party
Jan. 28 — Orlando, Fla. @ Hard Rock Live
Jan. 30 — Columbia, S.C. @ Music Farm
Jan. 31 — Asheville, N.C. @ The Orange Peel
Feb. 02 — Columbus, Ohio @ Express Live
Feb. 03 — Louisville, Ky. @ Louisville Palace Theatre
Feb. 06 — Evansville, Ind. @ Victory Theatre
Feb. 07 — Detroit, Mich. @ The Fillmore Detroit
Feb. 09 — Cleveland, Ohio @ House Of Blues
Feb. 10 — Niagara Falls, N.Y. @ Rapisd Theatre
Feb. 12 — London, Ontario @ London Music Hall
Feb. 13 — Montreal, Quebec @ MTelus (feat. Stone Sour & The Dead Deads)
Feb. 14 — Toronto, Ontario @ Rebel (feat. Stone Sour & The Dead Deads)
Feb. 17 — Kansas City, Mo. @ Voodoo Lounge
Feb. 18 — St. Paul, Minn. @ The Palace
Where Does Maria Brink Rank Among the Top 50 Hard Rock + Metal Frontwomen of All Time?
In This Moment Perform Reimagined Billy Idol Cover With Rob Halford at the 2017 Loudwire Music Awards
More From Sasquatch 107.7 - The Rock of Rochester