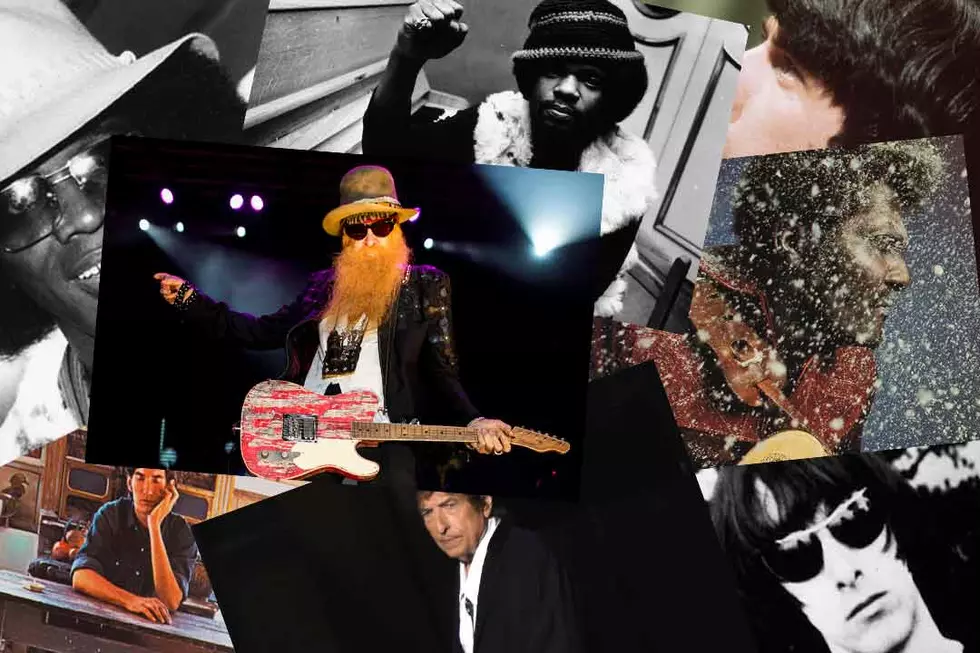 10 Times Houston Made Rock 'n' Roll History
Getty Images / Alligator / Polydor / Poppy
Hurricane Harvey battered the Gulf Coast of Texas over the weekend, and the danger isn't over yet, as widespread flooding rages across Houston.
While Harvey has since been downgraded to a tropical storm, residents are left picking up the pieces of its destruction, especially in Houston, where more rainfall could result in 50 inches, a record amount.
The city, like much of the state, has a rich musical foundation, as you'll see in our list of 10 Times Houston Made Rock 'n' Roll History.
From artists like Billy Gibbons, Billy Preston and Townes Van Zandt to songs by Bob Dylan, Eagles and Bruce Springsteen, Houston has contributed much popular music over the past 50 years, even though it goes back even further than that. In 1949, obscure blues singer Goree Carter recorded "Rock Awhile," a song often cited as one of rock's first (its distinctive guitar line most likely influenced Chuck Berry), in his hometown of Houston.
While the city recovers from the hurricane damage -- and you can do your part in helping by donating to the Red Cross -- and braces for an uncertain future, let's revisit 10 Times Houston Made Rock 'n' Roll History.
ZZ Top founder Gibbons is a proud Houston native, naming at least one song after the city: "Heaven, Hell or Houston" from 1981's El Loco. But he also got pretty close to it other times too, like in their first classic, the breakthrough "La Grange" from 1973. Gibbons' music practically drips Texan blood -- from the boogie-blues riffs to his mud-caked vocals. When he refers to Houston's "sin-infested street corners," there's nothing but love there.

Bluesman Collins wasn't even 10 years old when his family moved from Leona, Texas, to Houston, which sparked his distinct style of playing. He learned from his cousin, Houston native and music legend Lightnin' Hopkins, but soon developed into one of the genre's most powerful performers. His 1978 album Ice Pickin' is his definitive statement, a tangle of stabbing riffs and razor-sharp tones that influenced rockers from Canned Heat to George Thorogood to Stevie Ray Vaughan.

The Monkees came from all over the place. Micky Dolenz was from Los Angeles, Peter Tork was born in Washington, D.C., Davy Jones came from Manchester, England, and Michael Nesmith was born in Houston. He never lost his Texas roots (or accent), dusting his songs -- ones he wrote and sang with the Monkees, solo tracks and tunes made famous by others, like Linda Ronstadt and the Stone Poneys' "Different Drum" -- with a subtle but definite twang.

Hulton Archive, Getty Images

Hulton Archive, Getty Images

'Galveston Bay' by Bruce Springsteen

Galveston Bay, which is surrounded by parts of Houston, helped secure the city's force as a trade center at the top of the 20th century. Springsteen's 1995 song -- from The Ghost of Tom Joad -- offers a despairing look at a Vietnamese man who moves his family to America for a better life. Like most of the songs on the dark, acoustic Tom Joad, "Galveston Bay" paints a thorny portrait of the times. A racially motivated act results in death in this harrowing tale set in the Houston bay.

Townes Van Zandt -- who moved to Houston as a child -- was one of the '70s' greatest singer-songwriters. He never became a household name, even though he was a favorite among other artists: Willie Nelson and Merle Haggard  had a hit with his "Pancho and Lefty," and Bob Dylan, Robert Plant and Neil Young has sung his praises over the years. Van Zandt struggled with drug and alcohol abuse, and was diagnosed as bipolar (he was given shock therapy when he was young), issues that led to his death in 1997 at age 52.

'If You Ever Go to Houston' by Bob Dylan

Dylan co-wrote "If You Ever Go to Houston" with Robert Hunter, the lyricist behind many of the Grateful Dead's best songs. The track appeared on 2009's Together Through Life, a No. 1 album. Minnesota-born Dylan made his name in New York City's folk clubs, but he always had the entire U.S. at the core of his best work. The song is basically a rundown of Texas towns, with Dylan advising, "If you ever go to Houston, better walk right / Keep your hands in your pockets, and your gun-belt tight."

Frazer Harrison, Getty Images

Frazer Harrison, Getty Images

Houston-born Preston had a long history with rock 'n' roll, including gigs with the Rolling Stones, Little Richard and Eric Clapton. But he's best known -- outside of his handful of solo hits in the '70s -- as the keyboardist on some of the Beatles' best late-career songs, like "Something" and "Get Back," for which he received a rare co-credit on the single. John Lennon wanted to make him a full-time member. He died in 2006 after falling into a coma.

Ian Showell, Hulton Archive, Getty Images

Ian Showell, Hulton Archive, Getty Images

The Velvet Underground are one of rock's most quintessential New York City bands, and all of their original members -- except for multi-instrumentalist John Cale, a Welshman -- were born there. But after guitarist Sterling Morrison left the group after four groundbreaking albums, he moved to Houston and became a tugboat captain in the city's busy ship channel. When the Velvets briefly reunited in 1993, he took part in the shows. Two years later, he died of non-Hodgkin's lymphoma.

Eagles co-founder Don Henley grew up in Linden, Texas, which is almost five hours away from Houston, but he and his bandmates paid tribute to the state's biggest city in their 1979 hit "The Long Run." The title track to the No. 1 album was written by Henley and Glenn Frey, and is, lyrically, a middle finger to critics that musically pays tribute to Memphis R&B. But a key line -- "All the debutantes in Houston, baby, couldn't hold a candle to you" -- nods to Henley's Texas roots.

Watson had been making records since the '50s when he found his true calling with funk- and disco-kissed songs spiked with guitar fireworks in the mid '70s (his 1976 LP, Ain't That a Bitch, is his masterwork). He kicked around Houston, where he was born, during his formative years before a family split relocated him to Los Angeles. He then hooked up with legends like Little Richard on the road, and eventually played with Frank Zappa. His solo career was marked by flashy performances until his death in 1996.

Hulton Archive, Getty Images

Hulton Archive, Getty Images
More From Sasquatch 107.7 - The Rock of Rochester