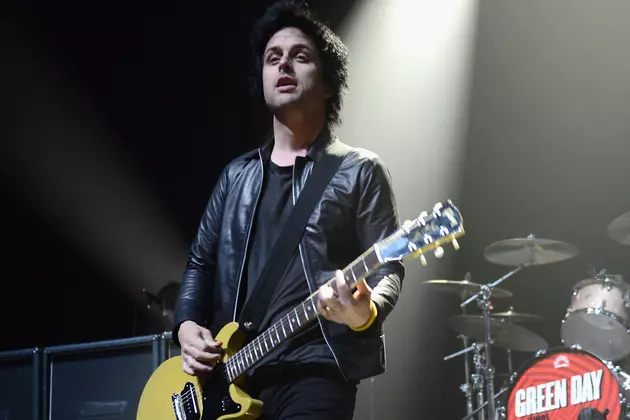 Green Day's Billie Joe Armstrong Invites Disabled Fan to Play Guitar Onstage in London
Michael Buckner, Getty Images
For years, Green Day have put out the invite to fans to come up and play a bit onstage with them, but for their recent show at London's O2 Arena there was a special moment that touched the heart of many fans.
As Billie Joe Armstrong scanned the crowd for a fan to join them onstage to play guitar on a track, he spotted a young disabled woman in the crowd who was volunteering. After being assured that she could in fact play, the woman named Rachel made her way to the stage with the help of a caregiver. Eventually she was led to the steps of Tre Cool's drum riser where she was able to sit and play as Armstrong sat beside her and the crowd delighted in the performance.
Not only did Rachel play, but at the end of the performance, Armstrong gifted her with his guitar. "Rachel, you can keep the guitar. You can have the guitar," stated Armstrong to the cheers of the crowd. Watch footage from England's Radio X host Ross Buchanan in the tweet below.
Green Day have been touring Europe in support of their recently released album Revolution Radio. The band will return stateside in March for a North American tour leg. See dates for the run at this location.
See Where Green Day's Revolution Radio Ranks Among the 20 Best Rock Albums of 2016
See Green Day in the 15 Greatest Punk Bands
More From Sasquatch 107.7 - The Rock of Rochester