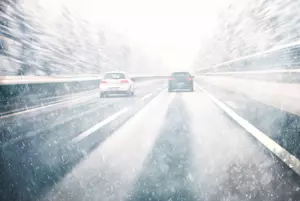 Frightening Video – 47 Car Pileup in Kansas City (WATCH NOW)
Getty Images/iStockphoto
Honestly, and I don't say this to be funny...it was like that early scene in Birdbox where cars are crashing all over the place. I was scrolling thru Twitter and saw this video and I couldn't believe what I was seeing.
On Friday the 15th, a pileup had begun on I-70, a little west of Kansas City. A trucker and his wife were in their cab, and shooting video of car after car coming in at full speed and crashing into all the other vehicles. It is amazing only one person was killed in this pileup!
There's some rough language in this clip. 
Here's what the trucker says...
"Tanika was driving our truck while Jamon was in the sleeper berth on I-70 West around 10:30 am. Jamon heard a gasp from Tanika as she swerved to avoid a tractor-trailer and used all her brakes to slow down so we would not make the accident worse. We were inches away from hitting a car but stopped safely.

Cars were flying past us just running into each other until a tractor-trailer came and slowed the car traffic down. One person who unfortunately died at the scene and many people were injured. There were a lot of cars that were towed, but our truck was remarkably accident-free." Credit: Jamon Weaver
Some people have commented that the kind of fog that was in the air made it impossible to see ahead, which makes me wonder why so many were driving so gast.
Why do we seem to be losing our common sense on the roads?
Listen to James Rabe 6a to 10a on Y-105 FM
More From Sasquatch 107.7 - The Rock of Rochester