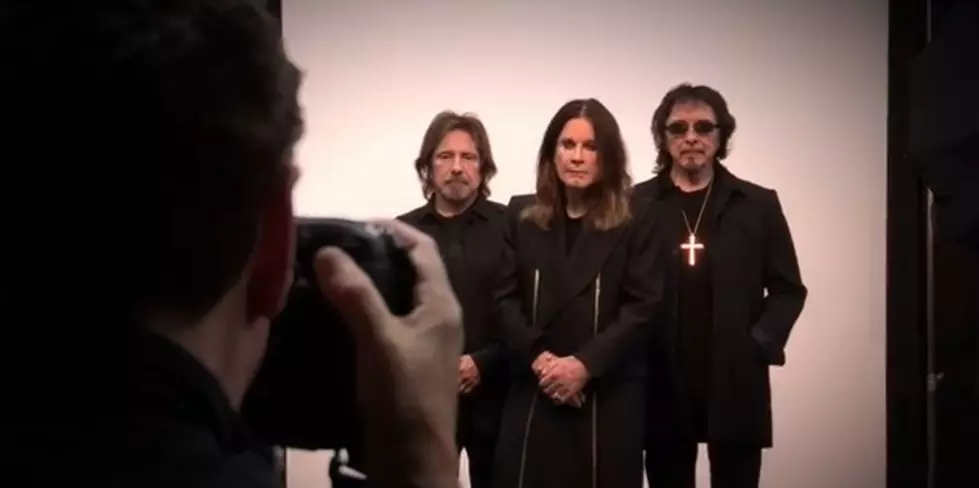 Black Sabbath – The Final Tour Set Lists Discussed, Plus New Behind-the-Scenes Video
photo: Screenshot - You Tube
Black Sabbath have released a new preview video in advance of their final tour, with rehearsal footage and new interviews from behind the scenes.
The clip begins with Ozzy Osbourne and the rest of the band making their way to the rehearsal space and then launching into "Hand of Doom," powered along by a thunderous bass line from Geezer Butler. Later, the bassist notes that Black Sabbath haven't performed the song on tour since the early '70s.
"We picked a few from the ones we haven't played in a long time to add to 'Iron Man' and 'War Pigs,' which you have to do, and we love to play them," guitarist Tony Iommi adds. An enthusiastic Osbourne promises that "we're doing more classic Sabbath songs than newer stuff."
A sense of history permeates everything, as Butler, Iommi and Osbourne gather for what promises to be Black Sabbath's final major tour. "It's bittersweet," Butler says of calling it quits. "It's going to be sad, in some ways, but it's going to be great in another way – because it's going to be the last time that people see us. So, we're going to give 100 percent to this every night."
The new video — which you can watch below — starts by reversing the title of "End of the Beginning," a standout cut from Black Sabbath's 2013 reunion project with Osbourne, 13. An exclusive, limited-edition disc with four previously unreleased songs from those sessions will be available at the final concerts, which begin next week.
Black Sabbath - Behind The Scenes at Rehearsals for THE END
Black Sabbath invades the Target Center w/ opening act, Rival Sons on Monday, Jan 25th 7:30pm. Get your tickets at TICKETMASTER.
More From Sasquatch 107.7 - The Rock of Rochester