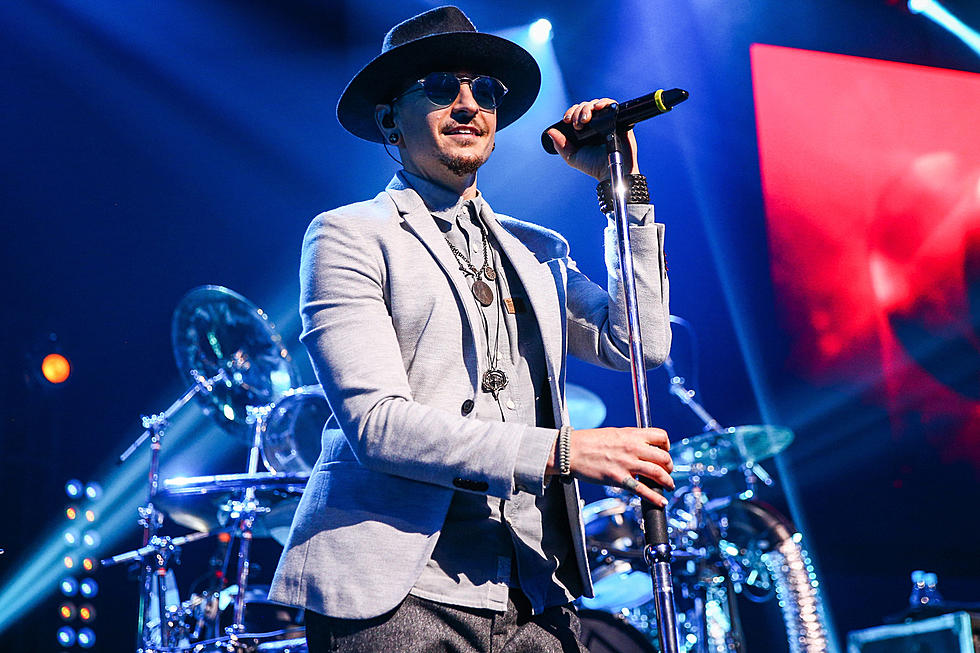 10 Times We Were Wowed By Chester Bennington's Vocals
Rich Fury, Getty Images
Today, March 20, would have been Chester Bennington's 42nd birthday. The Linkin Park singer shockingly took his own life last summer and the music world lost not only a great talent, but a warm and giving personality as well.
Throughout the years, Linkin Park's music helped many through rough times in their life, with Chester's voice having the ability to capture and transmit the emotions that many of his fans had been feeling. Having that quality brought many fans to Linkin Park's music and his vocal prowess has not been lost on us.
There are many times that his vocals just blew us away. Not only did he have one of the great rock voices, able to power through and deliver the angst felt in the music with full thrust, but he was an underrated melodic vocalist as well, able to pull back and connect with the emotion and provide more intimate moments when called for. Today we look back 10 Times We Were Wowed By Chester Bennington's Vocals.
"One Step Closer"

From: 'Hybrid Theory' (2000)

Who remembers the first time you heard Linkin Park? It was likely the band's breakout single, "One Step Closer," and there was no denying the power and intensity that Chester Bennington brought to the track. A new vocal star was discovered with the introduction of "One Step Closer."

"Crawling"

From: "Hybrid Theory" (2001)

If "One Step Closer" caught your attention, you soon became well aware that Chester Bennington was also feeling many of the lyrics he sang with "Crawling." Bennington dug deep with this Grammy-winning 'Hybrid Theory' favorite, which spoke of his own personal demons with substance abuse. Though Bennington could deliver the track with ferocity, on the band's final tour he showed how raw of a nerve the song was by stripping it back to its most intimate and vulnerable space. Regardless of arrangement, Bennington always delivered a vocal that stuck with fans long after shows.

"In the End"

From: 'Hybrid Theory' (2001)

Go ahead, admit it. You've tried to sing along to Bennington's part in Linkin Park's "In the End," and having done so you likely know just what a feat it is for the vocalist to hold such a powerful note and make it resonate for such a long period. This may be the most perfect blend of Bennington and Mike Shinoda's vocals, but Bennington's backing in the verses give it that something extra.

"Numb"

From: 'Meteora' (2003)

While the power of Bennington's vocals is what initially captured the ear of many Linkin Park fans, the vocalist lets his melodic side show within the verses of "Numb." It's a subtle build as the song rolls out, eventually ascending to the power we'd come to expect, but "Numb" is one of the songs that best shows Bennington's range of delivery.

"Breaking the Habit"

From: 'Meteora' (2004)

Though not written by Bennington, "Breaking the Habit" is a song that the singer could definitely identify with. He nimbly keeps the melody going over a fairly rapid-fire track, slowly building in intensity to the emotion-ridden chorus, with his "Breaking the Habit" getting almost to full scream at times.

"Shadow of the Day"

From: 'Minutes to Midnight' (2007)

"Shadow of the Day" is one of Bennington's more subdued vocal performances, but the nuance with which he delivers the vocal should definitely be appreciated. It's a slow-building song that relies heavily on Bennington's vocal to set the tone, first taking the listener through a more melancholy vibe before eventually making a subtle transition to a more hopeful feel.

"Given Up"

From: 'Minutes to Midnight' (2008)

Is there any limit to Bennington's range? You start to feel on "Given Up" that the singer is reaching it. The verses feel a little rough, mirroring the vibe of the song, but when the chorus kicks in, so does that power scream of Bennington. But this time, it feels as though he's leaving it all on the recording, pushing the scream as far as it could go.

"Waiting for the End"

From: 'A Thousand Suns' (2010)

Linkin Park really changed things up with their 2010 single "Waiting for the End," providing a more rhythmic track that just glides over a steady piano-note beat. For one of Bennington's more stellar melodic moments, go back and revisit this gem as Bennington starts almost whisper-restrained before building toward the track's most emotion-filled sentiment: 'I know what it takes to move on / I know how it feels to lie / All I wanna do is trade this life for something new / Holding onto what I haven't got."

"A Light That Never Comes"

From: 'Recharged' (2013)

When the beat gets pumping, it's sometimes hard not to get pulled into the mesmerizing groove. And this Linkin Park collaboration with Steve Aoki definitely has an undeniably dance-y feel. But even with your feet tapping, you're not going to miss Chester Bennington's vocal in "A Light That Never Comes." As the shift transitions from Shinoda's rap to Bennington's vocal, the music pulls back a bit to let Bennington take center stage, as he reaches for his upper register. The singer hits his mark with the lyric, then offers a catchy "uh-oh-uh-oh-ohhhh" that plays right along with the beat that Aoki's laying down.

"One More Light"

From: 'One More Light' (2017)

While we often associate Bennington's voice with power, there may have been no powerful statement that he made as a vocalist with the more subdued and vulnerable title track from the 'One More Light' album. It's an emotional vocal that hits even harder in the wake of Bennington's passing.
More From Sasquatch 107.7 - The Rock of Rochester