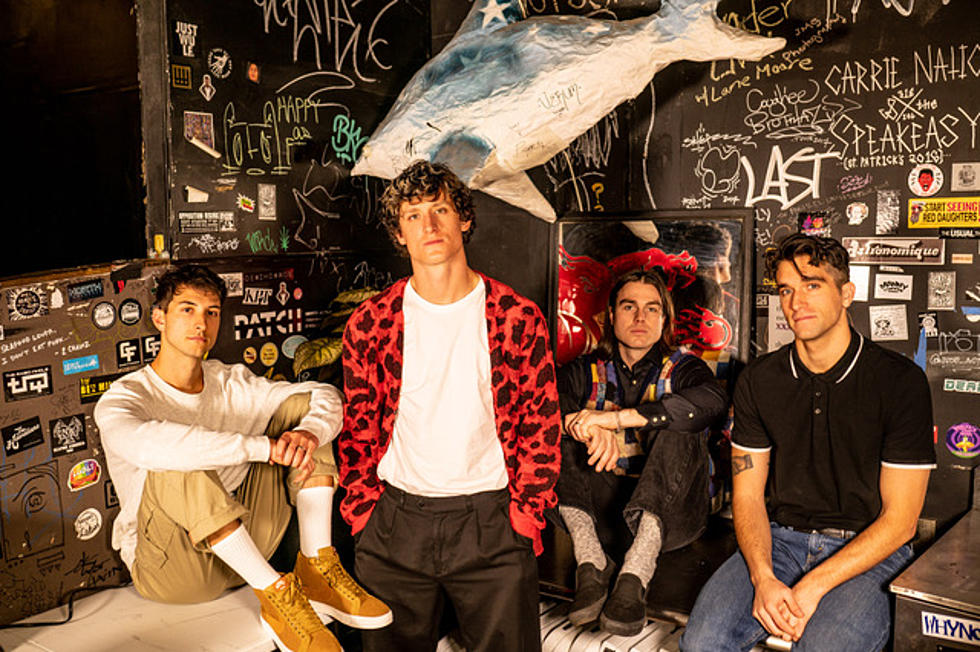 Yam Haus, A Super Popular Minnesota Band, Will Be On NBC's American Song Contest!
Photo credit: Kaleb Musser
A Minneapolis, Minnesota group started as a daily YouTube vlog, but soon were selling out shows around the Midwest. And now that group, Yam Haus, has made their way to Hollywood to represent Minnestoa in NBS's American Song Contest, starting March 21st, 2022 (that's Monday!).
Yam Haus was formed in 2017 in Minneapolis and includes Lars Pruitt (vocals), Seth Blum (guitar), Jake Felstow (drums), and Zach Beinlich (bass). Zach, Seth, and Lars went to high school together in Hudson, WI (just a hop, skip, and a jump across the Mississippi River about 30 miles East of the Twin Cities). Jake joined up in Minneapolis and bam, Yam Hous.
On YouTube, they have 66,000 followers and 11.1 Million views. On Spotify they're working on 9.2 Million streams. Sound like a great band to represent the Land of 10,000 Lakes!
What Is NBC's American Song Contest?
It's an all-live music competition series, created by the same producers The Voice, and is hosted by Snoop Dogg and Kelly Clarkson. American Song Contest premieres Monday, March 21 at 8 p.m. You'll see 56 artists, representing the 50 states, five U.S. territories, and our nation's capital, who will compete to win the country's vote for the best hit song.
When Yam Haus Played Thursdays Downtown
Maybe You Know A Few of the Other Entertainers?
Iowa: Alisabeth Von Presley
Hometown: Marion, IA
Resident: Cedar Rapids, IA
Alisabeth Von Presley is a pink-haired pop-rock artist raised on a well-balanced diet of Pat Benatar, a plateful of glitter and a touch of Midwestern sass. She's as edgy as she is authentic and is an advocate for female empowerment through her music, lyrics, public platforms, and work in area schools. Alisabeth...recently played a show for over 16,000 in her hometown of Cedar Rapids, Iowa. With her live shows drawing rave reviews, this girl is a performer to watch.
North Dakota: Chloe Fredericks
Hometown: Halliday, ND
Resident: Halliday, ND
Chloe Fredericks grew up listening to some of country music's great artists, including Johnny Cash, Patsy Cline and Emmylou Harris, and often receives comparisons to powerhouse singer-songwriters Adele and Amy Winehouse. Her mom would always call Chloe her "little singing birdy" and some of Chloe's fondest memories are singing alongside her dad. She was raised on a ranch in North Dakota and learned the cowboy way of living - if you get bucked off of a horse, you get right back on. It's helped carry Chloe through the more trying times in the ever-changing music business.
South Dakota: Judd Hoos
Hometown: Spearfish, SD
Resident: Rapid City, SD
Judd Hoos is a rock band from the Black Hills of South Dakota. The band's lineup consists of Tyler Bills, Shane Funk, Chris Hornick and Andy Young. In the past 12 months, Judd Hoos has released a new EP, "Not Alone," organized the Nashville Comes to the Black Hills songwriting camp and hosted the first-ever Judd Hoos Charity Jam. They appeared on multiple tour stops with Nashville rockers the Wild Feathers, played close to 100 Midwest clubs, theaters, festivals and fairs and even shared the stage with rock icon Billy Idol. In addition to recording new music, they have renewed a tour sponsorship deal with Remedy Brewing Company for the second straight year and collaborated on their own IPA, Hoos Joos
Wisconsin: Jake'O
Hometown: Loreto Ridge, WI
Resident: Plain, WI
Jake'O is an American vocalist, guitarist, performer and entertainer from Plain, Wisconsin. He (is) the originator of the Nuvo-Retro sound - a term he coined to describe his genre and style...He is excited to make his family, friends and fans from his home of Wisconsin proud as he takes the national stage.
I Think NBC's American Song Contest Is Including A Ringer
The oddest entry is, I think, the Alaskan representative. Jewel! I love her, seriously. The music she's been creating all these years is beyond amazing. It seems, though, a little unfair? Like putting Jo-Jo Siwa, a wildly successful and well-known dancer, in Dancing With the Stars.
As always, if you have a comment, complaint, or concern about something I wrote here, please let me know: james.rabe@townsquaremedia.com
Click Play to Hear The Y-105FM Early Morning Show Radio-On-Demand Podcast!
Listen On-Demand with the Y105FM app, and on the following podcast platforms: Apple Podcasts | Google Podcasts | Spotify
Since We're Talking ABout Music and Singers...
It's not often it happens, but singers to turn actor and give up the music...I honestly didn't know about a LOT of these.
49 Actors You Might Not Remember Are Musicians
More From Sasquatch 107.7 - The Rock of Rochester