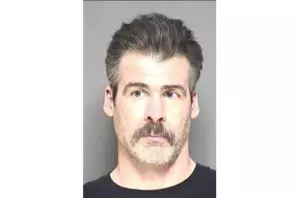 Winona Man Sentenced For Police Chase Involving Semi-Truck
Olmsted County ADC
Rochester, MN (KROC AM News) - A Winona man who led authorities on a 50-mile chase with a stolen semi-truck has been sentenced to prison for that case and another police pursuit in Rochester.
Sentenced Wednesday in the Olmsted County case was 43-year-old Michael Kronebusch.
A Rochester police officer tried to stop Kronebusch in the early morning hours of Oct 19, 2017, for a traffic violation but he sped off on Highway 63. An Olmsted County deputy also tried stopping Kronebusch, whose car was clocked at speeds up to 110 mph. Kronebusch was able to get away but later identified and charged. He was given a 19-month prison sentence.
He was sentenced in the Winona case last month.
That incident took place last March. Kronebusch was spotted driving a stolen semi-truck in Winona and led numerous officers on a chase that went through Goodview, Minnesota City, Rollingstone, Elba, St. Charles and Lewiston. The hour-long chase ended near Lewiston when he rammed a squad car and was dragged out of the truck.
He was given a 25-month prison sentence for that conviction.
More From Sasquatch 107.7 - The Rock of Rochester