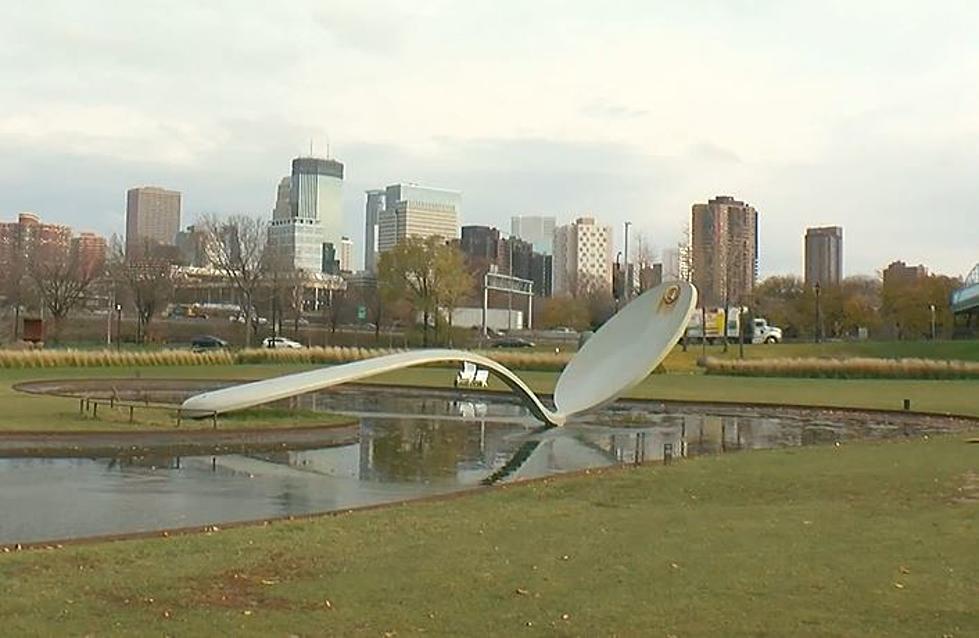 What Happened to the Cherry from the 'Spoonbridge and Cherry' Sculpture in Minneapolis?
Caroline Cummings via WCCO
The well-known sculpture called the 'Spoonbridge and Cherry' at the Sculpture Garden in Minneapolis, Minnesota has been taken apart. The cherry is no longer on the spoon, it's just a lonely spoon sitting in the garden. What happened to the cherry?
Where Did the Cherry Go?
The cherry was removed from the 'Spoonbridge and Cherry' sculpture yesterday because it needs to be repainted. It's not being taken away, there won't be a sad spoon all alone forever. But the cherry isn't staying in Minnesota to be painted. After it got very carefully taken off of the spoon and secured to a truck, it hit the road for New York.
Why is the Cherry Going All the Way to New York to be Painted?
Many people are wondering why it was decided to have the cherry taken all the way to New York to be painted instead of having it done locally. Joe King, director of collections at the Walker Art Center, spoke to WCCO about the reasoning. He said that the company they're taking the cherry to, called Fine Art Finishes, specializes in sculptural art paint. Joe said, "the most difficult part is removing it for painting, so 'after going through all that process, we want to get the best product that we can.'"
Has the Cherry Ever Been Repainted Before?
The cherry gets repainted about every 8 years. Since the sculpture was put in the Sculpture Garden in 1988 the cherry has been repainted 6 or 7 times. The last time it was repainted was in 2016. After the wear and tear of being outside in Minnesota's crazy temperature swings and weather, no wonder it needs to be repainted.
It's a Minnesota Bucket List! 50 Things You Must Do and See in Minnesota
The land of 10,000 lakes has so many amazing places to visit and explore! Scroll through this Minnesota Bucket List of 50 places and things to do and see how many you've crossed off the list.
More From Sasquatch 107.7 - The Rock of Rochester