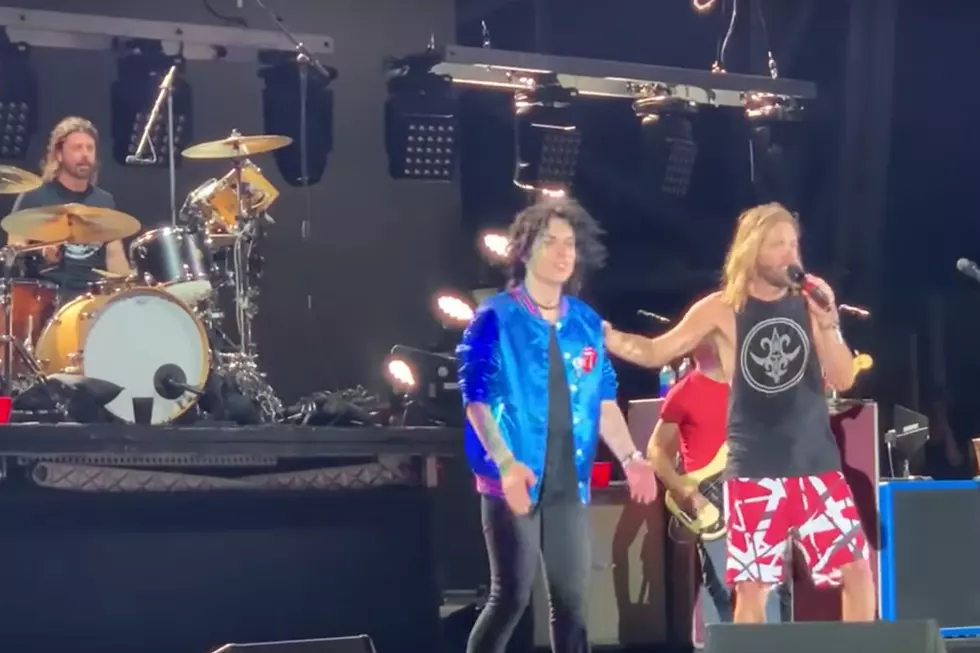 Watch Foo Fighters + The Struts' Luke Spiller Cover Queen
YouTube: Cory Copeland
The Sonic Temple Festival took place over the weekend in Columbus, Ohio. The three-day event was mired with delays and cancelations on Sunday (May 19) after seriously high winds caused the grounds to be evacuated. Thankfully, the fans were allowed to return in time to see the Foo Fighters take the stage to wrap up the festival. The group delivered a memorable set including a collaboration with The Struts' frontman Luke Spiller.
During their set, the Foos invited Spiller on stage to join the band for a cover of the Queen and David Bowie classic "Under Pressure," which has become a staple of their live show. Dave Grohl hopped behind the drums to give Taylor Hawkins the opportunity to front the band, who then asked Spiller to duet with him.
Spiller and Hawkins handle the vocal duties well, while Grohl shines behind the kit. Pay attention to the end when Grohl plays the beginning drum fill for "Smells Like Teen Spirit" at the end of the song. Watch the video below.
The organizers behind the Sonic Temple Festival released a statement apologizing for the cancelation of certain acts. The release reads in part: "At the end of the day, there are two things that we can't control and that really put an outdoor festival at risk – lightning and the wind. We were experiencing high intermittent wind that caused concern. For safety reasons, first we shut down the Wave stage. Then we cleared the floor of the main stage for safety."
After explaining the main stage evacuation, the statement continues: "We are so grateful for how quickly and safely you exited the festival grounds and how patiently you were until we could re-open the doors. It was incredibly rewarding for me to see you all safely come back. We could feel your energy and excitement building as we got ready for the Foo Fighters to take the stage. And wow did they give us an absolutely epic performance." Read the entire statement here.
Foo Fighters touring continues into the summer at these stops, while The Struts will play in Europe and the U.S. this summer. See their dates here.
Watch Foo Fighters + The Struts' Luke Spiller Perform "Under Pressure"
Where Does Dave Grohl Rank Among the Top 66 Hard Rock + Metal Frontmen of All Time?
More From Sasquatch 107.7 - The Rock of Rochester