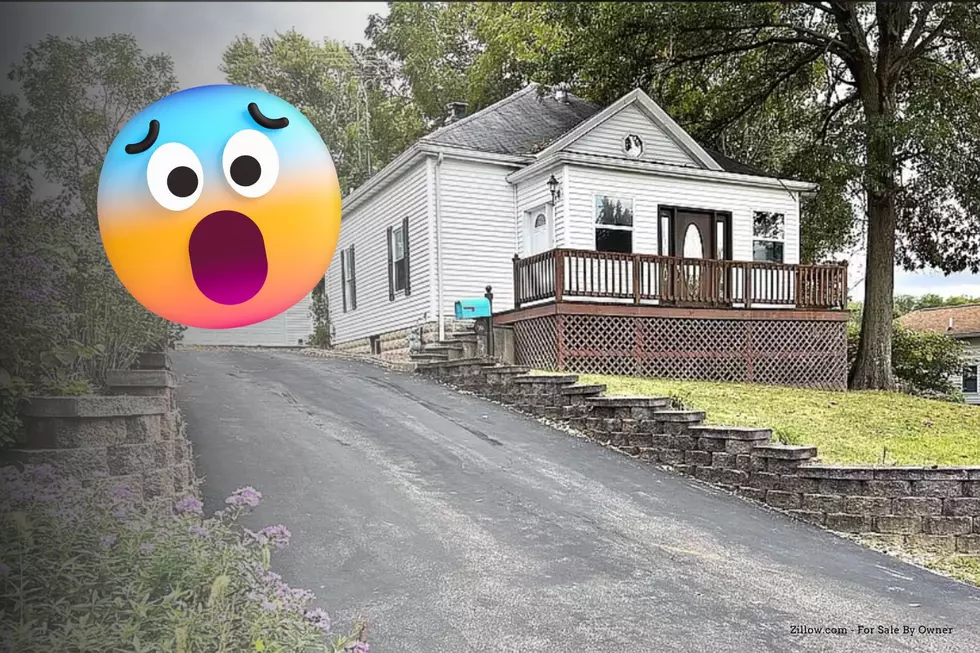 WARNING: Home for Sale in Illinois Has Photos That May Freak You Out to Your Core
Zillow.com - For Sale By Owner
WARNING: Home for Sale in Illinois Has Photos That May Freak You Out to Your Core
One thing I love is hanging out on Zillow Gone Wild on Facebook.  It posts homes that are "unique" from all states including those in Minnesota.  Unfortunately, I'm not sure if I should laugh or cry right now.  A house that was for sale by owner popped up on Zillow.com at 141 E. Hoehn St. in Carlinville, Illinois that is giving me a huge swing of emotions.
One photo makes me happy that there is a home that has been well-kept and then...I shudder in fear when I see the face.  The freaky, spooky, terrifying face of a human monster.
Freakishly Terrifying Photos of Home for Sale in Illinois Will Either Make You Laugh...or Cry.
Is it freaky? Oh yeah.
Will these scary photos sell the house at 141 E Hoehn St. in Carlinville, Illinois? Who knows. It definitely is a different approach than just putting some photos up on Zillow or Realtor.com with a cutesy description hoping that the right words and images will draw people in.
Not every photo is scary though. Ok, the majority have something hiding. After you see a few of the photos of this house you might even start laughing.
See what happens!
READ MORE: Terrifying Video Exposes Minnesota Driver Eating Cereal While Behind The Wheel
Are you brave enough to see 141 E Hoehn St. in Carlinville, Illinois?
Although the house photos are a bit on the freaky side, the house is pretty cute.  It is 2,750 square feet and has 4 bedrooms and 4 bathrooms in it and according to Zillow.com, it is listed by owner for $169,000.  The home is no longer on the market but you can see what was originally posted for 141 E Hoehn St. in Carlinville, Illinois and learn more here.
Hilarious R-Rated Sign Spotted in Wisconsin Home for Sale
You know when you are checking out Zillow or Realtor.com to see how much your neighbor's house (or your boss') is worth?  Every now and then you can see photos of the inside because the house was recently for sale and so you do what everyone in Minnesota does...you take a look.  Hopefully, I'm not the only one.  Well, there is a house on the market about an hour from Rochester that I took a peek at and it looks like a Hobby Lobby store inside...in a good way.  But there is one room that will make you do a double-take when you see it.
When you see it, you'll know what I'm talking about.😲
All of the Internet is Shocked at Sign Hung in Wisconsin Home for Sale
A house that went on the market in Onalaska, Wisconsin in April is absolutely gorgeous but there is one small thing hanging on a wall that has everyone doing a double-take. Oh, and someone lost their sunglasses in a pretty random spot too. (See if you can find where those lost sunglasses are in the photos.)
This home at W6547 Woodland Pass in Onalaska, Wisconsin was built in 1989 and sits on 1.53 acres that are pretty wooded. Lots of space indoors too with 3,600 square feet and 4 bedrooms and 3 bathrooms. The house did go into pending status pretty fast but you can see the full listing by Realtor Spencer Hegenbarth at RE/MAX Results on
Realtor.com here.
More From Sasquatch 107.7 - The Rock of Rochester