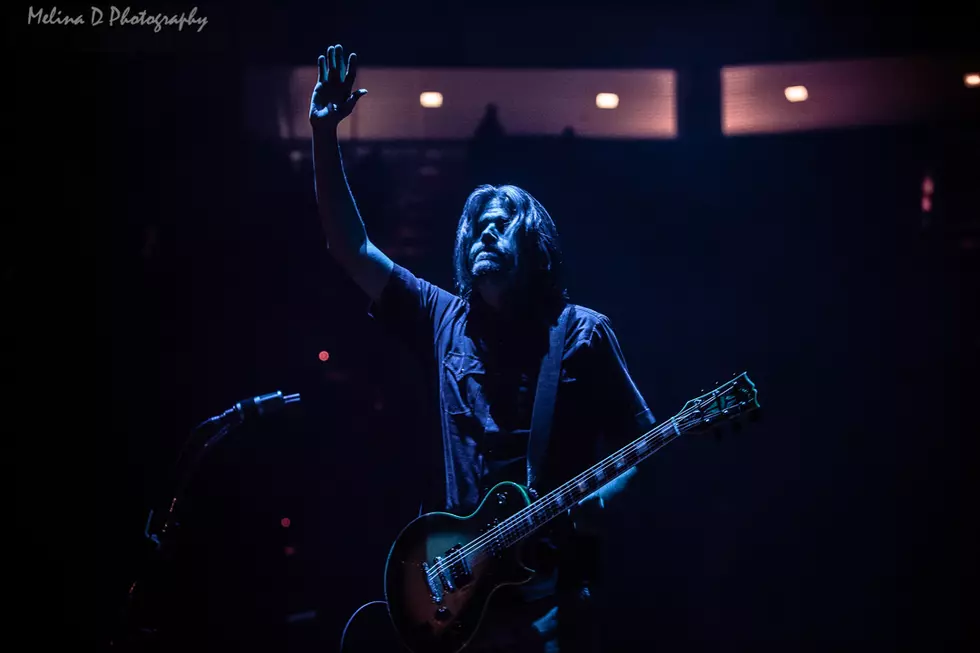 Tool's Album Version of 'Descending' Will Sound Nothing Like the Live Version
Photo Credit: Melina Dellamarggio
If you're a Tool fanatic, we know you've been listening to live versions of "Descending" on repeat, but we should all hold up for a second. According to guitarist Adam Jones, Tool's performances of "Descending" are extremely different from what the final version of the track will sound like.
Tool have been performing "Descending" live at every gig since Arizona's Monster Mash Festival on Halloween 2015. Clocking in at about four minutes long, many fans have assumed it's the full or partial instrumental section of a completed song. Turns out that isn't true. For the last year-and-a-half, Tool have been jamming "Descending" as a mash-up of the full song's various twists and turns.
"The best way to explain it is that it's like when a new movie is coming out," Jones explained during an interview with The Press-Enterprise. "It's a really anticipated movie, so the first trailer is really obscure and you're like 'Wait, what?' That's what we're doing. We took the song that is finished, it's called 'Descending,' and we just took the most obscure bits and put it together to give a little taste of what's coming."
Wow, so the full "Descending" composition is much longer than four minutes, which isn't surprising considering Tool's discography, especially when looking at Lateralus or 10,000 Days.
As for when Tool's next album will come out, Jones had no definite answer, but the guitarist said, "There are a good variety of fans that are very passionate about the next record we have coming out. They're always like 'But it's been 10 years,' but we just go by our own rules in what we do and we'd like to do another record, but it has to be right for everyone and the timing has to be right … It's nice that they're passionate about it. That's a very good thing. It's rewarding to have your fans wanting more, but we just have to do it in our own time and by our own rules."
Tool have two shows left on their 2017 North American tour, so check out the full list of dates to see if you'll be able to catch them.
See Tool in the Best Metal Album of Each Year Since 1970
12 Unforgettable Maynard James Keenan Moments
More From Sasquatch 107.7 - The Rock of Rochester