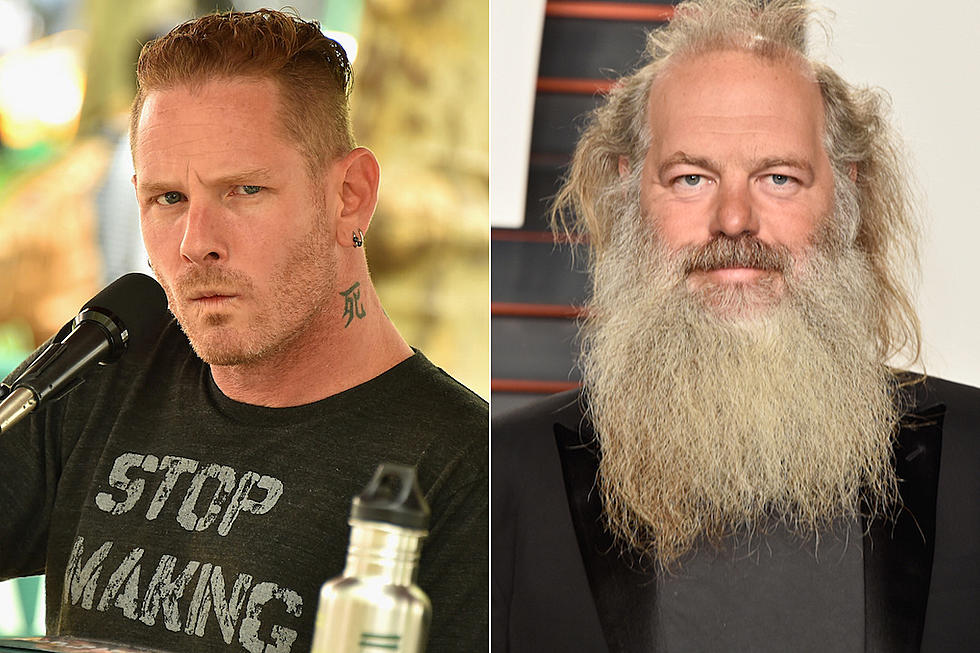 Slipknot's Corey Taylor Aims to Make Amends With Producer Rick Rubin
Theo Wargo / Pascal Le Segretain, Getty Images
Slipknot's Corey Taylor wants to make amends with legendary producer Rick Rubin. During a recent interview, Taylor expressed regret for calling Rubin "overrated" and "overpaid" while performing a spoken-word gig in 2011.
Slipknot worked with Rick Rubin for their 2004 album, Vol. 3: (The Subliminal Verses), which has gone platinum in four countries. Taylor had apparently been holding on to some resentment since the recording sessions, speaking negatively about his experience with Rubin during a Q&A session with fans.
"Rick Rubin showed up for 45 minutes a week," Corey vented. "Rick Rubin would then, during that 45 minutes, lay on a couch, have a mic brought in next to his face so he wouldn't have to f—ing move. I swear to God. And then he would be, like, 'Play it for me.' The engineer would play it. And he had shades on the whole time. Never mind the fact that there is no sun in the room — it's all dark… I will say this: I respect what Rick Rubin has done, I respect the work that he has done in the past to get to where he is now. But… the Rick Rubin of today is a thin, thin, thin shadow of the Rick Rubin that he was. He is overrated, he is overpaid, and I will never work with him again as long as I f—ing live."
In a new interview with Beats 1 radio DJ Zane Lowe, Taylor explained where his anger toward Rubin had come from. "You know, I was a young guy, I was also freshly sober, and being a singer and being sober, 'I need your attention, Rick! I need it!' You know? So that was me just being young, unsure of myself, needing the guidance… which I got from [engineer] Greg Fidelman," Taylor said. "For me though, being selfish, being a singer... Like I said, I was unsure. I was, basically, an open wound at that point that just needed to heal and I didn't have anybody there to kind of help me. So I blamed him a lot — in retrospect, probably more than I really should have. And, you know, I feel bad about it, and hopefully someday I'll be able to make some amends with him."
Slipknot recently concluded their massive touring cycle for .5: The Gray Chapter. Corey Taylor will release his fourth book next year and is working on a new Stone Sour album.
See Where Slipknot's Albums Landed on the Top 100 Hard Rock + Metal Albums of the 21st Century
Watch Loudwire's Exclusive Slipknot + Stone Sour Videos
More From Sasquatch 107.7 - The Rock of Rochester