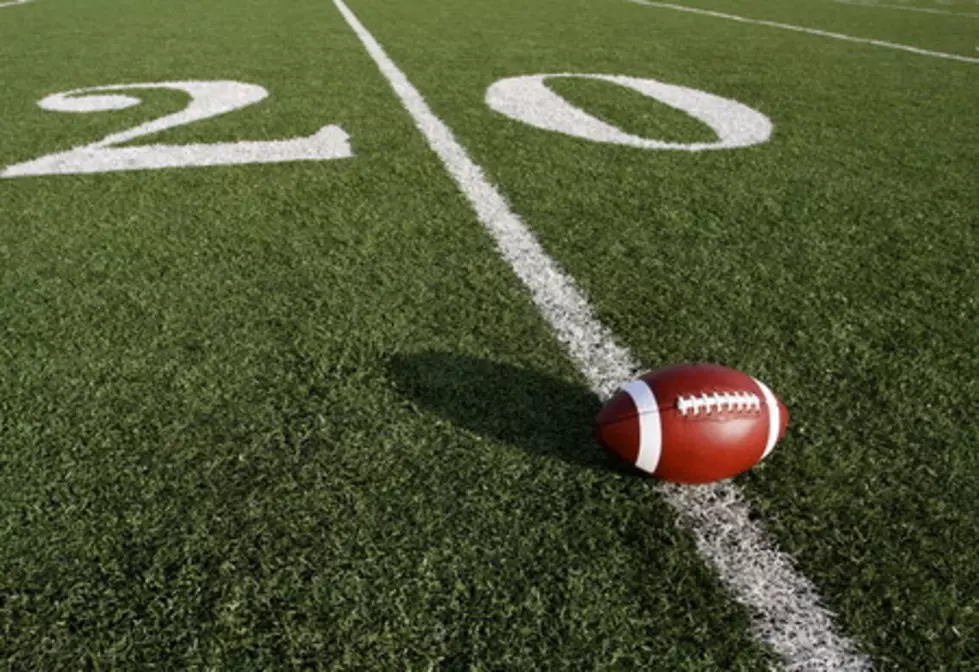 Setting the Table For Section 1 at State: State Football Quarterfinal Pairings
ThinkStock
The 2021 State Football quarterfinals will kick off on Thursday night and go through Saturday and 5 area teams are set to play.
The five section champion teams include:
9-Man - LeRoy-Ostrander
Class A - Rushford-Peterson
Class AA - Chatfield
Class AAA - Plainview-Elgin-Millville
Class AAAA - Kasson-Mantorville
Class AAAAA - Rochester Mayo
Rushford-Peterson, Chatfield, and Rochester Mayo were all the top seeds in their section tournament, which goes to show that Section 1 was loaded with talent in many different classes this year.
9-Man State Quarterfinals: LeRoy-Ostrander vs.  Wheaton/Herman-Norcross
LeRoy-Ostrander and Wheaton/Herman-Norcross both upended top seeds in the section finals to advance to the state tournament. Wheaton/Herman-Norcross took down Verndale (who was ranked #1 in the state for a majority of the season). Wheaton/Herman-Norcross was ranked #10 in the final rankings, while LeRoy-Ostrander was unranked. The Cardinals' lone two losses on the season were to Grand Meadow and Lanesboro, who were ranked #7 and #2 in the final rankings on the season.
They are also the two teams the Cardinals beat in the Section Tournament.
LeRoy-Ostrander has a balanced offensive attack led by Chase Johnson. Johnson has run for 1,797 yards and 27 touchdowns on the season and thrown for another 1,203 yards and 16 touchdowns. Tanner Olson has been getting plenty of work as a running back, especially late in the season and has averaged an incredible 11.4 yards per carry on the season. As a team, the Cardinals have scored 44 points per game, and allow just 17.5.
The Cardinals will have a tough battle on their hands battling with Wheaton/Herman-Norcross. The 9-2 Warriors averaged over 43 points per game and allowed just 15 per game. They are led by quarterback Zach Braaten who will spread the ball around through the air, and they run it well, too with their running back Jarred Ehlers.
It is the first trip to state for LeRoy-Ostrander since 2004, and they will meet Wheaton/Herman-Norcross at Macalester College on Thursday, November 11th at 7 p.m. The game will be broadcast on 103.1 KFIL.
Class A State Quarterfinal: Rushford-Peterson vs. Belgrade-Brooten-Elrosa
Rushford-Peterson will take its 11-0 record to the quarterfinals against 8-3 B-B-E on Friday night at Crown College. The Trojans ranked #3 in the final state rankings, will battle an unranked B-B-E team that took down Upsala/Swanville Area 52-44 in the Section 4A final.
B-B-E averaged 29.6 points per game and allowed an average of 26.5 per game. Rushford-Peterson's defense has been really tough to score on, allowing just 8 points per game, while the offense scores 35.1 per game.
The Trojans have a balanced attack on offense that starts with Quarterback Malachi Bunke who has thrown for 1,524 yards and 24 touchdowns this season. He has many weapons at his disposal including Justin Ruberg, Grady Hengel, Alex Ronnenberg, and Tommy Ekern, who all had over 15 catches on the season. Hadyn Kahoun and Brady Gile lead the Trojans rushing attack.
B-B-E and R-P will meet at Crown College on Friday night at 7 p.m. The game will be broadcast on 103.1 KFIL.
Class AA State Quarterfinal: Chatfield vs. Minneapolis North
The Chatfield Gophers lost their season opener to Plainview-Elgin-Millville and haven't looked back, winning 10 straight to claim the Section 1AA title. They'll take on a fast and strong Minneapolis North team in the Section Quarterfinals Thursday night.
Chatfield's offense is led by Sam Backer. The do-it-all Quarterback is one of the toughest runners in Section and possibly the state. The Gophers will utilize his talents along with other talented receivers/runners including Jackson Schild, Cole Johnson, Luke Carrier, Grady Schott, and Drew O'Connor.
Minneapolis North allows just 7.9 points per game, while their offense scores 39.7 per game. It'll be a tough test for the Gophers who score 37.2 points per game, and a defense that allows just 14.1 points per game.
The Polars of Minneapolis North are ranked #2 in the state, while Chatfield is #6. It should be a great game on Thursday night at Rochester Mayo High School. The kickoff is slated for 7 p.m. and the game will be broadcast on FUN 104.
Class AAA Quarterfinals: Plainview-Elgin-Millville vs. Breck
Everyone knew that the Section 1AAA tournament was going to be a battle, and it was the Bulldogs that came out of it. They used a stingy defense throughout the section playoffs to take on Top 10 ranked Lake City and Cannon Falls.
The Bulldogs were the #3 seed, but are ranked #9 in the state. They take on a talented Breck team that is 6-4. Breck's offense has been very good, putting up 35.9 points per game, while allowing just 18.7. The unranked Breck team will face off against PEM's tough defense that allowed just 13 points per game this season.
The high-powered offenses of Cannon Falls and Lake City combined for just 25 points against the Bulldogs in the playoffs. PEM beat Lake City 23-7 and Cannon Falls 21-18. The Bombers averaged 43 points per game and Lake City 34 per game throughout the season. Yes, the Bulldogs can play some defense.
The Bulldogs are tough and will be ready to battle at Noon on Saturday at Burnsville High School.
Class AAAA State Quarterfinal: Kasson-Mantorville vs. Fridley
Kasson-Mantorville had a big win over Byron in the Section Finals this past Friday night and the KoMets will now take their incredible ground game to the state quarterfinals and battle Fridley on Friday night.
The KoMets, ranked #9 in Class AAAA, will battle #6 Fridley. Fridley is 8-2 on the year and scores 29.3 points per game. Their defense is stout, too, as you would expect from any team in the state tournament, giving up just 11.9 points per game. They beat Colombia Heights 35-6 in the section final.
K-M beat Byron 42-14 in the Section 1AAAA final and has allowed 19.3 points per game this season while scoring 34.
It'll be a great battle at Lakeville South Thursday night, with the kickoff slated for 7 p.m.
Class AAAAA State Quarterfinal: Rochester Mayo vs. Mahtomedi
Rochester Mayo is back at the state tournament for the first time since 1997 after taking down Owatonna 38-33 Saturday night. The Spartans are 9-1 on the season, with the lone loss coming to #1 ranked Mankato West.
Mayo has an explosive offense, scoring 42.3 points per game this season, and a defense that can get the job done, too, allowing just 18.6 Both were the best in Section 1.
They draw a tough Mahtomedi team in the quarterfinals that received votes in the final AP polls. The Section 4 champions are 8-2 and score 30.9 points per game while allowing just 15.1.
After the thrilling win in the Section 1AAAAA championship game, the Spartans will now turn their attention to Mahtomedi on Saturday afternoon at Woodbury High School. The kickoff is slated for Noon.
Sam's Christmas Village Features 8-Million Lights!
If you are looking for something fun, festive, and safe to do you should take your family to Sam's Christmas Village! The attraction, located in Somerset WI, is lit up with 8-million Christmas lights, a 50ft animated tree, and several new Christmas displays.
More From Sasquatch 107.7 - The Rock of Rochester