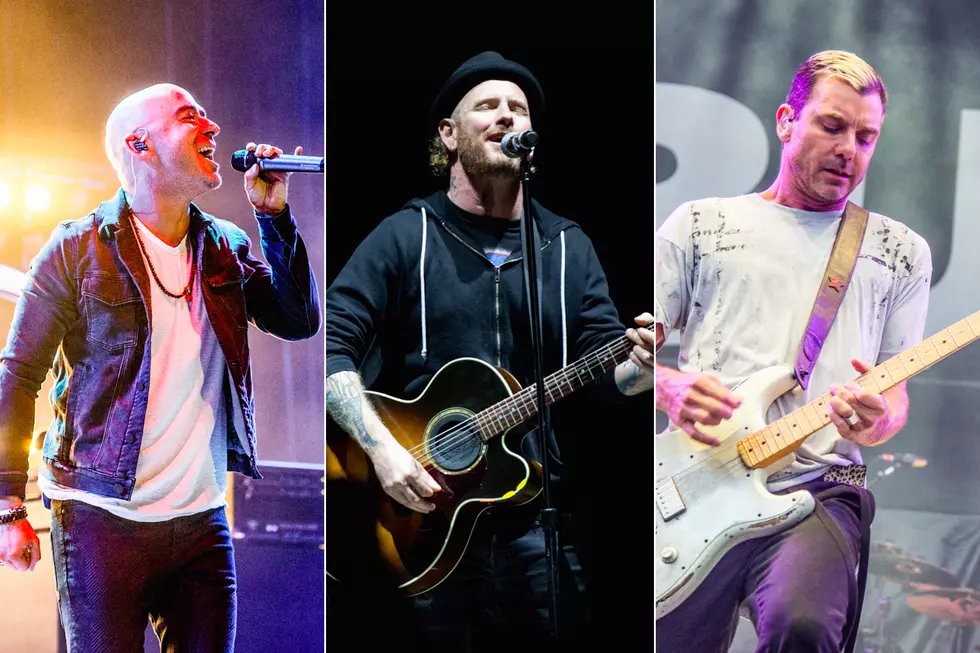 Rock on the Range 2017: Chris Cornell Tribute, Live, Bush, Gojira, Chevelle + More Cap Weather-Delayed Day 1 [Photos]
Amy Harris for Loudwire
Entering Day 1 of Rock on the Range in Columbus, Ohio, there was a dark cloud hanging over the festival and we're not referring to the weather that would wreak havoc throughout the day. Chris Cornell, frontman of Day 1's scheduled headliner Soundgarden, had taken his own life the day before, shocking fans throughout the world.
While the day got off to a smooth start, at 3PM, a severe weather alert was issued, with lightning storms in the area. We were all ordered to take cover underneath the stands of the stadium, thinking it would take a half hour or so to pass. While nothing happened weather-wise for the first hour and a half of the delay, the rains started coming down and the delay ended up lasting more than four hours.
However, the teams at AEG Presents and Danny Wimmer Presents rallied and still were able to get most of the bands who missed their scheduled sets to play at a later time. Such acts as Gojira, Bush, Sum 41, Chevelle, Pierce the Veil and Live thrilled an audience who had stuck it out through a very grueling weather delay.
Following Live's set, in which they paid tribute to Cornell with a version of Audioslave's "I Am the Highway," two candles appeared on the Jumbotron screens and the music of Chris Cornell began to play along with video and imagery of the iconic singer. Shortly thereafter, Stone Sour's Corey Taylor and Christian Martucci took the stage and performed Pink Floyd's "Wish You Were Here" and Temple of the Dog's "Hunger Strike" (video below). To close the night, the screens once again showed imagery of Cornell with his powerful and unmatched voice providing the soundtrack to an audience that shed their tears and remembered his masterful talent.
See our exclusive photos by Amy Harris (Instagram) from Day 1 of Rock on the Range 2017 in the gallery above.
Stone Sour's Corey Taylor + Christian Martucci Cover Temple of the Dog's "Hunger Strike" at Rock on the Range
More From Sasquatch 107.7 - The Rock of Rochester