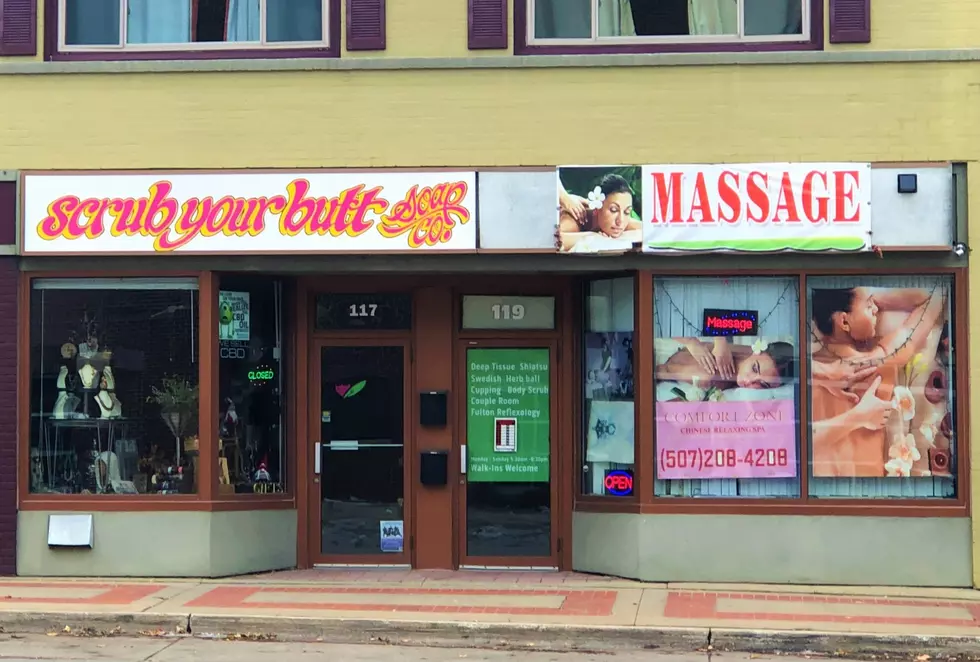 Scrub Your Butt Soap Company In Rochester Is Moving
PHOTO: James Rabe
Rochester, Minnesota's most creatively named business, The Scrub Your Butt Soap Company, is moving.
The announcement was actually on the Tulips & Truffles Florist Facebook page. They're inside the SYBSC.
We are over the moon excited to announce we are joining the businesses in the Kismet Block!

We will be moving in to our new space at 611 North Broadway in November, and getting set up and comfy through the holidays.

We have a new look, new and favorite inventory, and parking!

Until then, enjoy a walk in store wide 20% off including Scrub Your Butt Soap Co products.
Didn't Scrub Your Butt Just Move to Broadway Downtown?
That depends on your definition of "just." In 2019, I wrote this story about the store's move.
Back in April of this year, the Scrub Your Butt Soap Company had their lease canceled by the Kahler Hospitality Group and moved out of their subway location. It took a while, but they're open again, on Broadway!  More details in a minute.

In 2017, I did a story on three hidden, but awesome, shops in the Kahler Subway. One of 'em was the Scrub Your Butt Soap Company (see that story here). After posting the story, a TON of people told me how much they loved the shop. They said it was one of Rochester (Minnesota's) real gems. Read More: Rochester's Scrub Your Butt Soap Co Is Back and Open for Business
So Where Is Scrub Your Butt Moving?
If you were busy mowing the living room earlier and missed the new location, I got your back. The new location for both the florist and SYBSC is just down the street at 611 North Broadway. That's the Kismet Block (which just sold for $1. 5 million! See that story here). They'll open there in November.
Winter is coming...do you agree these are the things you hate the most about it? What did we miss?
See Minnesota Wild Matt Dumba's Luxury Condo in Minneapolis
Minnesota Wild defenseman Matt Dumba just put his million-dollar condo in Minneapolis on the market. It's located in the Ivy Residences, on top of the Hotel Ivy and is pretty spectacular!
As always, if you have a comment, complaint, or concern about something I wrote here, please let me know: james.rabe@townsquaremedia.com
10 VHS Tapes You Totally Owned As A '90s Kid
These movies were part of every '90s kid's VHS collection.
'Goth Castle' for Sale 90 Minutes from Rochester
Buckle up, this home that has been named the 'Goth Castle' is quite the house and it's currently for sale in Hudson, WI for $1.1 million.
More From Sasquatch 107.7 - The Rock of Rochester