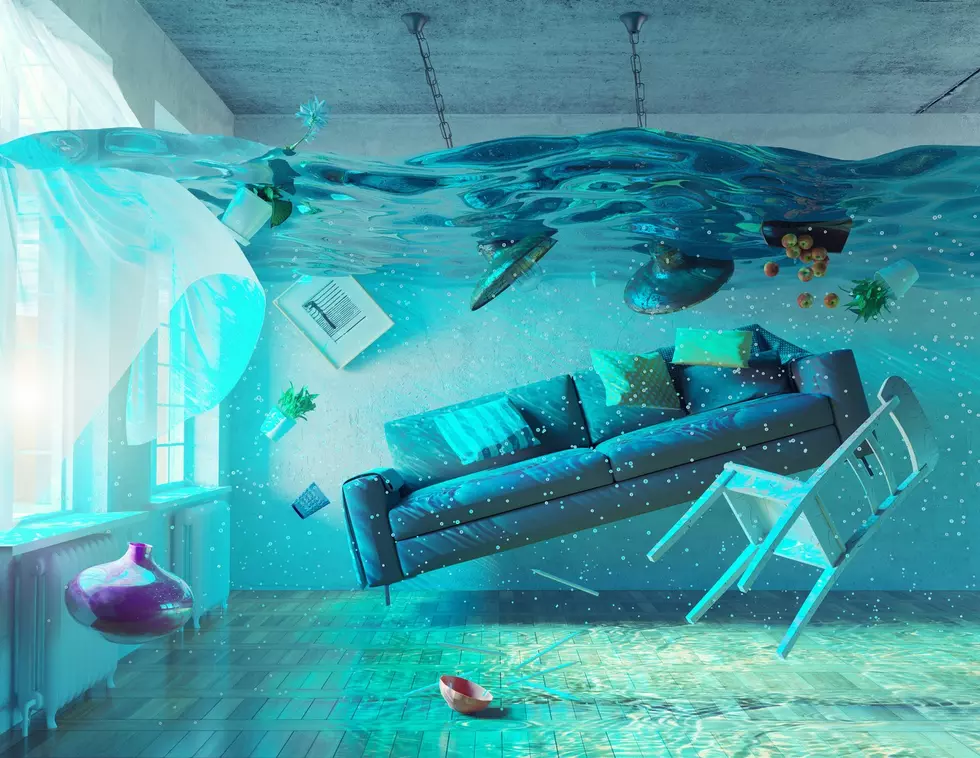 Rochester Library's New Water Damage Not As Bad As This Photo
vicnt
This weekend, life tried to throw a wet blanket on one of Downtown Rochester, Minnesota's most valuable resources! Three days after the Rochester Public Library re-opened to the public with Library Express,
Thursday, March 11th, the Rochester Public Library launched "Library Express," giving you a chance to get in there, browse, borrow, or use the internet for 30 minutes a day! Read More: Rochester Public Library Opens to Public with Library Express
Another flood hit the building. Another flood? Yep, The "Flood of '19" isn't that distant a memory and caused all sorts of trouble... 
Library Director Audrey Betcher reported the book and media collection were largely unaffected but staff areas and meeting areas were damaged.
"There were several inches of standing water in the central portion of all three library floors," says Betcher, who cites the library's alarm system for preventing further damage. "We received an alarm earlier today that alerted us of the problem and allowed us to quickly respond." (Keep reading to see amazing photos of the damage at the Rochester Public Library Flood of 2019)
Karen Lemke, Head of Marketing & Community Engagement for the Rochester Public Library, says the damage discovered Saturday from from a very small leak
(It was a) very small leak, not a lot of damage to report. Wet carpet, couple of ceiling tiles, and some wet books in the Friends Bookstore. Absolutely not like the "flood of '19"!
Not so great for the Friends of the Library Bookstore, but with the Covid-19 restrictions, the part of the upstairs that was soaked, as well as the bookstore, aren't in use right now and that means this won't stop patrons from returning to the library. If you're curious how that works now, keep scrolling.
HOW TO USE THE ROCHESTER PUBLIC LIBRARY
Library Express: Thursday-Sunday, 10AM-6PM. Visitors are allowed up to 30 minutes/day. No appointment necessary, but space is limited.
Walkup Windows: Monday-Sunday, 10AM-6PM (Thursdays until 8PM). Pick up library holds, after receiving a notification they are ready.
Ask Us Virtual Help: Monday-Sunday, 10AM-6PM. Talk to a library teammate through phone, email, or chat.
Bookmobile Service: view online schedule at www.rplmn.org/bookmobile. Pick up library holds.
As always, if you have a comment, complaint, or concern about something I wrote here, please let me know: james.rabe@townsquaremedia.com
Listen to James Rabe and Jessica Williams Weekday from 6 - 10 AM on Y-105 FM
Libraries have changed a lot in the last 30 or so years. When I was a kid, it was books, newspapers, magazines, and maybe a film or two. Then they added music. Then movies on VHS and eventually DVD, Now they even have home-work tutors available to check out. What remained consistent, though, was the valuable information you could and still do find in a library. What follows is NOT all that valuable, but it is fun.
How Many in America: From Guns to Ghost Towns
Can you take a guess as to how many public schools are in the U.S.? Do you have any clue as to how many billionaires might be residing there? Read on to find out—and learn a thing or two about each of these selection's cultural significance and legacy along the way.
More From Sasquatch 107.7 - The Rock of Rochester