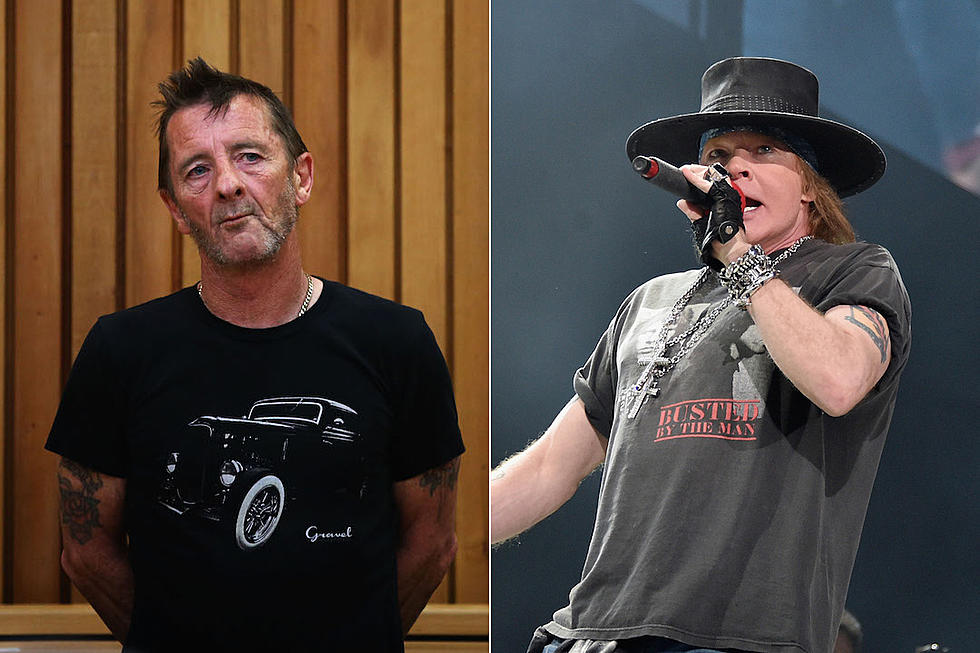 Phil Rudd 'Quite Surprised' by Axl Rose's Ability to Front AC/DC
Joel Ford / Mike Coppola, Getty Images (2)
Last year was a tough one for rock fans the world over. As if the deaths of so many stars wasn't enough, we saw bands embark on and / or complete farewell runs and a series of lineup changes in AC/DC that had many doubting the band's future. Among this drama was drummer Phil Rudd, who missed touring with the band following legal issues at home. Rudd was skeptical of Axl Rose fronting AC/DC at first, but he has now softened his stance.
"I watched some clips the other day of Axl singing with the boys," the drummer told Music Radar in a recent interview. "I was surprised; it wasn't too bad," he continued. "I was quite surprised, I thought he did quite well and that's not an easy gig, mate, it's not an easy gig at all. AC/DC is a tough gig for everyone in the band. I saw Angus [Young] jamming with Guns N' Roses as well. Apart from watching those clips though I don't know what's going to happen or what's going on with the band."
Rudd was replaced by another AC/DC alum Chris Slade, singer Brian Johnson left after struggling with dire hearing issues and bassist Cliff Williams retired following the conclusion of the Rock or Bust tour. When asked if he's had any contact with the band since, he stated, "I've spoken to a couple of the guys. I can't say what's on the horizon for AC/DC, I can't really say. That's not my thing to say."
The skinsman, who is ranked among our Top 66 Hard Rock + Metal Drummers of All Time, also noted that Guns N' Roses will be playing near him in New Zealand, wondering out loud "whether Angus will be happy to see Guns N' Roses going out on a big tour which means that AC/DC can't go out on tour." Uncertain of what is happening within the camp's future, Rudd concluded, "You'd need a crystal ball to know what's going to happen there."
While the response to Rose fronting AC/DC has been generally favorable, there's been no word on whether the band will retain his services going forward. What we do know is that GN'R have no plans to slow down their massive "Not in This Lifetime..." world tour. Head to our 2017 Guide to Rock + Metal Tours for a list of North American stops.
See Where AC/DC Rank Among the Top 50 Hard Rock + Metal Live Acts of All Time
Epic Rock Tales - AC/DC Outsmart Religious Protestors
More From Sasquatch 107.7 - The Rock of Rochester