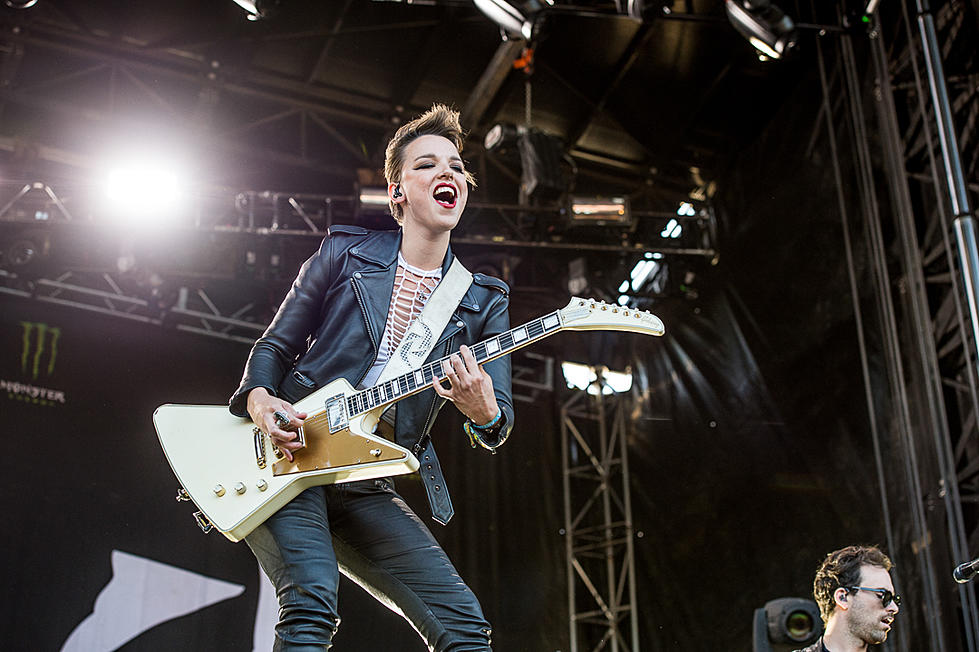 Lzzy Hale on Halestorm's Next Album: 'Now is the Time to Double Down on Rock'
Amy Harris for Loudwire
The Halestorm frontwoman was the guest on a recent episode of the
Metallica
-centric podcast,
Speak N' Destroy
. She explained how working with Nick Raskulinecz on Halestorm's
Reanimate 3.0: The Covers
EP, which includes their take on the Metallica classic "Ride the Lightning," helped the Grammy-winning rock producer get the gig for their upcoming fourth album.
"It's such a fast song and we did it true to tempo," she says of the thrash anthem, which appears on the 1984 Metallica album. "We had a list of songs we wanted to do and we'd go through them and do like a song per day with these EPs. I don't know why we did this, but we waited till the last day to do ['Ride the Lightning']. [Nick] is just an amazing producer. Those tones that he got were a huge selling point for us to do the next record with the guy."
He's an old-school style producer with a focus on raw performances and vibe, as opposed to slick studio fakery. It's a style that fits right in with what Halestorm is all about. "I work hard as a vocalist and a player, and as a band we work really hard to not... I mean, there's no tracks or trickery to what we do. We don't do any of that stuff," Hale explains. "We plug in. We play. If you hear a wrong note that means we actually made it. You know? It came from us."
The band actually began working on their new studio album before leaving for their Halloween Scream 2017 headlining tour, which ran from Sept. 22 through Oct. 22, with support from
Starset
and
New Years Day
. During the process, Hale was pleasantly surprised to learn that Raskulinecz hadn't done any work to "fix" her voice.
"He turns to me and he's like, 'You know, I haven't tuned your vocals yet and I don't think I'm really going to, because, just listen to it.' I was kind of assuming that he was doing that as we went. And he was like, 'No, this doesn't have anything on it.' And I'm like, 'That's awesome!' That was a huge compliment from him."
It's a topic Hale often discusses with her band mates and with another recent
Speak N' Destroy
guest:
Avenged Sevenfold
's lead singer. "M. Shadows and I talk about that stuff all of the time. His band is very adamant to keep that integrity in their recordings," says Hale. "There are so many new bands today where they build the cake upside down. Where you're paying so much attention to the icing that you forget about the foundation. And then when [things] go awry, you can't do anything about it, because you based your entire career on the frivolous stuff. It's neat to know that there are still people that do that [the traditional way]."
This is all part of the "doubling down" Halestorm is making central to their new album. Following their performance at the 2017
Loudwire Music Awards
at The Novo in Los Angeles, Halestorm will resume working on their forthcoming fourth studio record with Raskulinecz at his studio in Nashville, Tennessee.
"The thing about rock n' roll is that it doesn't go away but it's not always the most popular thing. So when everybody jumps ship, that means you've just gotta hang on and go down with it," she said, speaking from her own personal experience. "It's so much more than a career choice. I got into this band when I was 13. All of a sudden I had something that was mine. I feel like it helped me through all of those years… and just as a fan of music, kids need rock n' roll."
To hear the entire wide-ranging and in-depth discussion, where the Halestorm frontwoman spoke about learning to riff as a kid; discouraging guitar teachers, discovering Metallica via the
Garage Inc.
release; choosing to play a Gibson Explorer; opening for
Heaven & Hell
at what turned out to be
Ronnie James Dio
's final performance, and much more,
check out the Speak N' Destroy podcast on iTunes
or wherever you consume podcasts.
Lzzy Hale Plays 'Wikipedia: Fact or Fiction?'
Loudwire Music Awards Tickets Available Now!
More From Sasquatch 107.7 - The Rock of Rochester