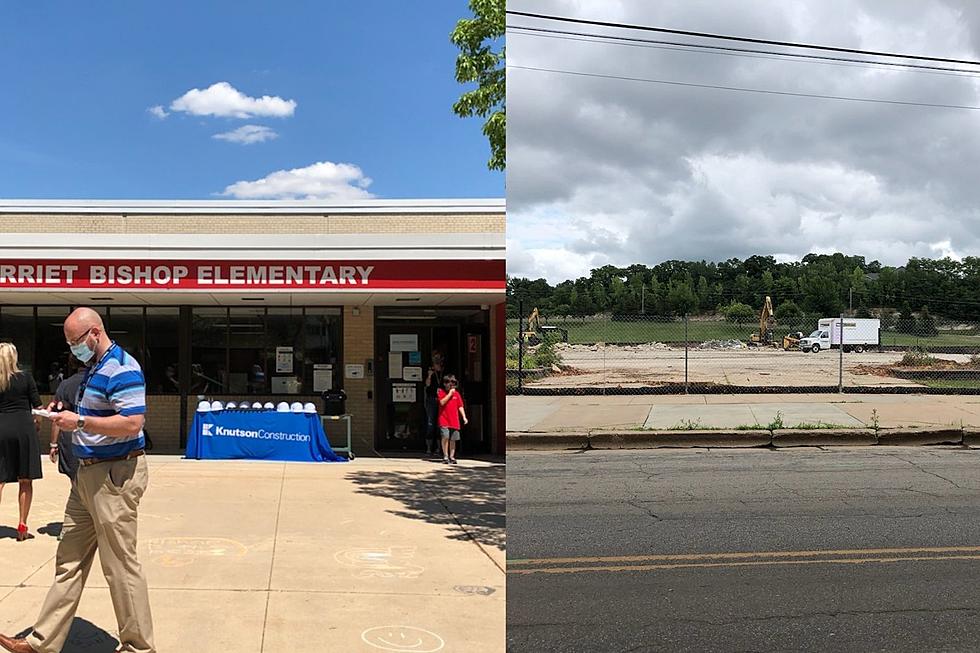 Longtime Rochester School 'Bites The Dust'
Kim David/TSM
Rochester, MN (KROC AM News) - It's gone. One of Rochester's oldest schools vanished last week as construction crews began working on its replacement.
The final wall of Harriet Bishop School came down Thursday, ending demolition that began a few weeks ago.
The following photos were taken during a special event at the school just before it closed for good.
The school served the Country Club Manor neighborhood since it was constructed in 1959 and is being replaced by a much larger building. The entire footprint of the school in the 400 block of 36th Ave NW is undergoing a major change to accommodate the larger building and other amenities.
These are some of the final images of the school before demolition began.
The general contractor of the project is Knutson Construction. The city recently approved a $24.3-million building permit for the project.
This is a photo of the demolition.
The gym was among the last pieces of the building to come down.
This photo shows the final wall still standing.  The dark color is the area where the kids performed the "brick out" event last month by the main entrance to the school.
Going, going, gone!
The new school will be almost twice as large as the existing building and its enrollment capacity is projected to increase by 250 students to a total of 700.
Construction workers are expected to be super busy during the next 12 months. The new school is scheduled to be completed by late summer next year.
Bishop students will attend classes at the new Overland School during the 2021/2022 year. That means many of them will have the unique opportunity to attend brand new schools in back-to-back years.
Here is the final message on the school sign.
Inside Amazon: A Detailed History of America's Biggest Online Retailer
Stacker
compiled a list of key moments in Amazon's history and its current business from a variety of sources. Here's a look at the events that turned an online bookstore into a global conglomerate and a self-made entrepreneur into the world's second-richest man.
More From Sasquatch 107.7 - The Rock of Rochester