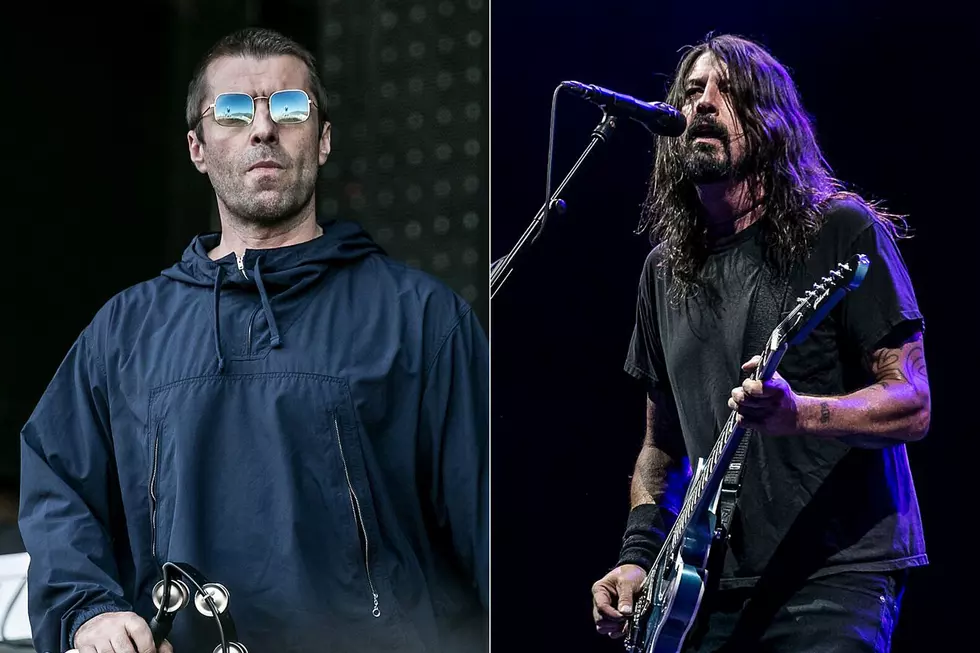 Liam Gallagher Reveals He's on Foo Fighters Collaboration Wishlist
Kathy Flynn, WickedGoddessPhotography.com
When it comes to collaborating, Foo Fighters have been very welcoming of special guests, especially in recent years. And while their latest album, Concrete and Gold, has a wealth of eclectic cameos, there is one they are still trying to make happen. According to Liam Gallagher, the singer reveals that the band has been reaching out to him about collaborating.
The Oasis and Beady Eye vocalist released his first solo album this past year and even appeared with Foo Fighters onstage at the CalJam festival put on by the band in 2017. But he says in a new interview with NME that the group has been reaching out about a possible collaboration on record.
"They keep texting me, man," said Gallagher. "They wanted me to do one tune, but I dunno -- I'll do it one day, but I'm too busy doing this at the moment. But I do like them. I think Foo Fighters have got good tunes. I think Dave Grohl's very talented and so is the band."
Gallagher has been known for some of the more creative critiques in the media of bands he's not fond of, so the praise is a definite show of respect for the rock hitmakers.
As the singer stated, he's been busy with his solo album As You Were. The disc was released last October, yielding the songs "Wall of Glass," "For What It's Worth" and "Greedy Soul" among others. Meanwhile, Foo Fighters issued their Concrete and Gold album last September. The disc featured contributions from Paul McCartney, Justin Timberlake, Alison Mosshart, Shawn Stockman, Dave Koz and Inara George.
10 Awesome 'Good Guy Grohl' Moments
See Foo Fighters in the Top 90 Hard Rock + Metal Albums of the 1990s
More From Sasquatch 107.7 - The Rock of Rochester