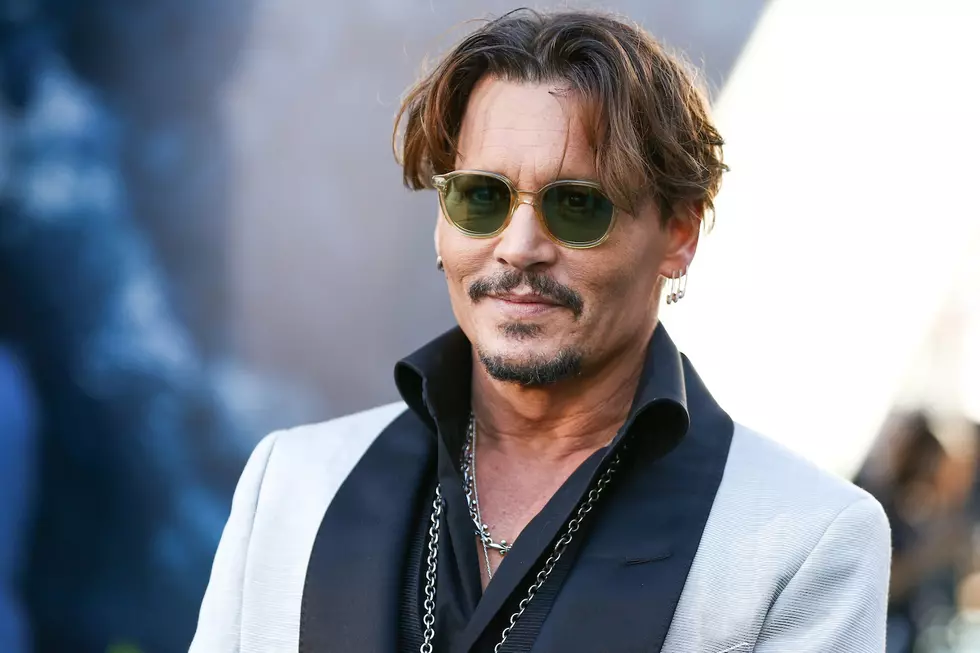 Johnny Depp Apologizes for Trump Assassination Joke, Capping Off a Very Bad Week
Getty Images
It hasn't been a great week for Johnny Depp. By now you've probably heard about his Trump assassination joke that's garnered mounds of controversy. And while that story, and the actor's apology, have gotten the most attention in the media, that's not the only development in Depp news.
Let's start with the most recent news. On Thursday night, the Pirates of the Caribbean actor appeared at the Glastonbury Festival in Somerset, England to present a screening of his 2004 film The Libertine. Once on stage he said, relatively out of nowhere, "Can you bring Trump here?" According to The Los Angeles Times, after a mix of boos and cheers from the crowd, Depp said of the POTUS, "I think he needs help and there are a lot of wonderful dark, dark places he could go," before adding, "When was the last time an actor assassinated a president?" The joke was likely an allusion to John Wilkes Booth's assassination of President Abraham Lincoln in 1865. The joke is even more bizarre when you consider the fact that Depp previously dedicated a decent amount of time playing Trump for a 50 minute (yes, it was 50 minutes) Funny or Die spoof a year ago.
Unsurprisingly, Depp has found himself in hot water for the comments, and the White House even released a statement condemning his remarks. But on Friday, Depp issued an apology to People Magazine:
I apologize for the bad joke I attempted last night in poor taste about President Trump. It did not come out as intended, and I intended no malice. I was only trying to amuse, not to harm anyone.
The thing is though, Depp was fully aware of what he was stirring up. Right after saying the joke he added, "It is just a question — I'm not insinuating anything. By the way, this is going to be in the press. It will be horrible. I like that you are all a part of it." Uh, yep, it was in the press.
You may remember back in January when the Pirates actor filed a $25 million lawsuit against his former business managers for a whole list of claims, including negligence and fraud. Then Depp's ex-managers, The Management Group (TMG), filed a countersuit claiming that the actor's spending habits (you know, how Depp was allegedly spending up to $30,000 a month on wine), and later Depp blamed his management for leading him into more than $40 million worth of debt. The latest development arrived earlier this week when E! News obtained documents from TMG with evidence that Depp was made well aware of his financial situation.
There's another detail revealed in those documents that has slipped through the media cracks this week. Depp's managers at TMG claim they were aware of Depp's alleged assaults on ex-wife Amber Heard. One legal document, shared on Twitter by actor and producer Norman D. Golden II, states that Depp's former business manager Joel Mandel was made aware of specific incidents of domestic abuse alleged by Heard in statements. (Depp denied the claims and the domestic abuse case was dismissed when the two reached a divorce settlement.) An excerpt from the document shared on Twitter reads:
Mandel was informed well after the fact through communications with various house staff and security that Depp had been extremely volatile and has sometimes "gotten physical" with Heard. Mandel was also later informed that Depp had violent kicked Heard during an incident that took place in or around 2014.
More From Sasquatch 107.7 - The Rock of Rochester