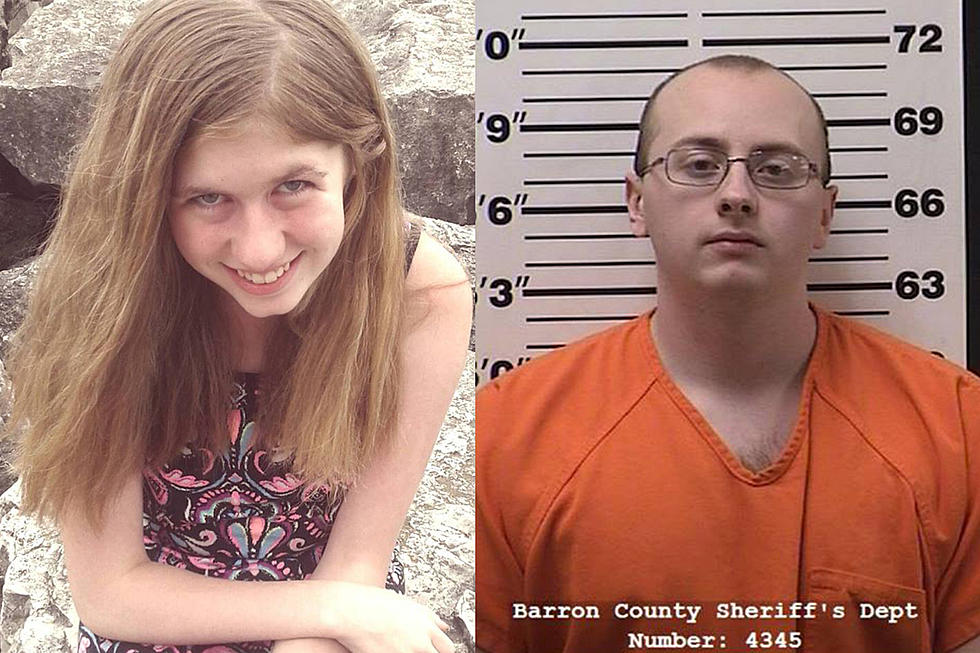 Jayme Closs Found Alive In Douglas County, Suspect Arrested
Barron County Sheriff's Department
Missing teenager Jayme Closs has been found alive, according to the Barron County Sheriff's Office. In a post on their Facebook page, the sheriff's office announced that the missing teenager was located. The post explains that the Barron County Sheriff's Department was notified by the Douglas County Sheriff's Office on Thursday evening that they had located Closs alive, and had taken a suspect into custody.
In the post, the sheriff's office thanked the Douglas County Sheriff's Department and other agencies that have provided assistance in the case. They also offered the following statement: "This case has been very trying on the family so please respect their privacy and we reunite them later tonight."
It is being reported that Closs is being hospitalized, and will be reunited with her family after treatment.
The Barron County Sheriff's Department held a press conference on Friday morning to discuss updates on the case. The details shared include the following:
An individual out walking their dog on Thursday was approached by someone saying she was Jayme Closs. This led to a 911 call. Using a description from Closs, Douglas County Sheriff's deputies were able to find and apprehend the suspect.
The suspect is being held in the Barron County Jail. His name is Jake Thomas Patterson, a 21 years old from Gordon, Wisconsin. He is being held two counts of first-degree intentional homicide and one count of kidnapping. Patterson has no previous criminal record in Wisconsin, according to authorities.
The residence where Closs was being kept is a house outside of Gordon, Wisconsin, located in a remote area.
Officials involved in the case say the suspect reportedly took proactive steps to prevent detection from both the police and public. Jayme was reportedly the only target, and she was taken against her will. She was able to escape on foot from the residence where she was being held, which led to the police call and eventual arrest of the suspect. Officials call this case "still an active and fluid investigation", and plan another media update Friday afternoon at 4 pm. Officers are executing search warrants to gather more information, and are gathering information from Closs as well.
Closs received medical and mental evaluations overnight, and has been medically cleared. She is now offering information to authorities before being reunited with her family. Authorities say they don't know the conditions she was being kept in, and are executing a search warrant to get more information.
Authorities continue to ask the media and the public to respect the privacy of Closs and her family as they are reunited.
Another press briefing was held on Friday afternoon, where the following information was shared:
Jayme was reunited with her aunt on Friday, and will be reunited with the rest of her family later. Jayme will be staying with her aunt for the short term, until it is determined who will care for her for the long term.
A shotgun consistent with the type used to shoot open the door of the Closs home and used in the homicide of Jayme's parents was recovered at the home where Jake Patterson was holding Jayme Closs. Other guns were also recovered at the home. The Barron County Sheriff reiterated that the door to the Closs home was not kicked in.
Patterson, the suspect, went to great lengths not to leave any trace evidence when he entered the Closs home. An example offered during the press conference included Patterson shaving his head as to not leave hair at the scene of the crime. He is a lifelong resident of the Gordon area, and was employed for one day at the Jennie-O Turkey Store in Barron, which is where Jayme's parents worked. It is unclear if Patterson knew of the Closs family as a result of this short employment, but authorities say he had no contact with the family during this time. Patterson has been unemployed at least since Jayme's kidnapping.
It is believed that Patterson had no contact with anyone in the Closs home prior to his entry into the home. It is unclear how Patterson targeted Jayme, and there is no sign of any social media contact between Patterson and any of the Closs family. Investigators continue to work to determine how Patterson became aware of Jayme and made her a target.
Conditions within the home where Jayme was being kept are not specified at this time. There is no information being made publicly available on how she was being kept in the home, or if there were any restraints or locks being used to keep her in the home. Patterson was not in the home when Jayme escaped, and it is believed that Patterson was out driving around looking for Jayme when police found him. There is no word at this time how Jayme was able to escape the home, and investigators are allowing Jayme to reunite with her family before continuing to gather more information from her.
Officials are not looking for any other suspects at this time in the case. They continue to serve a search warrant at the home where Jayme was being kept, and expect to be there for several hours yet on Friday. There are no other search warrants in Barron County tied to the case.
Patterson will appear in court in Barron County on Monday, January 14.
No other press briefings are planned.
More From Sasquatch 107.7 - The Rock of Rochester