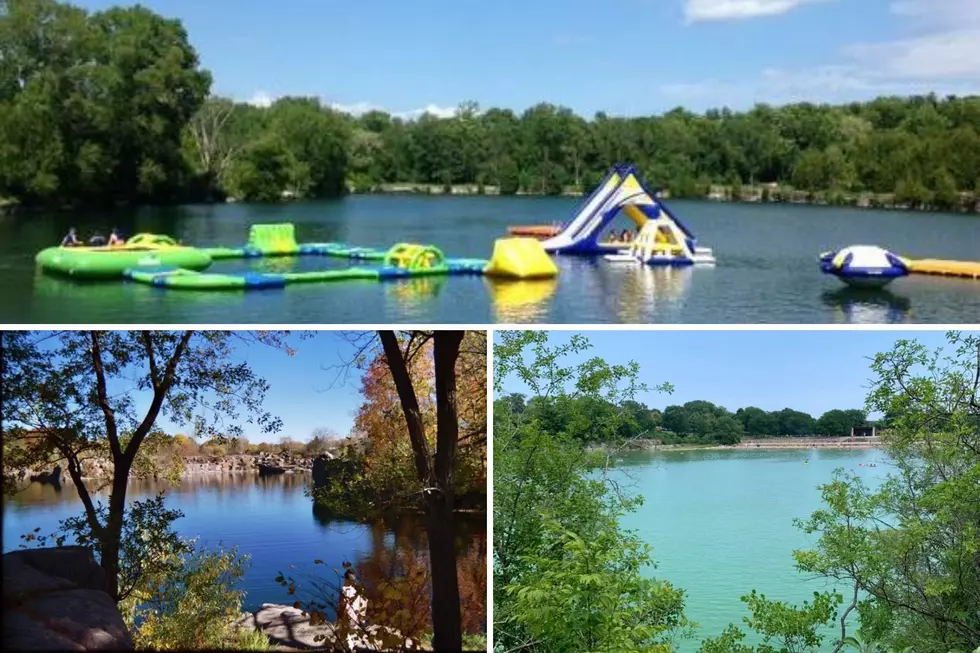 3 Crystal Clear Lakes You Have to Swim in This Summer in Wisconsin
Mei Li, Sheboygan Quarry Park, Redgranite Quarry Park via Facebook, Canva
If swimming in dirty, weedy lake water isn't your favorite thing to do, check out these 3 quarry lakes in Wisconsin that have crystal-clear water.
The Truth About Lake Water
My family has a lake house on a man-made lake in Wisconsin, and even though I absolutely LOVE being up there, swimming in the lake water is not my favorite. Why? Because it gets super weedy and mucky at certain points of the summer. Does this fact make me a diva? Perhaps, but I still prefer to swim in water where my feet don't get tangled up in seaweed.
Despite all efforts to cut weeds and clear out muck, you don't usually associate lakes with crystal-clear water, it's just the nature of the beast. If you're on a mission to find clear water to swim in that doesn't involve a chlorinated pool this summer, you need to find an awesome quarry lake.
Now, when I say find a  quarry lake, I'm not telling you to jump in just any abandoned quarry that has filled with water over time. I'm talking about legit, established quarry lakes like these 3 in Wisconsin that Google reviews have deemed as "the best" (in no particular order...)
1. Quarry Lake Park in Racine, Wisconsin 
Fun fact about this park; back in 1871, stone from this quarry was used to rebuild what is now known as the Horlick Dam in Chicago after the Great Chicago Fire. The former limestone quarry is now a spring-fed lake where your family can swim, scuba, and fish 'til your heart's content. A playground, grills, and a sand volleyball court are also located in the park for when you need a swimming break.
2. Redgranite Quarry Park in Redgranite, Wisconsin
This quarry is a favorite among divers and diving clubs due to its beautiful clear water. Besides swimming, it's also a great place to fish, and it is free to enjoy during park hours, (7 a.m. to 7 p.m. daily).
3. Sheboygan Quarry Park in Sheboygan, Wisconsin
If you have young children who want to get it on the quarry lake action, Sheboygan Quarry Park appears to be THE place to be. Besides its awesome water inflatables, the park also offers kayaks and stand-up paddleboard rentals, has easy access to bike trails and there's even a frisbee golf course!
The Most Important Thing to Remember About Swimming in A Quarry Lake
Now that I have you ready to go swimming in some crystal-clear quarry water, there is one very important thing to remember before you jump in...quarry lakes are typically much colder than other lakes, so if you're hypersensitive to water temperature you might want to enjoy your day on the accompanying beach.
Looking for more Wisconsin fun? Here are some great options to check out...
25 Places You Need to See Next Time You're In Wisconsin
Rent This Huge Wisconsin Barn Home with Indoor Slide and Beach Room
Who's up for a big vacation with a bunch of friends? In the sun, on the lake, and even on the indoor beach in this huge Wisconsin barn.