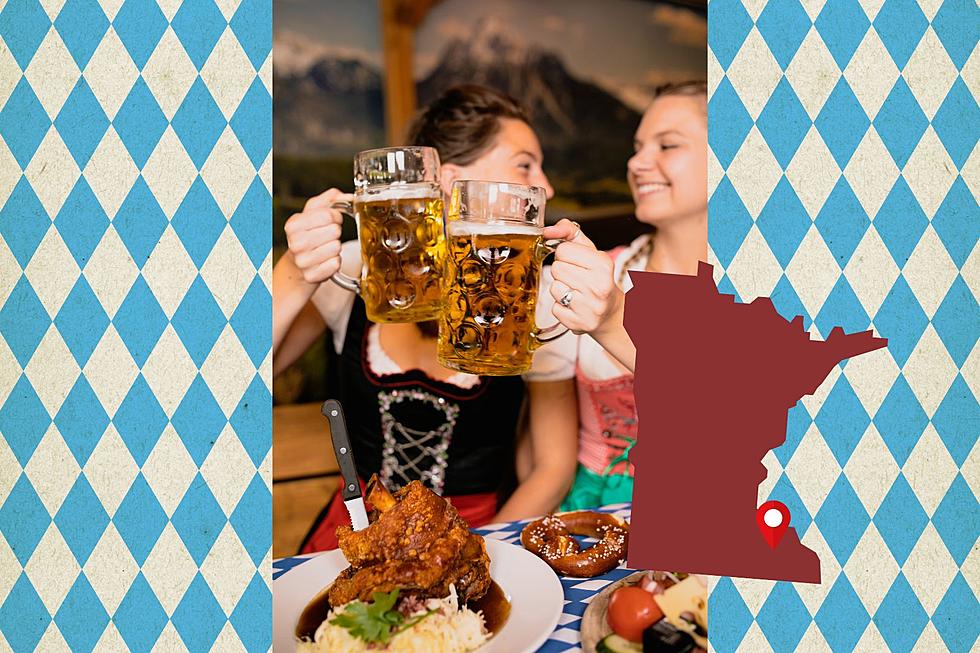 10 Epic Ways to Celebrate Oktoberfest Near Rochester
Canva
It always throws people off, but Oktoberfest officially kicks off in Germany this weekend! Yes, it runs from mid-September and goes until the beginning of October each year. Of course, places around Minnesota are also celebrating Oktoberfest, including plenty in and near Rochester, MN.
If you like having an excuse to hang out with friends, have some fun, and drink good beer, then Oktoberfest is perfect for you! And don't worry, there are different events spread out over the weekends in September so if you can't make it to one there will be another to check out.
Oktoberfest Celebrations In and Near Rochester, MN
Little Thistle Oktoberfest - Rochester, MN
Saturday, September 23rd
Join Little Thistle for some Oktoberfest fun with games, live music, food, and, obviously, beer.
LTS BARKtoberfest and Oktoberfest - Rochester, MN
Saturday, September 23rd - noon-8 PM
Oktoberfest isn't just for the humans! There will be puppy pints for sale and adoptable Paws and Claws dogs. For the humans, there will be a pretzel toss game, plenty of food, and an Oktoberfest beer release.
Oktoberfest USA - La Crosse, WI
Thursday, September 28th - Saturday, September 30th
I couldn't make this list without including the longest-running Oktoberfest in the Midwest! Plus it's only an hour and 15 minutes away, which I say is worth it for such a big event. Tickets are $20 per person.
Punktoberfest at Thesis - Rochester, MN
Friday, September 29th and Saturday, September 30th
If you want a spin on the traditional Oktoberfest celebrations, then check out Punktoberfest.
Stewartville Oktoberfest - Stewartville, MN
Saturday, September 30th - 6-8 PM
It'll be held in the 2 Brothers Bar and Grill parking lot. Tickets are $20 if you get presale tickets at 2 Brothers, Cabin Coffee, Fareway, or ONB. They're $25 if you buy them online or at the door.
Kasson Oktoberfest - Kasson, MN
Saturday, September 30th
On top of food and drinks around Kasson, there will also be wiener dog races at Zumbro Valley Gold Course!
Forager Oktoberfest - Rochester, MN
Saturday, September 30th - 1-5 PM
Some of the activities include German trivia, a keg rolling competition, and pretzel eating contest!
Haley Comfort Systems Oktoberfest - Rochester, MN
Saturday, October 7th
This Oktoberfest celebration is really cool. Of course there will be beer, food, and games, but the event is also to raise money for suicide prevention. 2021 was their first year and they raised $48,279. Last year they raised $65,756!
Brother's Bar and Grill - Rochester, MN
Saturday, October 21st - 6 PM
Enjoy plenty of German beer and bratwurst while having a great time dancing.
For More Beer Drinking Fun...
If you want more beer drinking fun, we have plenty of amazing breweries all within an hour of Rochester.
Delicious Beers Await at These 22 Breweries Within an Hour of Rochester
Craft breweries are incredibly popular right now and it doesn't seem like they'll be going anywhere. Right here in southeast Minnesota, there are 22 breweries all within an hour for Rochester and more are being added!