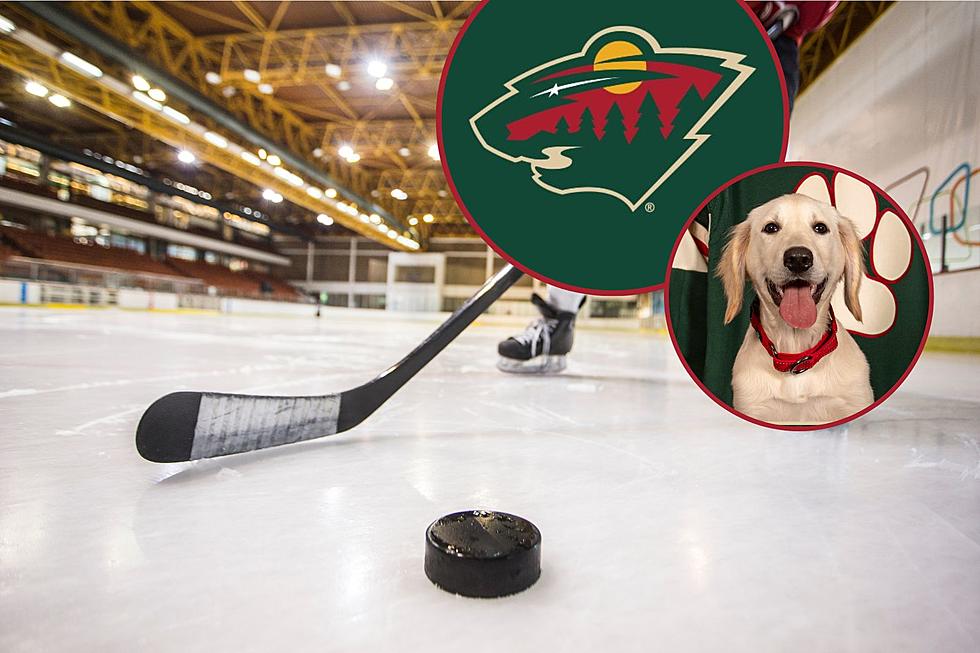 Minnesota Wild Introduce Us to Their Adorable New Team Puppy
Minnesota Wild / Minnesota Wild via Facebook / Canva
Each year the Minnesota Wild hockey team adopts a new dog as part of their Adopt-a-Dog Program. They've been doing this for five years now and after the puppy has fulfilled their year as team cheerleader (and, of course, gone through training) the dog is then gifted to a local hero.
Minnesota Wild Adopt-a-Dog Program
Yes, this is the fifth time that the Wild are doing this. Each year so far they've adopted from a St. Croix, WI rescue called Coco's Heart Dog Rescue.
Once the puppy is adopted they are introduced as the team dog around this time each year. Then, throughout the season, according to the NHL website, Minnesota Wild's Senior Director of Community Relations and Hockey Partnerships, Wayne Petersen, and his wife, Xcel Energy Center's Executive Director and General Manager, Kelly McGrath foster the dog.
During that time, Wayne and Kelly will train the team dog on basic obedience until the summer of next year. At that point, the dog is then taken into training through a non-profit called Soldier's 6.
Soldier's 6 provides "honorably discharged veterans, police officers, fire fighters, correctional officers, 911 dispatchers and paramedics with specially trained K-9s." So not only is the team puppy and adorable little cheerleader, but they're also going to be a big help to a local hero.
Meet the Minnesota Wild's New Team Puppy
The Wild's new team puppy is named Hatty and she's a four-month-old Golden Retriever mix. Look at how cute she is!
It's crazy to think that in such a short amount of time, she'll be acting as a service dog to someone with PTSD. Soldier's 6 calls the service dogs 'Battle Buddies'.
You can follow along with Hatty's journey on the Wild's team puppy socials @mnwildpup.
WOOF: These are the most popular dog breeds in America