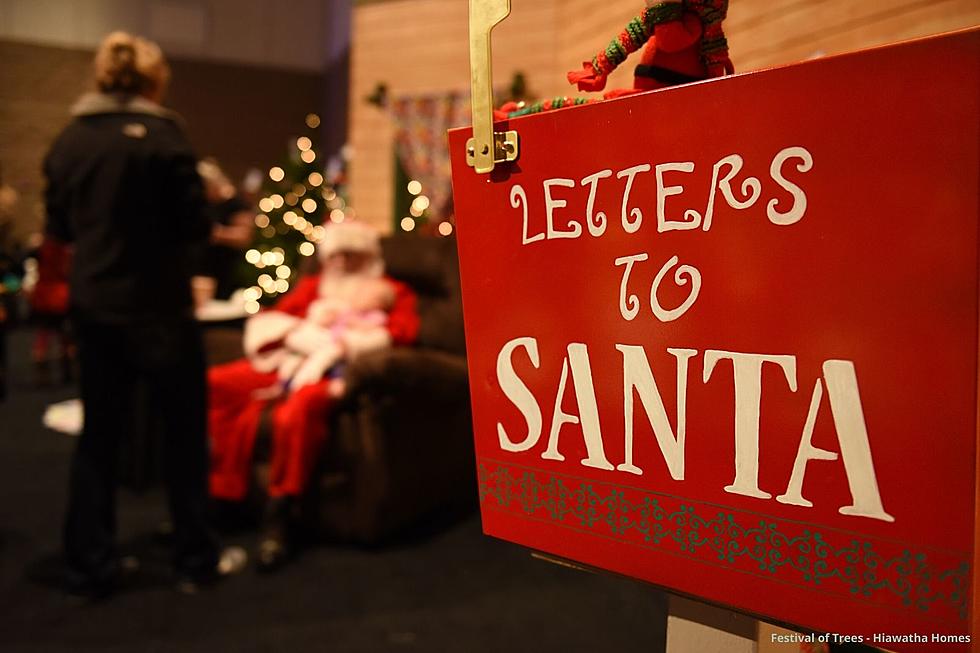 Everything You Need to Know About Festival of Trees in Rochester, MN
Credit: Festival of Trees Hiawatha Homes
One of the biggest holiday events in Rochester, Minnesota is back for another year, Festival of Trees!  And I heard a rumor that Santa is showing up too to help spread the Christmas spirit too!
 Festival of Trees is Back in Rochester, Minnesota and at a New Location for 2023!
Have you ever been inside a winter wonderland?  I wish I could take you on that adventure with me right now just so you could experience it first-hand.  For now, you'll just have to close your eyes and imagine Santa sitting in his chair listening to all of the gift ideas that kids have this season and of course, grabbing a few selfies with the kids.  Surrounding Santa and the line of kids are 90 Christmas trees that are decorated in ways that will leave you speechless.
That winter wonderland is coming to life in November in Rochester, Minnesota at Festival of Trees and you are invited to see it and experience it all at The Kahler Grand Hotel.
When Is Festival of Trees in Rochester, Minnesota?
There are a few fun parts of Festival of Trees happening this year at The Kahler Grand Hotel in Rochester.  Come for just one day or all!
What you can expect to see this year at Festival of Trees in Rochester, Minnesota
This year will be just as magical at Festival of Trees!  Here's some info on the schedule including when the public is able to view the trees, sensory-friendly viewing times, DiversAbility Day, and a fun 21+ event:
FRIDAY:
Public viewing of over 90 beautifully decorated trees on Friday, November 24th from 10 am until 6 pm (no entry after 5:30 pm)
Santa Hours: 10:00 am until 4:00 pm
SATURDAY:
Public viewing of over 90 beautifully decorated trees on Saturday, November 25th from 10 am until 7 pm (no entry after 6:30 pm)
DiverseAbility Day - 10 am until 2 pm.  You'll enjoy crafts, entertainment, hands-on learning stations, sensory activities, and more!
Festival After Dark - This is a 21+ event where you can sip and stroll among the trees and enjoy fun activities!  7 pm until 10 pm (no entry after 9:30 pm).  You will need to be 21+ to enter.  This event will feature a cash bar, entertainment, and other activities.  Cost: $10
SUNDAY: 
Sensory Friendly Hour - 9 am until 10 am.  This time will have subdued lights (no flashing lights), no entertainment, and other sensory-friendly features.  Santa will be there too!
Public viewing of over 90 beautifully decorated trees on Sunday, November 26th from 10:00 am until 2:00 pm (No entry after 1:30 pm)
Santa Hours: 10:00 am until 2:00 pm
Where Do I Park for Festival of Trees?
There are several places in downtown Rochester where you can park your vehicle during your visit to Festival of Trees.  A few of the most convenient spots are the Center Street Parking Ramp (which is free for 2 hours and on weekends) and the Public Park ramp connected to the Kahler Grand Hotel.  (Near QDOBA Mexican Eats).
Where in the Kahler Grand Hotel is Festival of Trees Located?
If you've never been downtown or haven't explored the skyways or subways, this is a great way to check it out.  Festival of Trees is located in Windsor Hall at the Kahler Grand Hotel.  To find it, head to the Subway level of the Kahler Grand Hotel.
The easiest way to get to Festival of Trees is by parking in the Center Street ramp, take the elevator to the subway level, and walk towards the Kahler Grand Hotel.
Does Festival of Trees Cost Money to Attend in Rochester, Minnesota?
The event is free to attend but registration is encouraged and can be done easily at the Hiawatha Homes website.  Your attendance will continue to raise awareness about Hiawatha Homes, and provide support to individuals with disabilities in Olmsted County.  Learn more at hiawathahomes.org.
Townsquare Media cares about our community! Every year, we help the community in a variety of ways from supporting local fundraisers, to running daily public service messages, to creating digital community campaigns and hosting events attended by thousands.
Do you have a community event coming up or a fundraiser?  Let us know!  Contact us at jessica.williams@townsquaremedia.com or fill out the form requesting more info at our Townsquare Cares page.
Top 8 Restaurants in Rochester with Amazing French Fries
There's just something a potato peeled just right that's fried to perfection that hits the taste buds in all of the right spots. If you love a good french fry with your burger, or you just want to have a plate all to yourself, July 13th is a big day for you. It is National French Fry day! Yes, our beloved potato has its own day.
I asked a bunch of people what their favorite places were in town to grab a fry...or two. I learned that we have some very passionate french fry fanatics and as soon as we posted the question, e-mails started flying in on the best spots in town. Here are the top picks!
Gallery Credit: Jessica Williams