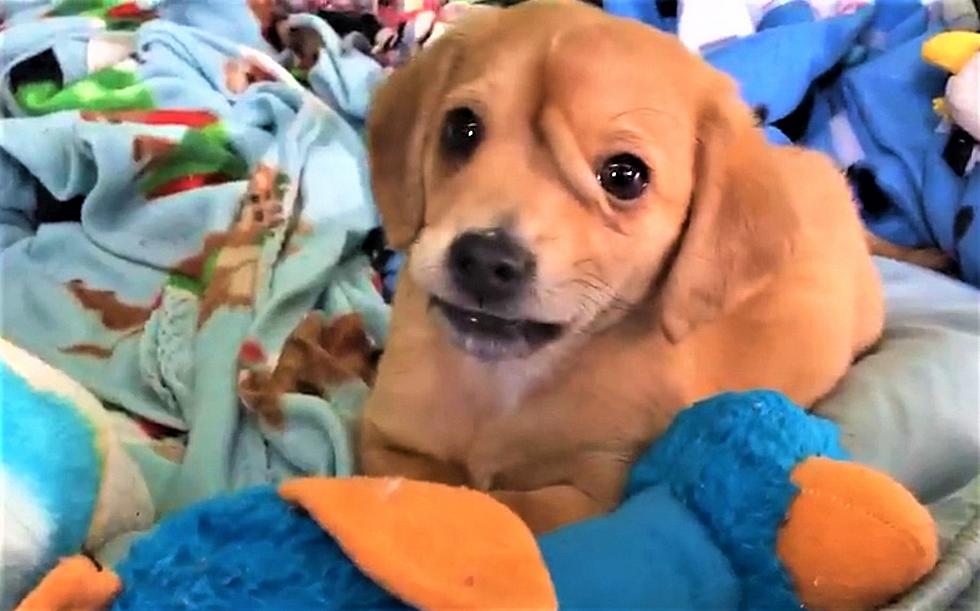 Remember Narwhal the Puppy? See Him Now All Grown Up!
CREDIT: See video link in blog.
Do You Remember Narwhal, the Unicorn Puppy?
In 2019, Narwhal the Puppy was making headlines all over the world! Well, now he's all grown up and the cover dog for a dog calendar!
---
(Our story from 2019) The narwhal is a whale with a "tusk" or horn. Makes it kinda the unicorn of whales. And that means, Narwhal the Puppy is the Unicorn of Puppies! You may remember a narwhal in the movie Elf.
What's up with the pup? In Jackson, MO, Mac's Mission is a group that works with dogs that require extra help. Maybe it's a birth defect, an injury, or abuse. A lot of shelters just don't have the funds for the extra care, which means they're put down.
According to Mac's, Narwhal is dachshund and wiener dog and golden retriever. Oh, and super cute. The vet said the front tail doesn't have any bone, so no wagging. Bummer, Narwhal.
From the Washington Post,
Cape Small Animal Clinic's Brian Heuring, who examined Narwhal, said he's used to pets with cleft palates or extra toes but hasn't seen anything like the misplaced tail in 16 years of veterinary practice. He's confident, though, that the oddity won't affect Narwhal's quality of life.
Tap to win a trip to meet BSB in NYC!
What would a story about a cool dog be without a lot more awesome dogs to look at? Check out the Dogs of Spotted in Rochester Minnesota!
The Puppies of Spotted In Rochester Minnesota
Spotted In Rochester is sometimes filled with negative people knocking everything just to be a troll. Other times, it is filled with awesomeness, like the day I asked for pictures of member pups.
If you shared a picture, but don't see it here (and have the rights to share it), email it to me at
james.rabe@townsquaremedia.com
. I'll add it to the collection (there's always more room for dogs).
As always, if you have a comment, complaint, or concern about something I wrote here, please let me know: james.rabe@townsquaremedia.com
Rochester Minnesota's Rules and Regs for Cats, Dogs, and Ferrets
Do you own a dog, cat, or ferret in the Rochester City Limits? Then this is for you.
Some of the regulations may surprise, you, like how long you have to pick up an animal from the shelter before it's either adopted or put down. Or what constitutes a 'barking" dog. It's not just barking.
Share the info with your pet-owning friends.
LOOK: Here Are 30 Foods That Are Poisonous to Dogs
To prepare yourself for a potential incident, always keep your vet's phone number handy, along with an after-hours clinic you can call in an emergency. The ASPCA Animal Poison Control Center also has a hotline you can call at (888) 426-4435 for advice.
Even with all of these resources, however, the best cure for food poisoning is preventing it in the first place. To give you an idea of what human foods can be dangerous, Stacker has put together a slideshow of 30 common foods to avoid. Take a look to see if there are any that surprise you.