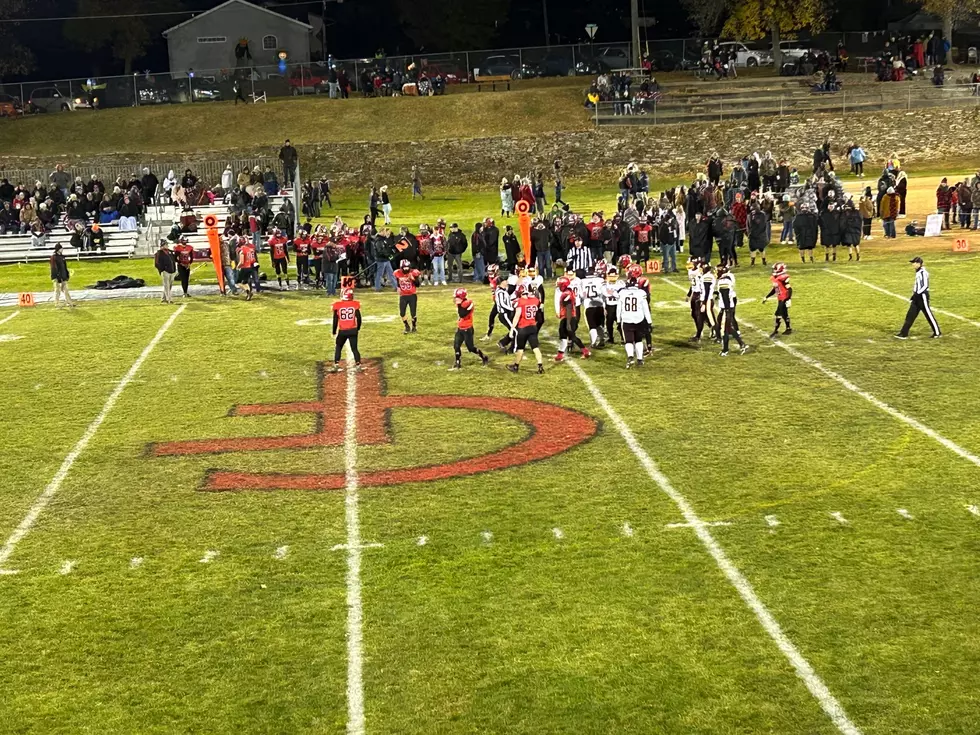 Minnesota Associated Press High School Football Rankings
Cannon Falls vs Pine Island at John Burch Park 2022. Photo by Gordy Kosfeld
The Minnesota Associated Press rankings of high school football teams in the six classes of competition have been released.
A panel of media members from across the state make the selections according to AP.
Nine-Man   (10 people voted)
1. Mountain Iron-Buhl
2. Spring Grove
3. Fertile-Beltrami
4. Kittson Co. Central
5. Cherry
6. Nevis
7. Ogilvie
8. Edgerton
9. Ottertail Central
10. Houston
Others Receiving votes:  Keliher-Northome, Clearbrook-Convick. Stephen-Argyle, Kingsland, Cedar Mountain, Leroy-Ostrander, Hills/Beaver Creek, Red Rock Central, Southland, New Ulm Cathedral, Border West, Hancock, Win-E-Mac.
Class 1A   (11 people voted)
1. Minneota
2. BOLD
3. Springfield
4. Fillmore Central
5. Mayer Lutheran
6. Mahnomen/Waubun
7. Lester Prairie
8. Goodhue
9. Upsala/Swanville
10.Ada-Borup West
Others Receiving Votes:  Braham, Bethlehem Academy. Browerville-Eagle Valley, Parkers Prairie, Gibbon-Fairfax-Winthrop, Red Lake County, Belgrade-Brooten-Elrosa, Kenyon-Wanamingo, Canby, Sleepy Eye United.
Class 2A  (11 people voted)
1. Barnesville
1. (tie)  Caledonia
3. Chatfield
4. Eden Valley-Watkins
5. Cannon Falls
6. Jackson County Central
7. St. Agnes
7. (tie)  Osakis
9. Holdingford
10.Barnum
Others Receiving Votes:  Pelican Rapids, Norwood-Young America. Kerkhoven-Murdock-Sunburg, Triton, Moose Lake/Willow River, Minnesota Valley Lutheran, Dover-Eyota, Park Rapids, International Falls, Pipestone Area, Paynesville
Class 3A  (11 people voted)
1. Dassel-Cokato
2. Esko
3. Stewartville
4. New London-Spicer
5. Fairmont
6. Watertown-Mayer
7. Annandale
8. Jordan
9. Pequot Lakes
10.St. Croix Lutheran
Others Receiving Votes:  Minneapolis North, Dilworth-Glyndon-Felton, Morris Area, Pierz, Two Harbors, Waseca, Foley, Milaca, Rochester Lourdes
Class 4A (11 people voted)
1. Hutchinson
2. Becker
3. Totino-Grace
4. Orono
5. Byron
6. Detroit Lakes
7. Mound-Westonka
8. Hermantown
9. Chisago Lakes
10.New Ulm
Others Receiving Votes:  Princeton, Simley, Minneapolis Henry, Rocori, Duluth Denfeld, Fridley, Kasson-Mantorville, Little Falls
Class 5A (11 people voted)
1. Mankato West
2. Chanhassen
3. Rogers
4. Brainerd
5. Robbinsdale Armstrong
6. Alexandria
7. New Prague
8. Robbinsdale Cooper
9. Sauk Rapids-Rice
10.Andover
Others Receiving Votes:  Mankato East, Elk River, St. Thomas Academy, Bemidji, Cretin-Derham Hall, Mahtomedi, Monticello, Hastings, Moorhead
Class 6A  (11 people voted)
1. Eden Prairie
2. Lakeville South
3. Lakeville North
4. Shakopee
5. Minnetonka
6. Centennial
7. Anoka
8. Mounds View
9. Rosemount
10.Forest Lake
Others Receiving Votes:  Maple Grove, East Ridge of Woodbury, Champlin Park, Stillwater, Prior Lake, Wayzata, Edina
See September 2023 New Music Releases