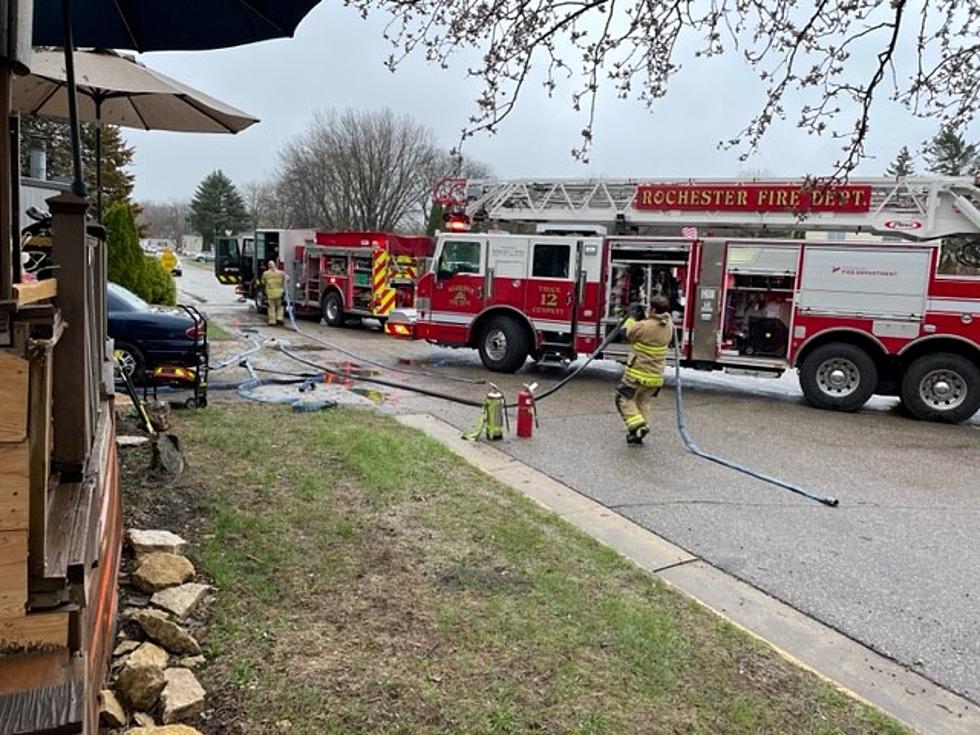 One Hospitalized Following Rochester House Fire
Rochester Fire Department
Rochester, MN (KROC-AM News)- A house fire in Northeast Rochester Sunday morning sent one person to the hospital. 
A news release from the Rochester Fire Department says crews responded to a fire call in the 600 block of Rocky Creek Dr. Northeast shortly before 9:45 a.m. Sunday. Responding firefighters reported seeing smoke coming from the front door but no visible flames. 
Fire crews located and extinguished a small fire involving oily rags and dirty laundry in the laundry room area. Two people and a cat had exited the structure by the time firefighters had arrived on scene. Firefighters also searched the home to confirm no one else was inside. 
Officials say one of the home's occupants was transported by Mayo Clinic Ambulance to a hospital for treatment of smoke inhalation. A small portion of the floor was damaged by the fire and minor smoke damage was reported throughout the home. 
The fire department estimates the damages at $1,000. Officials are using the fire to remind residents on how to properly dispose of oil and stain-soaked rags. They offered this advice from the National Fire Protection Association:
The most common type of Spontaneous Combustion fires are those caused by improperly disposing of oil and stain soaked rags. Linseed oil, varnishes, polyurethane, and paint thinners are common products used for home improvement that can produce flammable vapors and rags. Spontaneous combustion of oily rags occurs when a rag or cloth is slowly heated to its ignition point through oxidation as they dry. If oily rags are in a confined space such as a garbage can or pile of laundry the heat cannot dissipate and a rapidly spreading fire is possible. The best way to prevent these types of fires is to never leave oily rags in a pile. Take the rags outside to dry away from buildings then place dry rags in a container with water and detergent solution (NFPA, 2019).
DREAM HOUSE: Perfect Minnesota Home Features Brewery and Ice Rink
I heard that Glen Perkins, former Minnesota Twins pitcher, sold his phenomenal home located in Lakeville, Mn a few years ago. The house is located at 24729 Dodd Boulevard in Lakeville and has 5 bedrooms, 5 bathrooms, and 5,823 square feet. It originally went on the market in 2020 listed for $1,999,999 and sold in November 2020 for 2,670,00. It truly is the perfect house for anyone in Minnesota and honestly, the price is a steal.
Take a look at the photos below and see this gorgeous home for yourself!