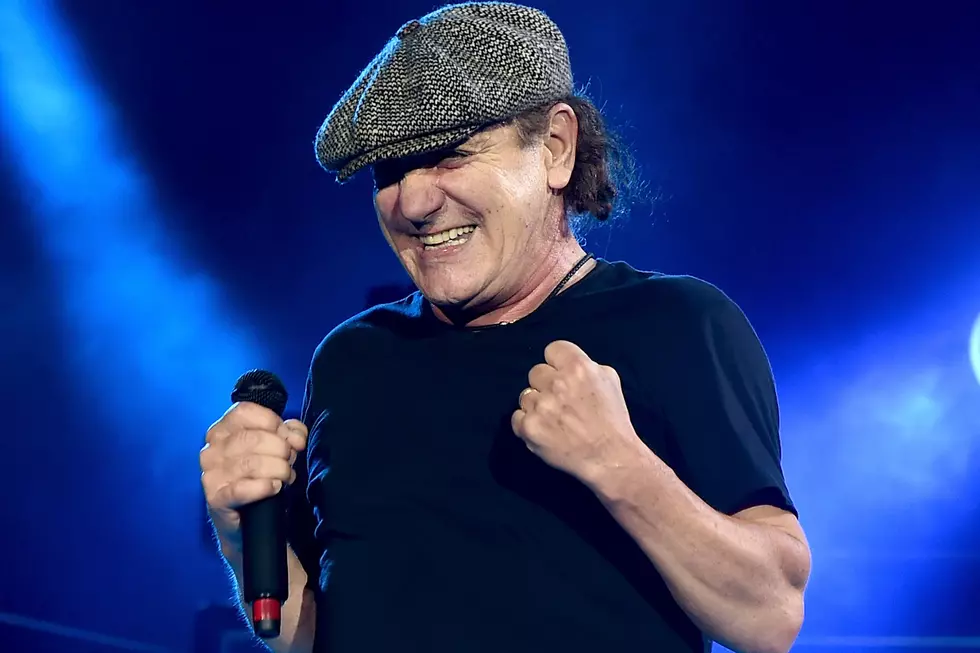 Statue of AC/DC's Brian Johnson Unveiled in Belgium
Kevin Winter, Getty Images
A statue of Brian Johnson has been erected in Namur, Belgium.
Organized by local radio station RTBF, the statue was placed as a tribute to the AC/DC singer's first live performance with the band at Namur's Palais Des Expositions on June 29, 1980. Several hundred fans attended the unveiling of the monument.
"It's a very special place for me," Johnson said in a video statement sent to RTBF, noting that he hopes to visit the statue in person sometime soon. "It was the first night I sang with AC/DC, and I was a very nervous boy. So that memory will stay with me forever, and now that you've built this statue – honestly, I'm not worthy of it – I thank you, and I'll take it in good grace."
Photos from the statue's unveiling can be viewed on RTBF's website.
AC/DC will perform later this year at the Power Trip festival in California, which will also feature acts like Ozzy Osbourne, Metallica, Iron Maiden, Guns N' Roses and Tool. It will be the band's first show with Johnson since 2016 when Axl Rose filled in for him while he dealt with hearing issues, as well as their first since the 2017 death of AC/DC co-founder Malcolm Young.
In an interview with Rolling Stone in October, Johnson noted that he's interested in another AC/DC tour, though nothing has been solidified. "I would love to. It's as simple as that," he said. "I think everybody would. There's a groundswell of people just asking. But I hate talking about the future, because, fuck, we were ready two years ago, and the pandemic came, and it screwed everything up. So I'm terrified to say what could happen and what couldn't."
AC/DC Albums Ranked
Critics say every AC/DC album sounds the same, but that's far from the truth.