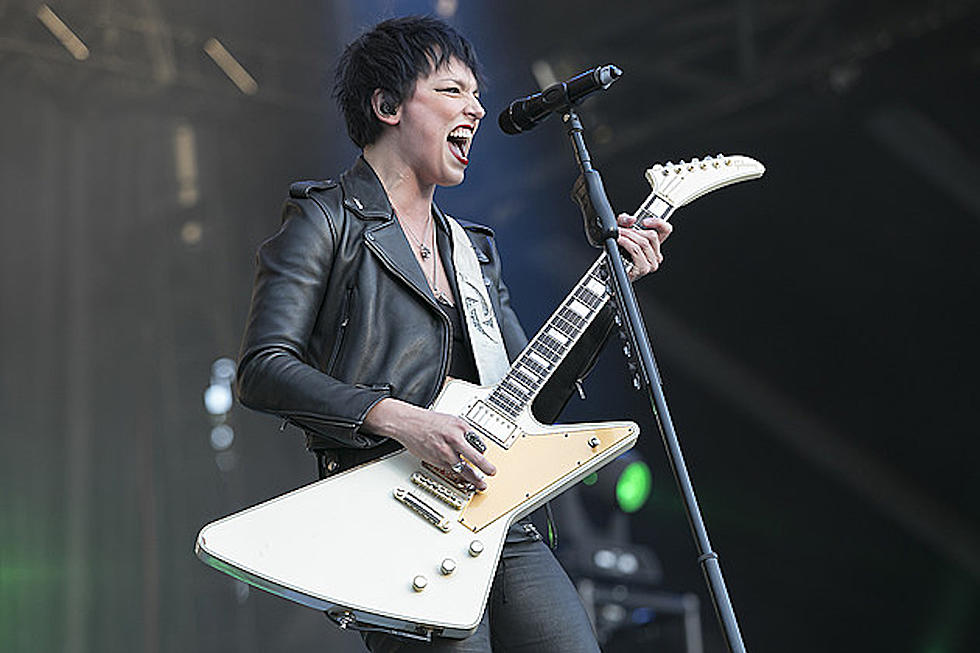 Halestorm Plot Secret 'Project' Before Their Next Album + Tour
Raymond Ahner for Loudwire
Halestorm will start a new project before their upcoming tour with Godsmack. But the secretive undertaking is not the band's next album — it's something else entirely — according to frontwoman Lzzy Hale.
"We have a project we're working on," the musician revealed to host Terrie Carr on the WDHA-FM "Box of Rock" webisode shared Monday (Aug. 26). The artist also prepped concertgoers on the imminent revival of the act's all-female-fronted trek with In This Moment and New Years Day. Watch the video down toward the bottom of this post.
As transcribed by Blabbermouth, Hale stayed mostly mum when she told Carr the project is "not a new record yet, but a project we're working on. But it's not Reanimate [the group's series of covers EPs] — it's something else. [I'm] super-excited about that. Then we go out with Godsmack, and then we go to Europe with our friends In This Moment and New Years Day. We only decided to do [an all female-fronted lineup for] one tour — we're, like, 'We've never done this together. Let's do it.' Then it became this thing that everybody started asking for... Then we're going to Australia with our friends Black Stone Cherry, and then we're going to Malaysia for the first time. That will bring us to Christmas."
Earlier this month, Hale revealed the band have close to "two albums' worth" of songs for their next full-length effort. She also gave a rough timeline for recording: "We pretty much decided that in late spring, I think we're gonna settle down and just focus on doing another record," Hale said.
"We wanna get back in the studio and make some more music. That's our loose plan right now," Smith teased. "We've talked about a lot of things, but I'm not gonna give them away. You're just gonna have to wait."
See all of Halestorm's upcoming tour dates here.
Halestorm's Lzzy Hales Speaks With WDHA's Box Of Rock
See Lzzy Hale in the Top 50 Hard Rock + Metal Frontwomen of All Time
More From Sasquatch 107.7 - The Rock of Rochester