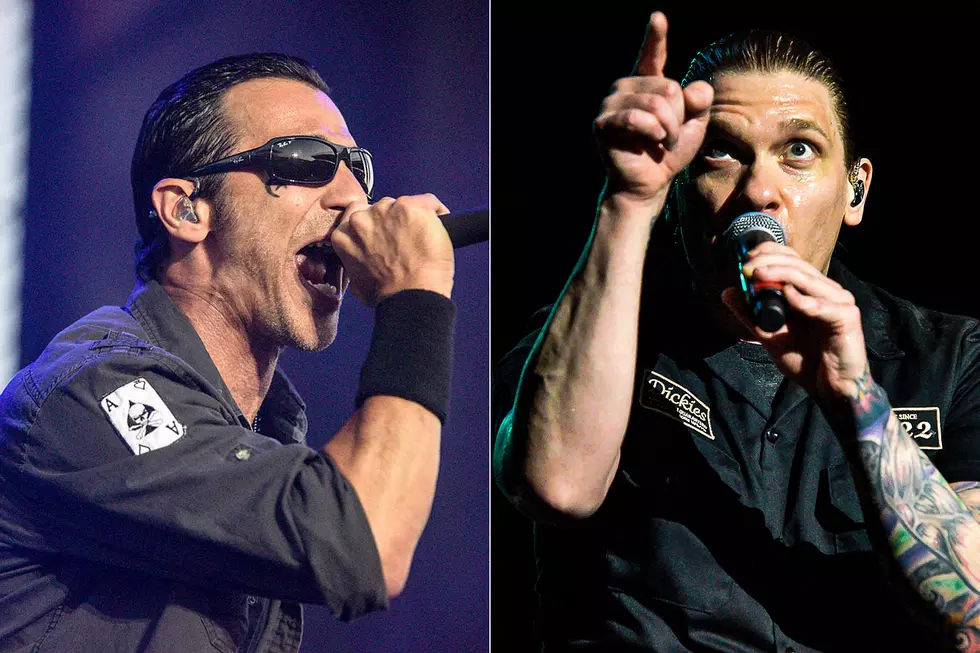 Songs We Want to Hear on Godsmack + Shinedown's 2018 Co-Headline Tour
Evil Robb Photography (2)
The summer is about to heat up. Old friends Godsmack and Shinedown will spend the dog days of summer together, bringing fans one of the hottest tickets going on a must-see co-headlining trek.
With opening day closing in, we've compiled this list of set list suggestions we'd like to see this summer, while keeping our fingers crossed that you might see the bands breaking out a number of these songs during their run. We'll spare you the essentials. You figure Godsmack will break out standards like "Whatever" or "I Stand Alone," while it would come as a huge surprise if you didn't hear Shinedown pull out "Second Chance."
But with the dates fast approaching, here are a few suggestions of tracks that could add something special to their performances. Check out our picks and be sure to get your tickets for the run through either Godsmack or Shinedown's websites.
Though Godsmack are firmly committed to promoting their When Legends Rise album, it is the 20th anniversary of their self-titled debut. What better way to mark that occasion than to carve out a section of the set dedicated to that album, including the overlooked gem "Bad Religion."

Come on, this pairing with Shinedown is practically begging for Godsmack to bring back the IV album standout "Shine Down." We've always been a fan of this bluesy rocker and it would give us a chance to see Sully Erna showing his mouth harp skills.

Godsmack have a history working interesting covers into their sets, and the veteran rockers have taken on everything from AC/DC to White Zombie over the years. But it's their take on the Beatles classic "Come Together" which still gives us a jolt when they bring it out for shows. We'd also love to see a tribute to the late Vinnie Paul if they put Pantera's "Walk" back into the sets.

Godsmack's latest album When Legends Rise finds the band expanding their boundaries a bit, but the wah-riffic anthem "Unforgettable" seems ready-made for the stage. Admittedly, we're also hoping to see the band backed by their middle school collaborators at one of the stops as well, making for an "unforgettable" moment.

Godsmack

"Under Your Scars"

One of the highlights of Godsmack's latest album, When Legends Rise, is the soul-baring song "Under Your Scars." Amidst all the heaviness of a Godsmack show, this track could provide the ultimate change of pace, especially if they bring out piano (and a string section!). Break out those lighters and send those fists to the sky for this one.

Shinedown

"The Crow and the Butterfly"

Much like Godsmack, Shinedown have a pretty significant anniversary this year: The Sound of Madness just turned ten. Aside from any special dates that they might play, how cool would it be to have a section of the set dedicated to the album, bringing back "The Crow and the Butterfly" into the fold?

Believe it or not, there was a time when Shinedown's Lynyrd Skynyrd cover got pulled from their sets, but as Brent Smith told us earlier this year, we have Sully Erna to thank for its return. "It's not your song to hold onto," Erna once reminded Smith, which made him reconsider the song's exclusion from their shows. "He was making the point about it's not about the painter it's about the painting and that stuck with me for a long time," said Smith. Count on this one being in the sets and the fans loving it more than ever.

With Shinedown putting the emphasis on being "heavier" for their ATTENTION! ATTENTION! album cycle, it makes sense that their shows should follow suit. When it comes to heavy, it would be a "miss" not to include the foot-stomping, fist-pumping rocker "Cut the Cord" into sets. Plus, we're wondering if Shinedown might be able to get Godsmack's "Unforgettable" middle-school collaborators to lend backing vocals on this one as well.

You're probably already singing along to this one. This highly infectious rocker has killer licks and is likely to be stuck in your head long after the final note has rung out from the performance you catch on the tour. "Enemies" is a live set essential.

Shinedown are just starting to roll out the music from their ATTENTION! ATTENTION! album, and we're hoping that "Pyro" eventually gets some attention in live sets. This newer track definitely sends the pulse racing and given the title of the song, it's a good opportunity to, well, bust out the pyro effects. This feels like a track that should crack set lists on a regular basis eventually.
More From Sasquatch 107.7 - The Rock of Rochester