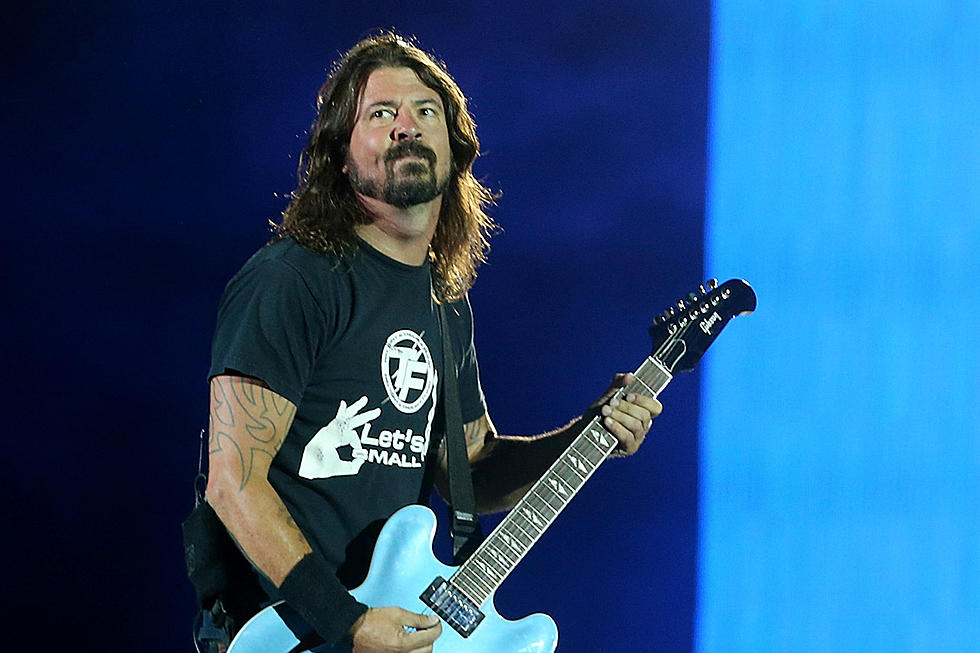 Watch the Premiere of Foo Fighters' New Song, 'Lah Di Dah'
Chris Hyde, Getty Images
Last night, Foo Fighters began their European tour at the Secret Solstice Festival in Reykjavík, Iceland. In addition to giving a full-band debut to "The Sky Is a Neighborhood" and playing "Run" for the first time in concert, both of which are embedded below, they also premiered another new song called "Lah Di Dah," which you can see above.
"Run" appeared by surprise earlier this month, with the band unveiling a typically fun video that featured a riot in an assisted living facility. Dave Grohl and drummer Taylor Hawkins premiered "The Sky Is a Neighborhood" in May while performing at the Acoustic-4-A-Cure concert, an annual show thrown by Sammy Hagar and Metallica's James Hetfield to benefit the UCSF Benioff Children's Hospital.
In addition to the three new songs, the audience was also treated to an appearance by Grohl's eight-year-old daughter, Harper, on drums during a cover of Queen's "We Will Rock You."
We know of two other new songs by Foo Fighters. While promoting their upcoming set at Glastonbury, they played a surprise show at an English club where a pair of songs believed to be titled "Keep Your Pretty Promise" and "Run With Me" appeared at separate times in the middle of existing songs. The fan-shot video has since been taken down.
And even with five new songs that we're aware of, we still don't know if any of these, other than "Run," have been recorded. In March, guitarist Chris Shiflett said, "I don't know what our plans are, but we'll make a new album when the time is right." The group's last album was 2014's Sonic Highways. During this hiatus, Shiflett recorded his own West Coast Town, which borrows heavily on the classic sounds of Bakersfield country music, and Hawkins put out an EP called KOTA.
Watch Foo Fighters Play "Run"
Watch Foo Fighters Play "The Sky Is a Neighborhood"
Foo Fighters, Secret Solstice Festival, Reykjavík, Iceland, June 16, 2017 Set List
1. "All My Life"
2. "Times Like These"
3. "Run"
4. "Learn to Fly"
5. "The Pretender"
6. "My Hero"
7. "Another One Bites the Dust"
8. "We Will Rock You"
9. "Cold Day in the Sun"
10. "Congregation"
11. "Walk"
12. "These Days"
13. "The Sky Is a Neighborhood"
14. "Lah Di Da"
15. "Best of You"
16. "Everlong"
Foo Fighters Albums Ranked in Order of Awesomeness
More From Sasquatch 107.7 - The Rock of Rochester