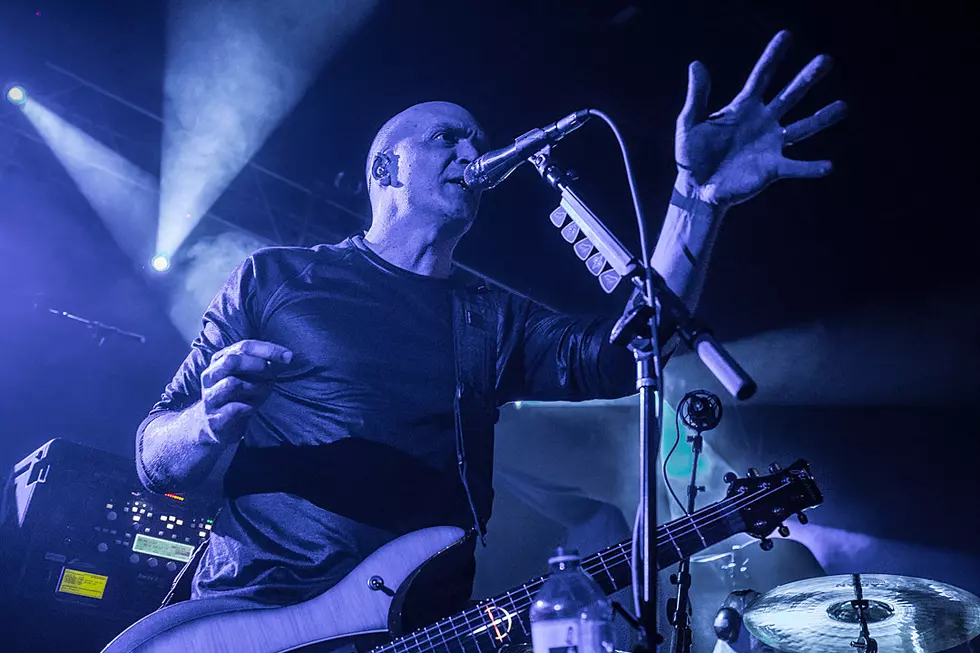 Devin Townsend Project Reveals 'Ocean Machine – Live at the Ancient Roman Theatre Plovdiv' Details
Johnny Perilla, Loudwire
It's a year of transition for Devin Townsend, who not only has a number of projects in the works, but is also revisiting some of his past musical experiences while he plots away in the studio. One result of this is a new live release that was recorded during the Devin Townsend Project's tour last fall. The band's show at the Ancient Roman Theatre in Plovdiv, Bulgaria serves as the basis for this set.
Ocean Machine - Live at the Ancient Roman Theatre Plovdiv was recorded on Sept. 22 last year, with the band celebrating the 20th anniversary of the Ocean Machine album by playing it in full. They played two sets that night, with the second consisting of fan-requested songs that were performed with the assistance of the Orchestra of Plovdiv State Opera. Not only was the show recorded, but they filmed it as well and there will be CD, DVD and Blu-Ray packages.
Townsend states of this concert set, "Plovdiv and this live package represents a lot to me, it signifies the end of one era, and the celebration of another. Amidst a grueling touring year, this show came together with much blood, sweat, and tears, and the result is the culmination of many aspects of my work on one stage."
He continues, "Ocean Machine was released 20 years ago, and though Marty (drums) is no longer with us, I was able to finally perform the album in its entirety with the original bassist John 'Squid' Harder on this night. On a cold evening in an old city in the ancient theatre, many lifelong milestones came to a conclusion on this night and I'm exceptionally proud of it."
The collection also has the option to include an art book that has liner notes from Devin and a special documentary titled Reflecting the Chaos. The full track listing and artwork for the set can be viewed below, and as stated, you can pre-order the Ocean Machine - Live set ahead of its July 6 street date here.
Townsend also offered an update on what he's been up to of late, stating, "I am currently writing, writing, and writing some more for the next stage of my life and work." Townsend also recently announced the first in a series of vinyl box sets dubbed ERAS. The first vinyl collection compiles his Ki, Addicted, Deconstruction and Ghost albums, and its available to pre-order here.
Devin Townsend Project, Ocean Machine - Live at the Ancient Roman Theatre Provdiv Track Listing + Artwork
By Request with Orchestra
1.Truth
2.Stormbending
3.Om
4.Failure
5.By Your Command
6.Gaia
7.Deadhead
8.Canada
9.Bad Devil
10.Higher
11.A Simple Lullaby
12.Deep Peace
1.Seventh Wave
2.Life
3.Night
4.Hide Nowhere
5.Sister
6. 3 A.M.
7.Voices in the Fan
8.Greetings
9.Regulator
10.Funeral
11.Bastard
12.The Death of Music
13.Things Beyond Things
See the Devin Townsend Project in the Best Metal Album of Each Year Since 1970
10 Greatest 'I'm Going Solo' Acts in Metal
More From Sasquatch 107.7 - The Rock of Rochester