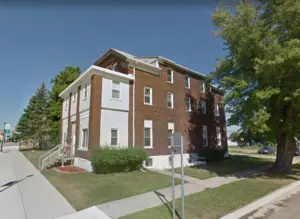 Death in Kenyon Described as Suspicious
Google Street View
Kenyon, MN (KROC-AM News) - The Kenyon Police Department has released a statement concerning a suspicious death investigation.
It says Kenyon Police were notified shortly after 7 a.m. Tuesday that a man was lying on the ground outside an apartment building in the 700 block of 2nd Street. The person was pronounced dead at the scene shortly after officers arrived.
The death is considered suspicious because the cause has yet to be determined and the lack of information about the circumstances surrounding the incident. Agents from the Minnesota Bureau of Criminal Apprehension were called to Kenyon to assist in the investigation and the Regional Medical Examiner's office was asked to perform an autopsy.
Kenyon Police say they are waiting for a positive identification and family members to be notified before releasing the name of the deceased. At this point, officials do not police there's any threat to the public.
The Goodhue County Sheriff's Department is in charge of the investigation.
With updates at the top and bottom of the hour, listen to Newstalk 1340 KROC-AM for the latest local and national news.
More From Sasquatch 107.7 - The Rock of Rochester