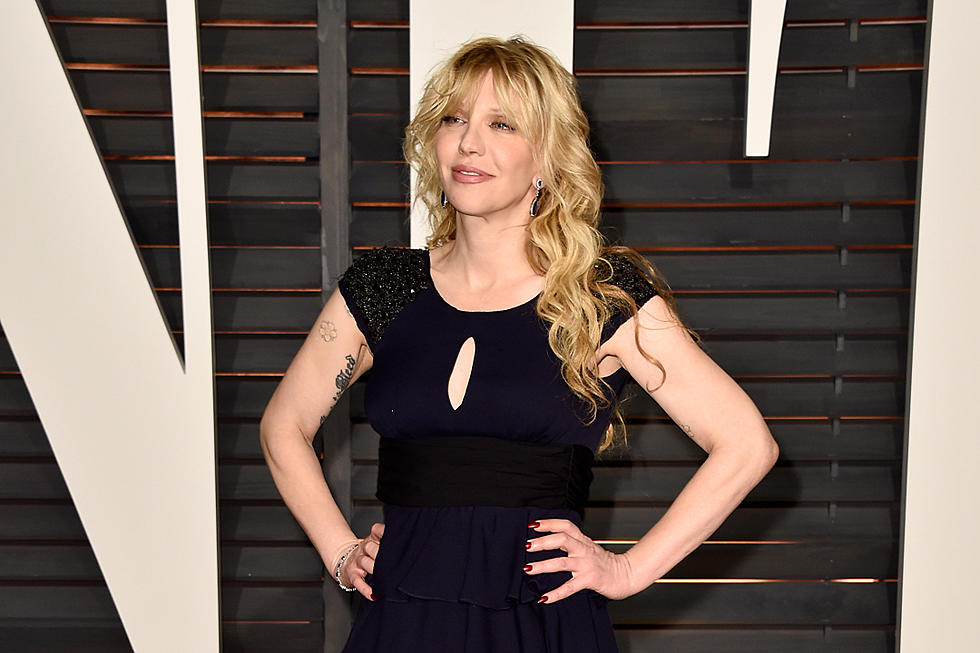 Courtney Love Posts Message for Kurt Cobain's Birthday, Plus News on Andrew W.K., Greta Van Fleet + More
Pascal Le Segretain, Getty Images
In addition to the big stories we covered today, Wire-to-Wire provides you with some of the other key rock and metal news items from Feb. 20, 2018:
- Courtney Love marked what would have been Kurt Cobain's 51st birthday with a photo of she and her late husband in an embrace and the caption, "Happy birthday baby, God I miss you." See the social media post here. The singer's birthday is today (Feb. 20).
- Andrew W.K. has been named the Person of the Year by the American Association of Suicidology, who praised the singer for his life-affirming music and message. The award will be presented at the 51st annual AAS conference in Washington, D.C. during the weekend of April 18-21. "Words cannot adequately convey my astonishment at having been selected for this unique recognition. I'm grateful to the American Association of Suicidology for the incredibly valuable work they've done for so long, and continue to do now, when it's needed more than ever," said Andrew W.K.
- Greta Van Fleet continue to build upon their 2018 touring. New July dates have been announced for Toronto, Pittsburgh, Washington, D.C., Boston and Cleveland, along with an Aug. 1 stop in St. Louis. Tickets for the new shows go on sale this Friday (Feb. 23) at 10AM local time. Get ticketing info here.
- Anvil will, ahem, be pounding the pavement in May and June stateside as they support their new Pounding the Pavement disc. The band just announced a tour launching May 2 in Buffalo and continuing June 16 in Canton, Ohio. See all of their scheduled dates here.
- Guitar great Gus G. has announced an April 20 street date for his new album Fearless. The album finds Gus playing with Pink Cream 69 and Unisonic singer/bassist Dennis Ward and Evanescence drummer Will Hunt. Get news on the artwork, track listing and pre-order info right here.
- Sons of Apollo have broken free from the studio, with their latest video offering a more picturesque backdrop. Take a look at the Vincente Cordero-directed clip for "Alive" right here.
- Rock on, Superjoint! The Philip Anselmo-led band has released a new live video for "Fuck Your Enemy," shot during a 2017 performance in New Orleans. Watch here.
- Thrice enjoyed a solid comeback with 2016's To Be Everywhere Is to Be Nowhere. Now it looks like the reactivated band is working toward new music. Thrice vocalist Dustin Kensrue tweeted, "Deep in writing/recording process. See you in a bit."
- Craig Owens has resurfaced with music from his latest project badXchannels. Watch the video for "Blue Abyss" recorded live in the studio with special guest Fifty Grand here.
- Amongst his various projects, Devin Townsend has reportedly been working on a Ziltoid mobile game/app. See posted shots from Townsend's social media accounts here and here.
- Calgary will play host to the 420 Music and Arts Festival, headed up by Brant Bjork, Dopethrone and Sasquatch. The music weekend runs April 19-21, also featuring such acts as Great Electric Quest, Electric Owl, La Chinga, Buffalo Bud Buster, Buzzard, Orbital Express and more. For the full lineup and ticketing details, head to the 420 Music and Arts festival website.
- Ludovico Technique have unleashed a video for their gothic, industrial leaning new song "Absence." Watch the equally dark new clip here.
More From Sasquatch 107.7 - The Rock of Rochester