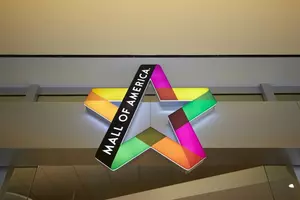 Child Falls from Escalator at MOA, Suffers Minor Injuries
Adam Bettcher, Getty Images
Police say the escalator did not malfunction, the fall was an accident. When Bloomington police and Mall of America security got to the boy he was alert and talking. He was transported to Children's Hospital for his minor injuries.
While they do know that the child fell from an escalator by the Sea Life Aquarium, they do not know whether he was going up or down the escalator when the incident occurred. FOX 9 reports that he fell about 20 feet.
According to Bring Me the News, the Mall of America issued the following statement about the fall:
"Today, Bloomington Police and Mall of America security responded to an incident involving a six-year-old falling off an escalator railing. Upon arrival, the juvenile was alert and conscious and was transported to a hospital with minor injuries. The escalator was operating properly at the time of the incident."
Hang out with Carly Ross on Power 96 weekdays 3-7pm!
More From Sasquatch 107.7 - The Rock of Rochester