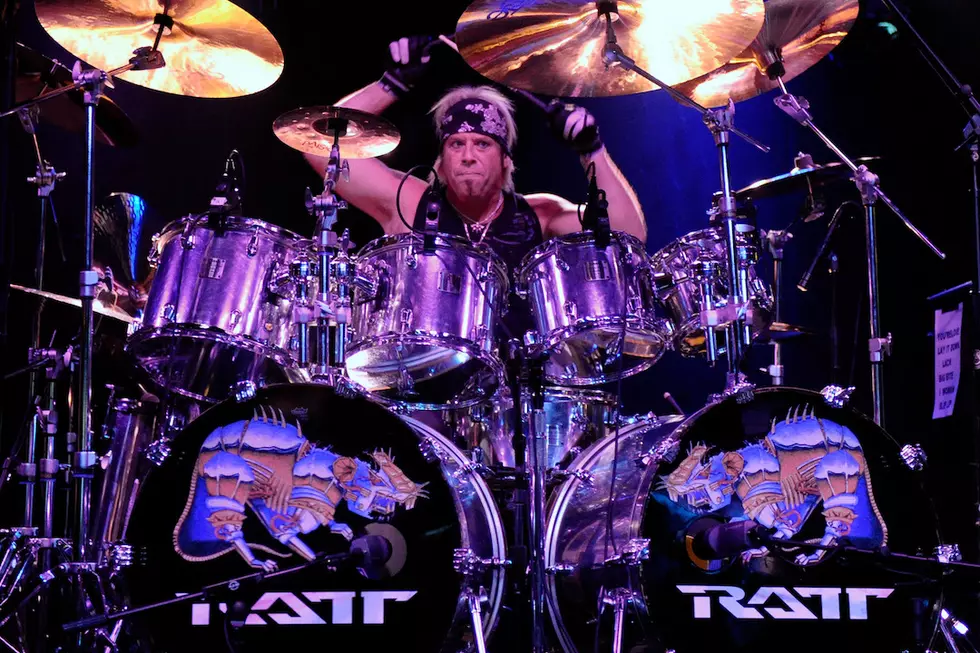 Bobby Blotzer's Ratt Forced to Cancel Show Under Cease and Desist Order
Ethan Miller, Getty Images
Just over one month ago, it appeared that the legal battle for the Ratt name had come to a merciful conclusion, but the saga continues to go "Round and Round" as Bobby Blotzer and his former bandmates remain entrenched in the dispute. Most recently, Blotzer was forced to cancel a show billed as Ratt after a cease and desist order was issued.
Set to play the Soaring Eagle Casino and Resort in Mt. Pleasant, Mich. on Dec. 29 alongside co-headliners Nightranger, Blotzer's version of Ratt was stricken from the bill prior to showtime. The venue posted an explanation on Facebook that reads as follows:
Unfortunately Soaring Eagle Casino & Resort was just recently notified of a trademark dispute involving the band RATT. Soaring Eagle Casino & Resort was issued a "cease and desist" letter from the parties claiming rights to the RATT trademark. After careful review, Soaring Eagle Casino & Resort has concluded that it cannot proceed with the performance of Mr. Blotzer due to the current legal dispute over the RATT band trademark.
The two sides have been at ends, both claiming the other does not have the right to tour under the Ratt moniker. In late November, a court ruling found favor with Stephen Pearcy, Warren DeMartini and Juan Croucier based on a technicality in the Ratt Partnership Agreement which was established in 1985. A press release confirmed Blotzer could only refer to himself as a "former member of Ratt" and that he had no interest in continuing to pursue the use of the Ratt name.
Blotzer and his attorney, Drew Sherman, fired back one week later, telling Mitch LaFon that the issue is far from over. Stating that the Ratt name belongs to WBS Inc., a corporation formed by the group but only containing Blotzer and DeMartini, thus the other three members are committing trademark infringement by advertising themselves as Ratt.
Make sure to come "Back For More" as we continue our coverage of this ongoing legal battle.
You Think You Know Hair Metal?
See Ratt in the Top 30 Hair Metal Albums