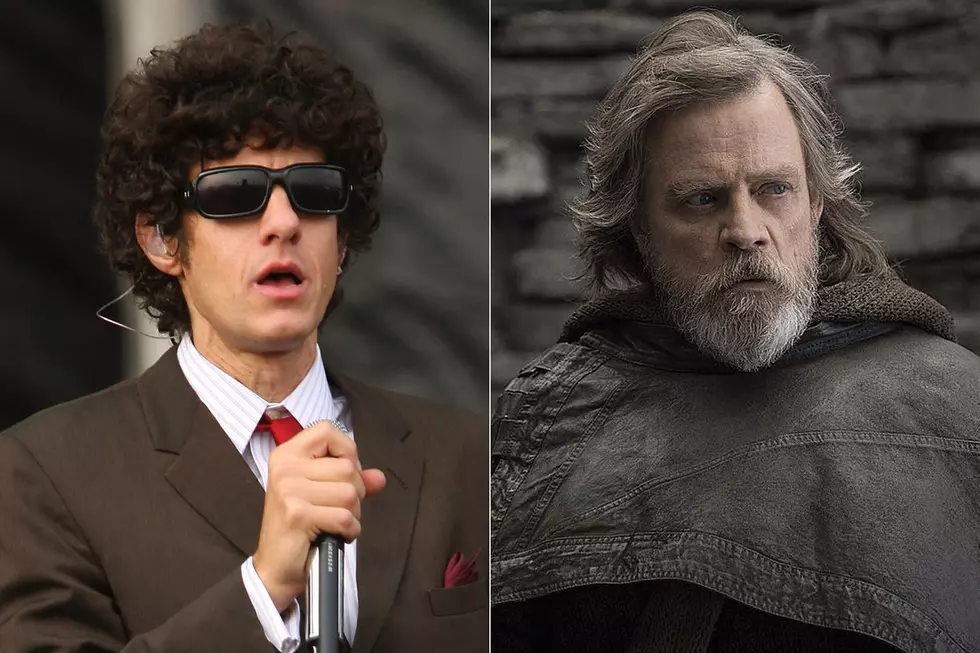 Beastie Boys Easter Egg Hidden in 'Star Wars: The Last Jedi'
Evan Agostini, Getty Images / Lucasfilm
As befits a film series taking place a long time ago in a galaxy far, far away, the Star Wars saga has always honored tradition — and it looks like the new trilogy has started at least one of its own, with a hip-hop twist.
As hardcore fans are no doubt already aware, director J.J. Abrams dropped a hidden Beastie Boys reference into the seventh installment in the series, 2015's The Force Awakens, by naming a Resistance pilot Ello Asty — a sneaky reference to the Beasties' 1998 album Hello Nasty. Abrams didn't direct the eighth Star Wars chapter, the recently released The Last Jedi, but incoming writer-director Rian Johnson made room for the trio with his own Beasties Easter egg.
Entertainment Weekly reports that Last Jedi's Beastie Boys moment occurred during the subplot that saw Finn (John Boyega) and Rose (Kelly Marie Tran) zipping off to the casino on Canto Bight in order to find a codebreaker that would be able to sneak them onto a First Order ship long enough to disable their cutting-edge tracking tech. The duo's mission is nearly foiled when they're arrested for illegally parking their shuttle on the beach — a crime reported by an alien with a strangely familiar voice.
As it turns out, the alien was played by Joseph Gordon-Levitt, star of Johnson's previous films Brick and Looper — and although his character isn't addressed by name in the movie, he's listed in the credits as Slowen-Lo. Aside from being a perfectly Star Wars sort of name, it's also — as Beasties fans should quickly recognize — a reference to "Slow and Low," a cut from their 1986 classic Licensed to Ill. It's obviously anyone's guess as to where the Star Wars story goes from here, but with Abrams returning to take the reins for Episode IX, at least one thing is clear: we can expect to meet another Beastie Boys-inspired character before the end credits roll.
More From Sasquatch 107.7 - The Rock of Rochester