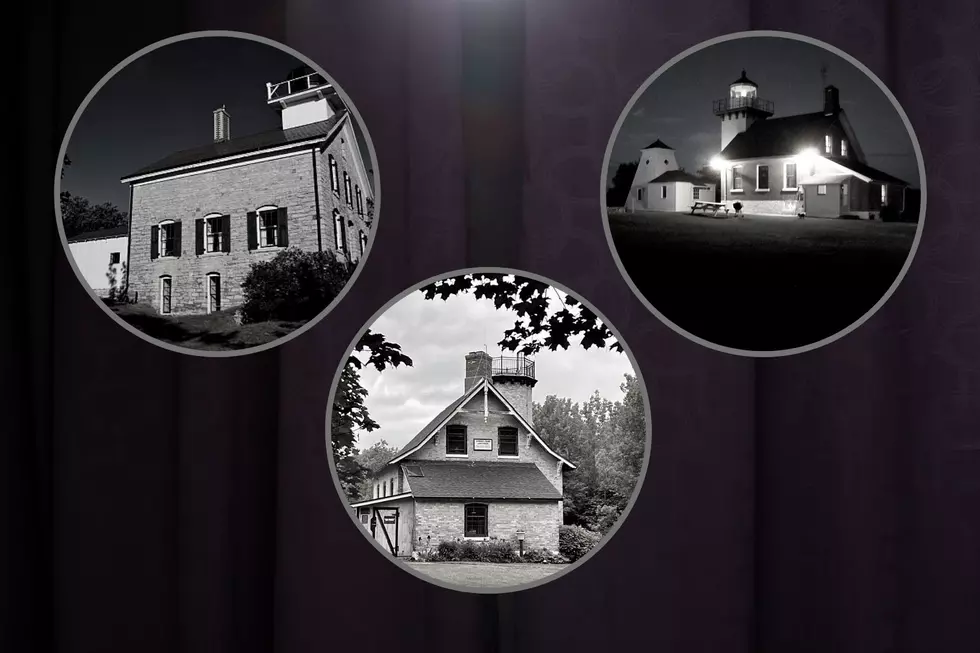 3 Haunted Lighthouses You Need to Visit in Wisconsin This Fall
Sherwood Point Lighthouse, Fran Jehrio via Facebook, dnr.wisconsin.gov, Canva
The Door County area has a ton of fall experiences to share with you, but for those who like to add a haunted twist, here are three Wisconsin lighthouses that are waiting to thrill you.
Door County, Wisconsin is a great place to visit at any point of the year, but in the Fall Door County is a magnificent sight to see. Home to some of the best fall colors and scenic drives, to say Door County is a Fall tourist hotpot is a major understatement.
Haunted Lighthouses in Wisconsin
Travel Wisconsin reports that three beloved lighthouses in the Door County area have a spooky side that many people don't know, but are dying to learn more about. (see what I did there? LOL) Those lighthouses are. Sherwood Point Lighthouse, Chambers Island Lighthouse, and Pottawatomie Lighthouse. Now, let's learn a little about the paranormal side of these iconic structures.
Sherwood Point Lighthouse in Sturgeon Bay was built in 1883, and it remained operational for 100 years after that. The original keeper of the lighthouse was named William Cochems and he married a woman named Mille Hesh who became the assistant keeper. In 1928, Millie suffered a stroke and died in the lighthouse's bedroom, and that seems to be when its paranormal stories began.
Travel Wisconsin says;
Residents and visitors have reported hearing noises at night, including voices and the clinking of teacups. Others have seen a "presence" on the staircase. Robert Cochems (a descendant), took a photograph of the lighthouse about 1984 and the photograph shows a human form in one of the windows.
While the grounds of Sherwood Point Lighthouse are closed to the public, some boat tours out of Surgeon Bay will get you pretty close to it for photographs...and perhaps some otherworldly experiences?
Chambers Island Lighthouse in Fish Creek, Wisconsin was built in 1868 and, its first keeper was a man named Lewis S. Williams, who remained at that post until 1889. Travel Wisconsin says paranormal experiences at the lighthouse were first reported in 1976 "when a caretaker reported a loud noise that sounded like footsteps coming down the tower's staircase, continuing through the living room, kitchen, and ending with a "click" as the kitchen door closed". When the lighthouse was renovated in 1979, many tools and equipment suddenly vanished or ended up in weird places too.
Chambers Island Lighthouse is open to the public during the summer months or by special appointment.
The Pottawatomie Lighthouse in Rock Island, Wisconsin was built in 1836 and is the state's oldest lighthouse. The original keeper is buried on the island it sits on, and the lighthouse, as well as the island, has several different spooky experiences to share.
According to Travel Wisconsin;
Visitors have reported voices, odd shapes flickering over graves and unusual noises at a Native American cemetery. Similarly, the ghosts of small children have been reported playing in and around a graveyard where Scandinavian settlers are buried.
When it comes to the lighthouse itself, several people have reported hearing weird noises and footsteps, as well as doors opening and shutting. Reports of children playing around the lighthouse grounds have been reported too.
Pottawatomie Lighthouse has been restored and now contains a small museum that gives daily tours from Memorial Day through Columbus Day each year.
Have you visited any of these lighthouses before? Did you experience anything paranormal while you were there? Please share your story by sending us an app message now!
The Ghost Hunting Game is High at These 12 Places in Wisconsin
10 Illinois Ghost Tours That Guarantee To Scare Your Pants Off