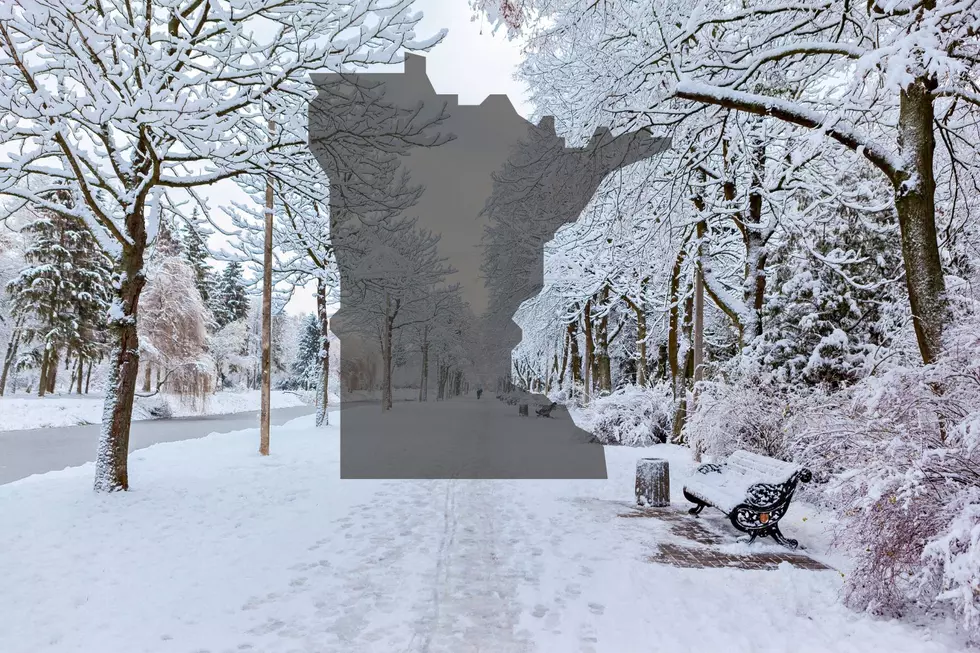 TV Station Predicts Snowfall In Most Minnesota Way Ever
Canva
This time of year, we're used to seeing snow in the forecast, but leave it to one TV station to predict our latest snowfall in the most Minnesota way ever.
Snow in the North Star State in November and December is about as common as encountering a red light at one of the 216 stoplights along West Circle Drive here in Rochester. So I'm guessing that forecasting more of the white stuff-- even if it IS one of our first snowfall events of the season-- can get a bit monotonous.
But not for the weather crew up at WCCO-TV in Minneapolis. While EVERY media outlet across the Land of 10,000 Lakes has been including the latest Winter Weather Advisory (or Winter Storm Warning for parts of Minnesota north and east of Rochester), they went a step further and described the possible snowfall amounts in the most Minnesota way possible.
According to a graphic on the WCCO social media pages posted late Monday titled 'Do You Need To Worry About The Snow Tuesday (translated into Minnesotan),' the legend for the northwest part of the state snow will likely miss this time was 'Yeah, no.'
Meanwhile, the part of the state included in the snow advisory was titled as 'No, yeah' and the small portion of northwest Wisconsin (where the lake effect could dump much more of the white stuff) was titled 'Aw, jeez'.
Ha! That pretty much nails how Minnesota talks about snow, doesn't it? Heck, it looks like the only thing missing was the usual 'Uff da!' (which is getting a little dated these days) or 'Ope!' (which is now ridiculously overused, am I right?)
Check it out below. And as long as we now have snow, keep scrolling to check out some of the11 Picture-Perfect Minnesota Airbnb's to Stay in This Winter-- as well as some things we really DON'T like about winter too.
Listen to Curt St. John in the Morning
Weekdays from 6 to 10 on Quick Country 96.5
11 Picture-Perfect Minnesota Airbnb's to Stay in This Winter
If you're looking for the perfect escape this winter, look no further! Check out these picture-perfect Minnesota Airbnb's that you can stay in this winter.
18 Things People in Minnesota, Iowa, Illinois, and Wisconsin Hate About Winter
Sledding on a perfect carpet of snow that just fell is a gorgeous sight in the midwest. That's the fun part of winter. With the snow though comes with a whole lot of ugly! If you've never experienced a midwest winter, here's a glimpse of what people in Minnesota, Iowa, Illinois, and Wisconsin hate the most about the coldest season of the year.
More From Sasquatch 107.7 - The Rock of Rochester