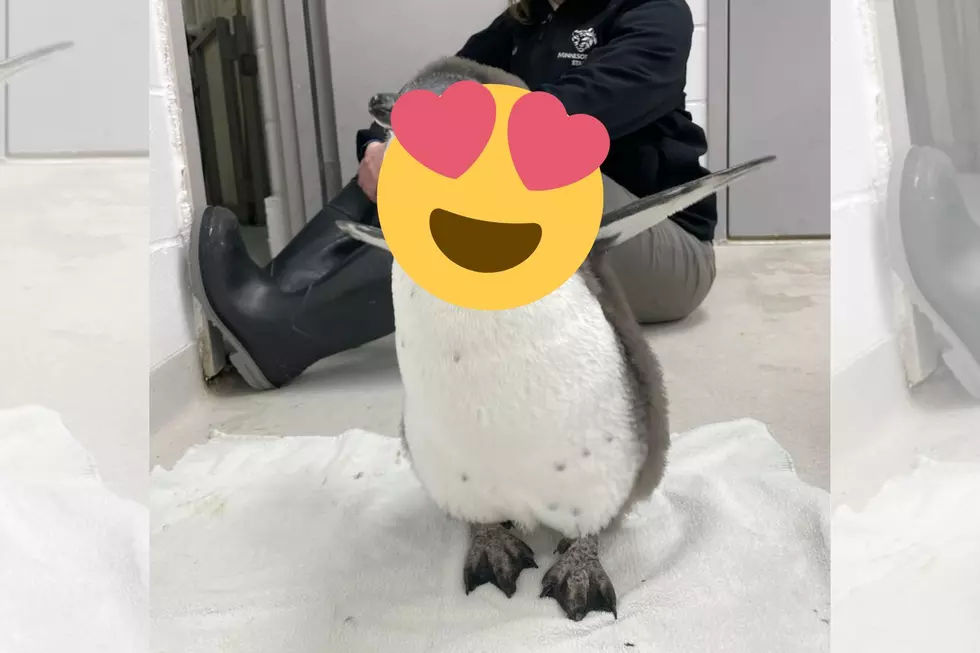 Minnesota Zoo Welcomes a New, Adorable Baby Penguin to the Family
Susie, Minnesota Zoo via Facebook
The Minnesota Zoo in Apple Valley, MN made an exciting announcement earlier this week that two of their penguins had a baby! And I wish we were allowed to go cuddle the little guy because he's so cute.
The baby and his parents, who are named George and Skittles by the way, are African penguins. If I'm remembering correctly, the African penguins can be found inside to the left of the entrance. I've been to the Minnesota Zoo many times in my life but it's been a few years since I've gone, so.
It doesn't seem like the little baby penguin has a name yet and I hope they allow us to pick a name because that would be awesome! The picture that the zoo shared of him on their Facebook page makes me think of 'Happy Feet'.
So I think they should name him Mumble after the main character in the movie. Just the way he's standing in this picture looks like when Mumble is trying to dance!
Isn't he the cutest?!
Right now the baby penguin is behind the scenes getting "acquainted with a few members of the penguin colony." I don't know how long it'll be before he's able to come out to the main habitat at the zoo but I'm hoping it's within the month. I'm going to the zoo next month so I'd LOVE to see the little fluffy guy in person!
Also, don't forget, the zoo has visiting dolphins right now so you can go experience a dolphin demonstration while they're around.
Inside The Crocodile Hunter Lodge at Steve Irwin's Australia Zoo
Take a look inside the new resort at the Australia Zoo.